Leave that iPhone behind and take a scenic drive to the Catoctin Mountains of Maryland for a weekend at Cunningham Falls State Park. While it might be common to lose cell service in the park, the breathtaking backdrop of The Cunningham Falls will ensure visitors have no need for their touchscreen.
Why You Should Visit Cunningham Falls State Park
In 2020, Cunningham Falls State Park hosted more than 500,000 guests. Everybody from individuals and couples to large groups of families and friends found ways to utilize the park's offerings. Sitting just more than an hour Northwest of Washington DC and Baltimore, the park draws people from the metro area(s) and abroad to go camping, hiking, swimming, fishing, boating, hunting, or just general sightseeing.
While many individuals come to Cunningham Falls for day use of the park, others choose to stay overnight. The Park offers a variety of options for campers. The reservations are processed online for tent/RV campsites and camper cabins, according to Maryland.gov. When booking arrangements to camp, it is helpful for guests to know how the park is laid out...
Cunningham Falls State Park is split in two and as a result, has two separate camping areas. The William Houck Area Campground has 33 electric sites, 106 basic sites, and eight camper cabins. The Manor Area Campground has 10 electric sites, 21 basic sites, and no cabins. All campsites are equipped with a picnic table, fire ring, lantern post, and centrally located bathhouses with flush toilets and hot showers.
Things To Do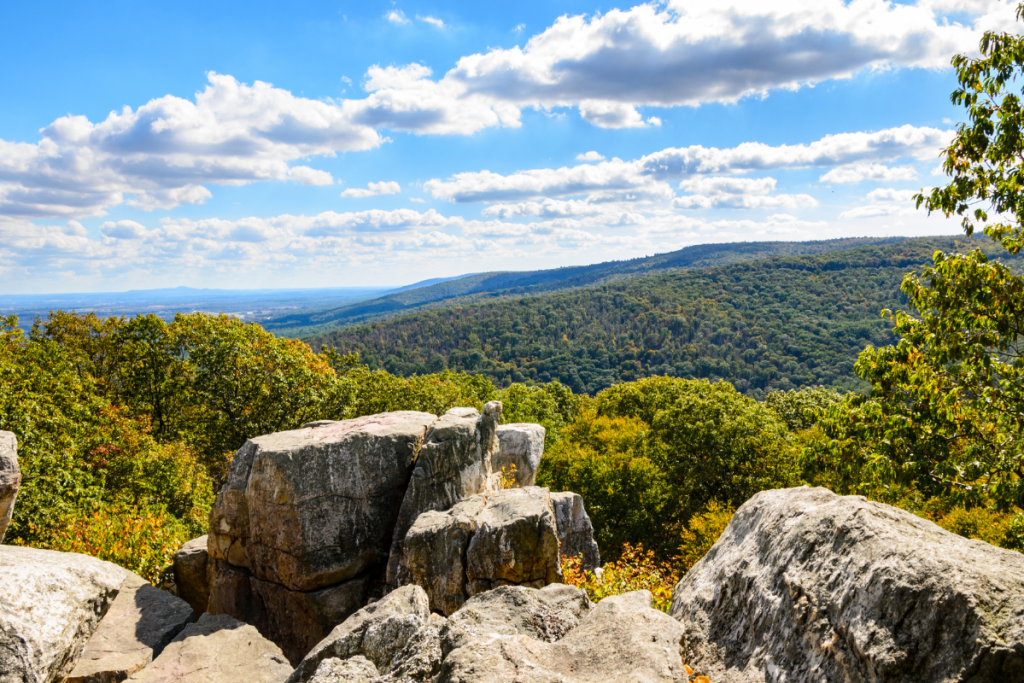 RELATED: West Virginia's Beauty Is On Full Display at Blackwater Falls
When the sun comes up, campers turn to hikers at Cunningham Falls State Park. There are several primary hiking trails for use at this Maryland state park. The trail system varies in terrain from short, flat hikes to steep, rocky climbs—satisfying hikers at any skill level. Favorite trails include the Catoctin trail, cliff trail, and lower trail, according to the Department of Natural Resources' trail map. These hiking trails are for hiking only as mountain biking is prohibited at Cunningham Falls State Park.
Whether hiking or simply sightseeing, the park has zero shortage of scenic views. Bob's Hill and Cat Rock are two popular tourist attractions that can be found inside the Cunningham Falls State Park area. Of course, the main attraction at this state park is The Cunningham Falls. Guests looking for the falls need only follow a half-mile park path. At 77-feet long, this cascading waterfall is the largest in Maryland.
"The difference between a cascading waterfall and a single-drop waterfall, like Niagara Falls, is that cascading waterfalls trickles down over rocks," reported Michelle Logan of WUSA9 after talking with Cunningham Falls manager Mark Spurrier.
Cunningham Falls State Park's William Houck Area is home to Hunting Creek Lake where many park guests choose to spend their time. Swimming, fishing, boating, and beaching are the main activities that go down around this body of water. Park goers can post up on the sandy beach with a towel to take a dip. What's more, the fishing pier and boat launch area are perfect for fishermen who want to cast from land or on water. Boaters should know that gas powered motors are prohibited—for this reason, canoeing is a popular choice. Licensed fishermen report catching freshwater trout, bass, bluegills, sunfish, crappie, and catfish.
The thriving ecosystem at Cunningham Falls hosts more than just aquatic animals, too. Wildlife enthusiasts visit because the area is part of the largest connecting tract of forest remaining in Maryland. The park's Scales and Tales Aviary is a testament to this fact—the aviary is part-zoo and part-education center for individuals to learn about the surrounding wildlife. This region is home to a variety of species like the American black bear, bobcat, bristly North American porcupine, ovenbird, broad-winged hawk, the Allegheny Woodrat, and much more. What's more, licensed hunters choose Cunningham Falls State Park for their sporting arena for seasonal trips at the park's 4,400-acre designated hunting area.
How to Get to Cunningham Falls State Park
Cunningham Falls State Park's close proximity to major metro areas makes the park a favorite for Maryland residents, DC residents, and many others. The Park is located in Frederick County at 14039 Catoctin Hollow Road, in Thurmont, MD. This Park is inside the Catoctin Mountains, adjacent to Catoctin Mountain Park, and just about 10 miles from nearby Gambrill State Park.
The William Houck Area of Cunningham Falls State Park is located three miles west of Thurmont, MD on Route 77. The Manor Area is accessible via Route 15, just three miles south of Thurmont. Guests can park in the gravel parking lot on Catoctin Hollow Road rather than at the park's Camp Office.
Planning Your Trip
https://www.instagram.com/p/CPKQ-KLHTKF/
The Park is open from 8 a.m. to sunset from April until October and 10 a.m. to sunset from November to March. Day use passes are $3 for Maryland residents and $5 for tourists every day except weekends and holidays which have increased rates ($5 and $7 respectively).
Oftentimes, the park is busiest during the Summer. The weekends around Memorial Day and Labor Day sometimes bring the park's capacity to its limit. In these situations, the park closes and traffic is turned away.
While the park is most popular in the Summertime, many months of the year have perfect days or weekends for visitation. Spring and Fall seasons are often safe bets for travel to the park due to great weather and changing, seasonal colors in the area. Furthermore, the park's management will schedule special events that draw in visitors. Cunningham Falls State Park sees park goers for the annual First Day Hike in January as well as for events like the 10K Fun Run.
Whenever visitors choose to go, the park has been consistently family and pet-friendly since its establishment in the mid 1950s. The accommodations at the park are great for campers, hikers, or any sort of visitor. The park can be visited for one-off, spur of the moment trips or planned events where families often reserve the park's picnic shelters for covered picnic table gatherings.
Back in the day, Cunningham Falls State Park was extracted from the Catoctin Mountain National Park and given to the state of Maryland. The park's history dates back nearly 250 years as guests can discover the historic Catoctin Iron Furnace, which was built in 1774. Whatever it may be, ditch the cell phone, bring the camera, and enjoy everything Cunningham Falls State Park has to offer.
Have you ever visited Cunningham Falls State Park? Share your adventure at our Wide Open Roads Facebook!
Enjoy the outdoors?
Sign up for daily stories delivered straight to your inbox.