When the grass needs a trim, simply flip the tornado a finger and keep on cutting.
Here's the incredible image that is taking the Internet by storm (no pun intended). Shot by Cecilia Wessels, it shows her husband Theunis casually cutting the backyard grass as a fierce-looking tornado seemingly bares down on him.
So, what's the story behind this astonishing picture?
The tornado passed by the Wessels home in Three Hills, Alberta, Canada, on June 2. According to an interview with CBC, Cecilia headed for a nap as her husband began taking care of chores, one of which was cutting the grass. Alarmed by the sudden tornado in the sky, the Wessels nine-year-old daughter woke her mother up, upset that her father wasn't coming in the house to take cover.
Here is the image Cecilia posted to Facebook - and her hilarious caption: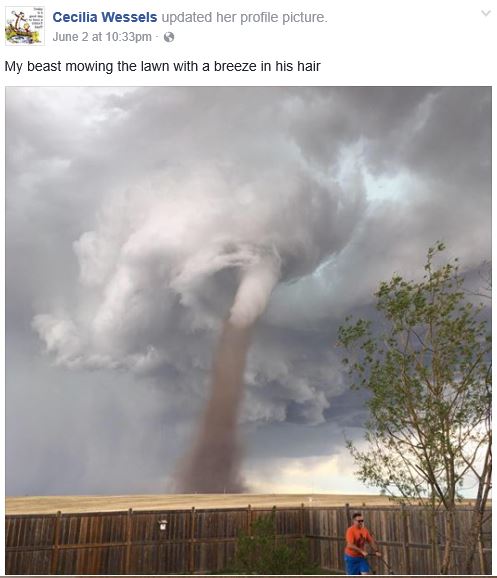 So how close was the tornado, and was Theunis ever in harm's way?
The tornado was apparently moving away from the home, and was quite a distance away - even though it appears close in the picture. The avid lawn cutter was also keeping a close eye on it as he merrily mowed.
"I literally took the picture to show my mum and dad in South Africa, 'Look there's a tornado,' and now everyone is like, 'Why is your husband mowing the lawn?"' said Cecilia Wessels.
Images Courtesy of Cecilia Wessels/Facebook
Did you enjoy this post? CLICK HERE to view more articles by Justin Hoffman. You can also check out his Photography Site Justin Hoffman Outdoors, as well as follow him on Facebook Justin Hoffman Outdoors, Instagram hoffmanoutdoors, Twitter @HoffmanOutdoors, or subscribe to his YouTube channel Justin Hoffman.
NEXT: HOW I GOT HOOKED ON CARP FISHING