Girls have just as much fun in the woods as boys, and camping doesn't have to be complicated for females. We all know of the basics: a tent, sleeping bag, stove, and those sorts of things, but not all items are created equal. When it comes to the essentials that may get left behind without proper thought and planning, women have a few more considerations. There are a lot of things you'll find on "camping supplies" lists, but below are additional essentials to include in your pack to ensure a safe, comfortable, fun, and memorable experience in the outdoors. While some of these items may sound skewed from the norm, they do provide important, easy, and environmentally conscious choices for a seamlessly fun outdoors experience. Even before you finish packing, remember that along with comfortable gear and essentials, it is increasingly important to consider your personal safety. Share a general location and itinerary with someone in your close circle, and be sure to check in with them before, during (if able), and definitely upon safely returning from the wilderness. Don't get things wrong; we'd suggest this for anyone camping, male or female, and it's technically just as essential as anything listed below.
But you came here for the gear, and we'll deliver with these camping essentials that women would benefit from bringing with.
Backcountry Poop Kit
Trust me, it's worth it to build a backcountry poop-kit! Leave No Trace provides a great crash course, and suggests you be sure to include five main items in your kit. Pack some toilet paper, a plastic bag to carry it out, a small trowel, a wag bag, and hand sanitizer. Wag bags, for those who don't know, are the alternative to burying your waste in the woods. It's a way to carry it out with you safely and discretely. In all seriousness, there are some places where you must use a wag bag, so be sure to know the rules in the region you're camping, and bring the necessary items according to the rules.
Pee Cloth
Pee Cloth is on to something. All of their cloths are made of natural, up-cycled fibers, for obvious ecological and health reasons. Most are 100% cotton; occasionally there will be a bit of hemp or bamboo. They're absorbent, soft, plush, come in pretty colors, and are perfect for the female looking to spend a lot of time outdoors.
Feminine Cup
Flex® makes a planet-friendly, comfortable, and safe alternative to tampons. Both the cup and the disk are great options because they're comfortable, discreet, bio-friendly, and even help with cramps for some. Just remember to dispose off the contents using correct Leave No Trace ethics. That basically means you need to dig a three- to six-inch hole, place the contents inside, and cover it up.
Camping Knife

Knives are always camping essentials, and it's important for women to have one they're confident in using safely. The ESEE Izula II is a compact, light-weight, fixed 2.875" steel blade, and it is a forever-knife for the outdoors. The micarta handle makes it easy to hang on to, and the ambidextrous sheath lets you customize it and keep it on either hip. The lanyard hole in the handle also makes it ideal for attaching it to a backpack or even wearing it around your neck. Sometimes campers are surprised how often they need a knife in the wilderness!
Multi-tool

A multitool can be an expensive investment, but it's worth every penny spent. We'll suggest this Leatherman Signal model, which has just about everything you'll need for a variety of camping activities.
Fire Starter Tool

Sometimes a multitool includes a fire starter, but if not it's another essential. Lighters and matches fail, these are much more mistake-proof. We'll suggest this Zippo Fire Starting Multitool, which is inexpensive and available on Amazon. It's imperative that you know the correct fire restrictions designated by the county you are recreating in. If you'd rather not splurge on a fire starter, you can opt for a feather stick, which serves as both a fire starter and tinder. You can make these each time you go camping, and keep them for future use!
Light Source

Flashlights that are compact, lightweight, rechargeable, and have a red-light option for wildlife safety are super advantageous. This Nitecore Tactical Flashlight powers up to 930 lumens and has a belt or pocket clip, a nice holster, and a battery organizer included. You can also opt for a headlamp for quick night-safety, cooking, reading, packing, and more. Either way, don't even think about heading out on a camping trip without some source of light for when the sun goes down.
Bug Spray and Sunscreen Combo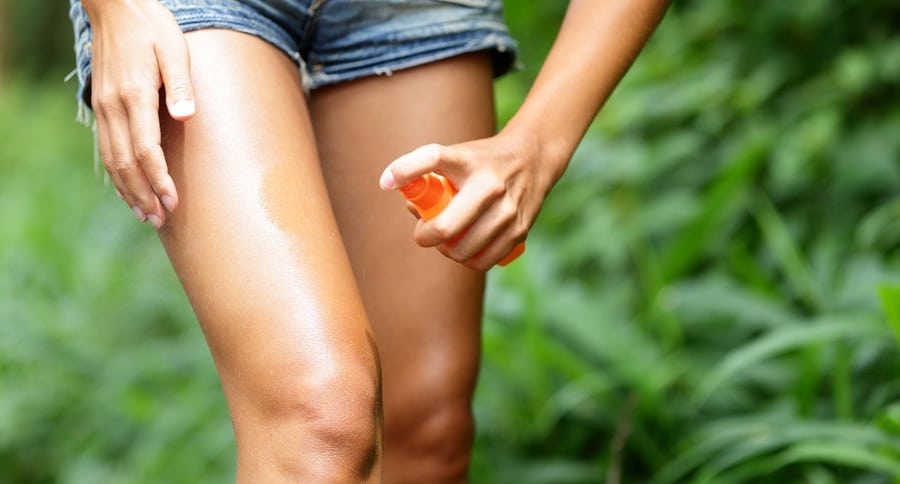 They aren't easy to find, but a bug spray/sunscreen combination (like this Avon Skin So Soft Expedition Spray) is a brilliant addition to your packing-list. If you can't find the two-in-one option, just make sure you've got some sort of reliable insect repellant and sunscreen, especially if you'll be camping during the spring or summer in a place known to have its share of bugs. Not only can it help avoid annoyance, but it can literally save you from a serious disease from a tick or mosquito bite.
Noise-Maker and/or Bear Spray

Are you prepared to scare away a bear or mountain lion while in the wilderness? There's a ton of information out there on what's best, but the biggest thing to concern yourself with is confidence and capability. If you don't know how, or simply can't use it, then don't bring it into the backcountry. Don't let that worry you, because the majority of this type of equipment is simple enough to understand. Above all else, know the right procedure if you do encounter a bear or other dangerous wild animal during a camping trip.
Solar Power Bank

Talk about an item with a saturated marketplace! Solar-charging power banks have really made a mark, and have become a pretty common addition to camping gear lists these days. The type matters less than the reliability, which is why this best seller from Amazon is the type we'd recommend. It doesn't just help charge your gadgets, but also provides a bright, LED light and can be clipped to the outside of a backpack for solar-charging on the go.
Medical First Aid Kit

Last but not least, a first aid kit is an absolute must for anyone who's going camping. Bandages, burn care items, sting relief ointment, and other packable medical supplies fall into the insurance category for camping items. You won't need them all the time (and preferably not at all!), but when you do you're going to want a kit like this on hand. Feel free to customize it to your needs, including specific medication requirements, and be sure to keep it all together, organized, and restocked if you use any of it.
Enjoy the outdoors?
Sign up for daily stories delivered straight to your inbox.