The Texas gunmaker added the firearm to its Rough Series, a collection of budget-friendly pistols.
Back in January at 2020 SHOT Show in Las Vegas, Bond Arms took to the showroom floors to spotlight its newest value-priced pistol—the Grizzly.
A single-action, double-barrel pistol, the Grizzly joins the Rough Series as an affordable self-defense option, while still boasting the premium features found on all Bond Arms firearms. With a stainless steel barrel and frame, a cross-bolt safety, retracting firing pins, a spring-loaded cam-lock lever and a rebounding hammer, the Grizzly is as sleek as it is functional.
However, its 3-inch barrels chambered in .45 Long Colt and .410 are what wins customers over. While the stock barrel comes with a blade front sight and a fixed rear sight, the Grizzly frame is compatible with any standard Bond Arms barrel.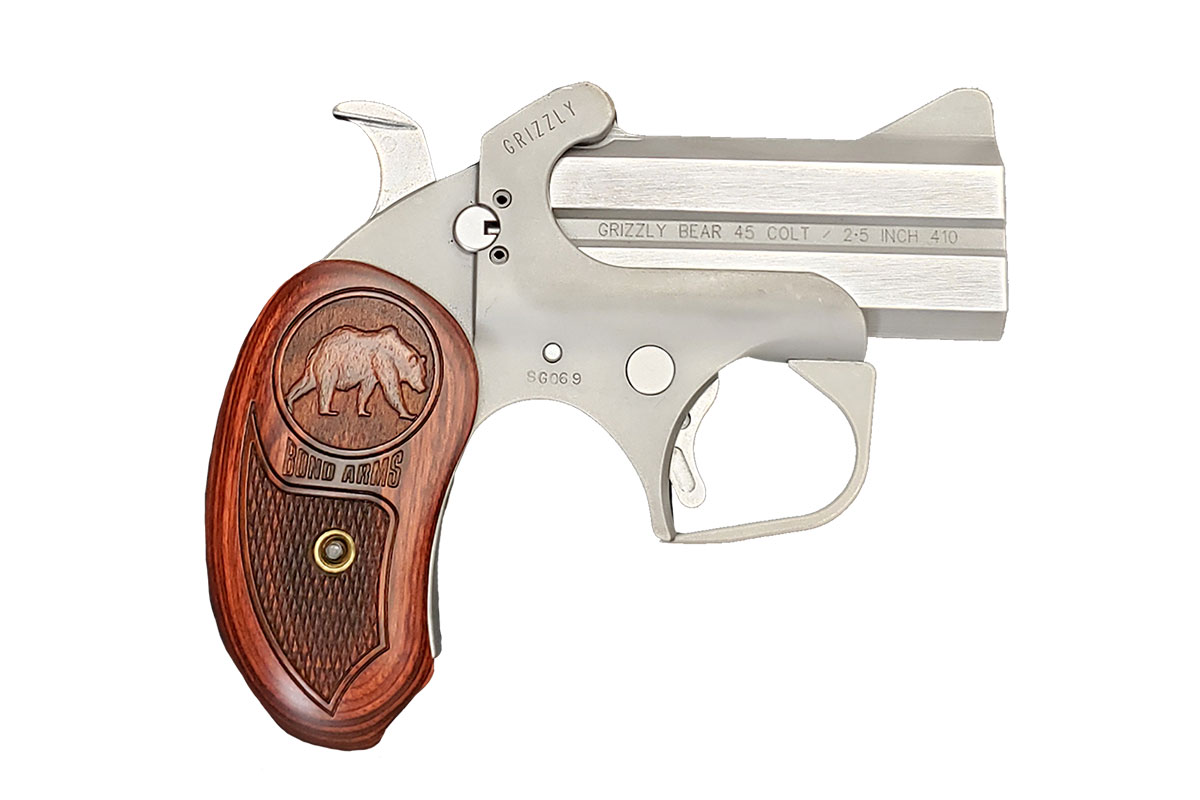 Bond Arms didn't slack on the aesthetics, either, as the Grizzly dons a brilliant set of rosewood grips crafted with engravings of grizzly bears and the Bond Arms name. A checkered panel offers a better grip, too.
Complementing the artistry that harnesses the firearms namesake, Bond Arms also designed a special leather holster embossed with a grizzly bear.
The Rough Series, which also includes Bond Arms' Rowdy and Roughneck models, aims to offer shooters a stainless steel firearm at a fair price without sacrificing too much quality. To lower the price point, Bond Arms cut down on polishing and hand-finishing, but every pistol still goes through minimal deburring and cleanup to remove any sharp or rough edges. Afterward, each receives a bead-blast finish.
Tiny casting imperfections and rough areas are removed via sanding and polishing, but many of the marks are still visible to give each firearm its own unique "character."
To find out more about the new Grizzly and the rest of the Bond Arms lineup, check out BondArms.com.
NEXT: THESE 5 BEST SELLING HANDGUNS FROM BOND ARMS ARE THE EPITOME OF COMPACT PROTECTION