Hunting blacktail deer at Steinbeck Vineyards and Winery in Paso Robles, California has changed my perspective on deer hunting, grape growing, and a whole lot more.
Every once in a while, you get to experience a hunting trip that's as unique as it is satisfying, one you walk away from knowing there's something special about a place that can't be duplicated.
That's how I felt after traveling to a Central California vineyard and winery, which just so happens to be home to a population of one of the rarest deer species in North America.
Deer hunting and wine don't naturally go together, but when I found myself immersed in both worlds, the connection became pretty clear.
Thanks to a good relationship with the folks at Camp Chef, as well as the support of Nosler and one of their newest firearms, I was able to harvest my biggest deer to date, my first blacktail, and a serious contender for "Greatest Hunting Trip of My Life."
The Chance for Something Special
There weren't many times in the last several years where I haven't considered myself extremely lucky to get to work as editor of an outdoor publication. I sincerely do my best to stay humble and not take any of it for granted, and I try to soak up experiences and share these stories with the hope that they'll inspire and motivate others.
Let's just say I had serious anticipatory excitement about this trip.
Arriving in this part of California for the first time was admittedly a little odd. The first thing to greet me was the smell and sting of smoke from distant wildfires. None were all that close to where I'd landed or where we'd be going, but the winds were making sure I didn't forget the fires, or the tough situation they were presenting for the mountain landscape.
After slightly adjusting to the haze, it was time to meet up with Brooks Hansen from Camp Chef, Zach Waterman from Nosler, and Ryan Newkirk, head of vineyard operations at Steinbeck Vineyards and Winery. Not only is he a viticulture wiz, but Ryan also happens to be a serious deer hunter.
When he made the decision early on to focus on helping run his family's business, the idea of outsiders getting a chance to hunt the unique blacktail deer (called coastal mule deer in some parts of California) that hung around the vineyard property was never really considered. It was for family and friends, just something to do because it was enjoyable and fruitful. And they'd discovered the best part: the venison from these deer was delicious. The grape leaves surely had a lot to do with it.
Slowly but surely, Ryan has begun to share the deer hunting experience at the vineyard with others. It's on an extremely small scale, but for good reason.
Newkirk's grandparents, Howie and Bev Steinbeck, were the brains behind the establishment of the vineyard and helped build it into the grape-providing parcel it is today, as well as the winery that created its own label. It was Ryan's mother, Cindy, who spearheaded that part of the business.
All this is to say, the operation of Steinbeck Vineyard and Winery is a family affair, and as cliche as it may seem, that sentiment is extended wholeheartedly to anyone who visits. I felt at home and welcomed instantly upon interacting with Ryan and his clan, and was overwhelmed by how incredible the opportunity to be there, let alone hunt deer, was going to be.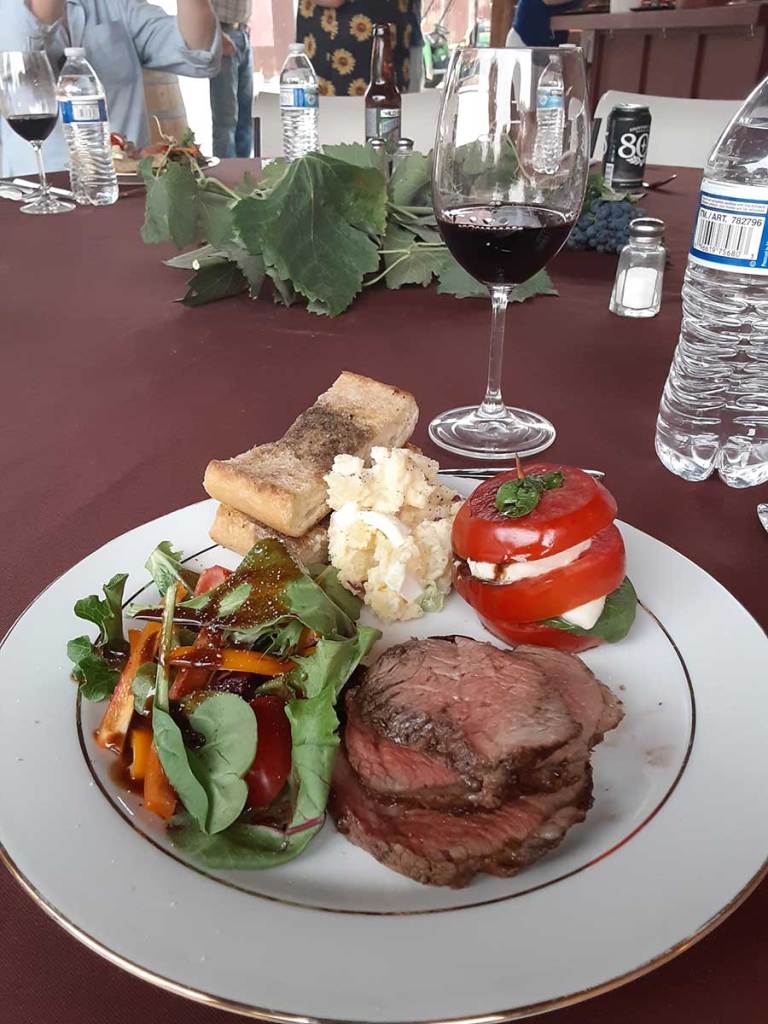 The Steinbeck property is unlike any hunting grounds I've ever been on, and as we discussed the plan for the three-day experience over a meal prepared by Howie and Bev, some things started to click in my mind. Conducting a deer hunt on this land was going to be, let's just say, different.
We'd be mostly driving in a pickup through row after row (after row after row after row...) of grapevines, and would be on the lookout for deer among the tight bushes of grape leaves. Spotting antlers would be the name of the game, and any confirmed sightings would trigger a quick decision whether or not to bail out of the truck and attempt a quick shot if it presented itself.
While this might not appeal to the open-country hunters of the Rocky Mountains, or the treestand hunters of the Midwest, this was how it's done at Steinbeck, and it made for some serious excitement. Oh, and an occasional stiff neck from craning this way and that out the truck window.
Ryan reassured us it was the best approach, and mentioned that the deer are used to trucks moving through the vineyard every day. It was an interesting game of "What did I just see?" and some apprehension at first to even speak up. Eventually I got the hang of it and slowly improved my spotting skills. I had a long way to go to ever match Newkirk's keen eye for this sort of thing. He could catch a glimpse of a leg or ear well before I had any idea there was an animal among the vines.
At one point, we made our way to the high point on the property for a great view, and a promising glassing session.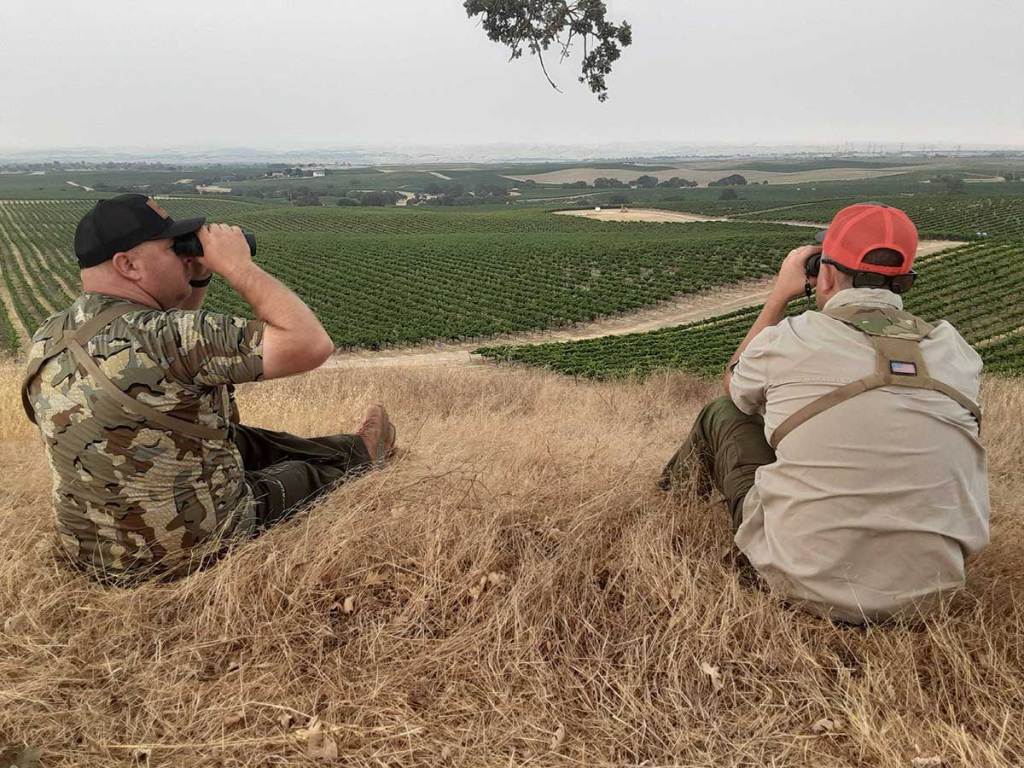 Early on I was able to sit back and watch as my fellow hunter Owen went after his buck. He deserved first dibs, as this was his first successful deer hunt, and he accomplished quite the harvest considering it was his first set of antlers.
It also lined us up to taste test some of the grapevine-influenced deer meat, which further convinced me this was a hunt unlike any other. Cindy helped us cook the heart on some cast iron less than an hour after the deer fell, and a touch of salt and pepper was all it needed to taste immaculate. It still couldn't compare to the backstrap we had later that evening.
Not only was it some of the best-tasting venison I'd ever had, but when it was cooked on the Camp Chef Woodwind pellet grill that Brooks manned, it reached unprecedented heights.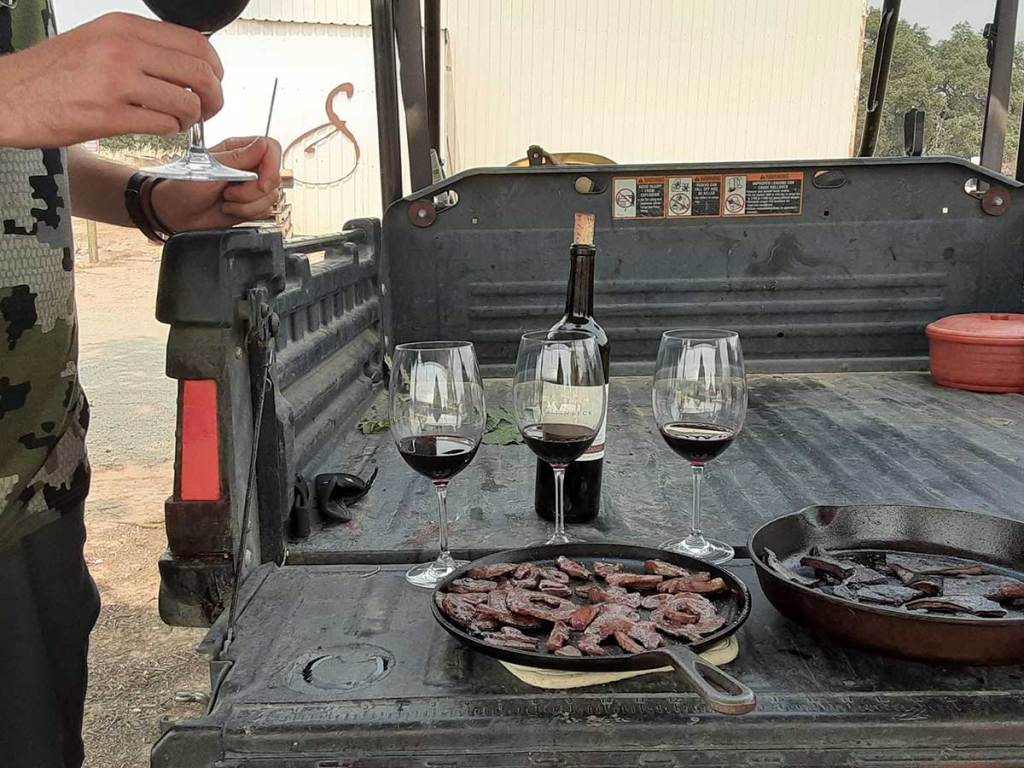 Later Brooks pulled off the "reverse sear" method to perfection, a technique Camp Chef suggests as the best way to prepare a venison backstrap. I've done it before, but never been able to execute as well as Brooks. It was a great cap to a fantastic first day.
The Old Vine Buck
The next day I got to take the proverbial driver's seat, and kept the Nosler Model 48 Mountain Carbon close by as we traversed the fields from the pickup truck. Ryan had noticed a familiar buck in an area he knew held potential, and filled me in on a bit of history related to the well-sized blacktail.
It was more than enough to make this buck our main objective, and we circled the area several times with high hopes. Nearly a day's worth of cat and mouse, with another brief sighting or two, produced nothing and we recalibrated for the next morning.
That's when the winds shifted in our favor.
After a short search, Newkirk laid eyes on our buck, and quickly devised a game plan. We'd continue on ahead with the truck, quickly make an exit and get on foot, then cautiously approach the row of vines he was sitting in.
Newkirk led the way, and stopped in his tracks. He verified it was our buck he saw, and he began to line me up for the shot. His shooting sticks did their job, as did the 28 Nosler once I focused in and pulled the trigger. The deer moved sharply to the left, cutting across a row of vines, so I had to pull up and reposition. It took one more shot on the wounded buck to finish him off.
As I approached the largest deer I'd ever harvested, the strands of loose velvet still stuck to his antlers were what I noticed first. Then extra-special character and uniqueness, even among the blacktail on Newkirk's vineyard, was obvious. I could tell by Ryan's reaction that this was a notable deer among the many he and his grandfather had seen taken from the vineyard.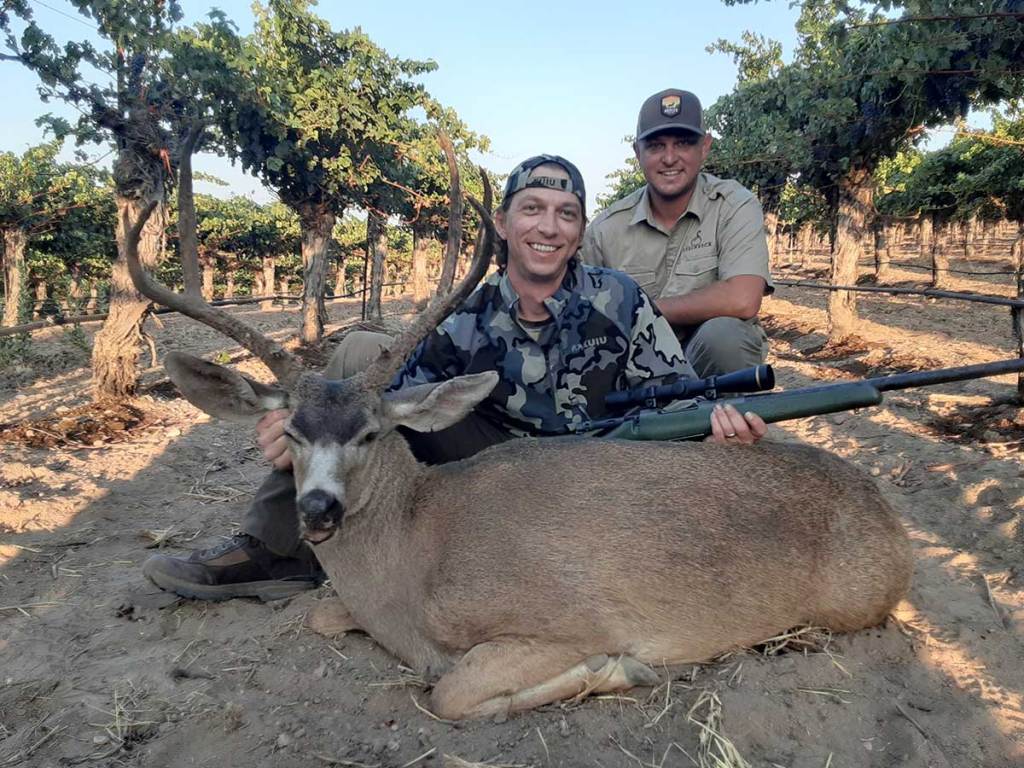 I'd shot the deer in an area used for growing Cabernet Sauvignon, and as is custom, Newkirk provided a bottle of wine made from grapes harvested from the same vines back in 2013, the buck's estimated year of birth. They're known at Steinbeck as the "Old Vines," and were part of the original block, first planted in 1982. The buck was born, and so was the bottle of wine, and they'd both wind up being shared together. Having them accompany one another was just about the perfect sort of wild game meal you could ever ask for.
I watched Ryan and his grandfather Howie butcher my buck, and felt nothing but appreciation. It was strong, a sense I haven't lost yet, and don't assume I will any time soon.
The venison made it home with me, along with the bottle of wine and a hunting memory that will forever be etched in my brain. Not long after, the mount returned from the taxidermist, and I felt the experience all over again. It's a feeling I cherish, and a trip I won't forget.
It's well worth it to look into Steinbeck Vineyards as a destination, even if you may not have much of a shot at hunting with Ryan. They do Jeep vineyard tours, wine tasting events, and are involved in the local Paso Robles community.
If you ever get the chance to see the place for yourself, and enjoy some of the amazing hospitality and generosity shown by the entire Steinbeck crew, you'll get a taste of what it was like.
What you won't get a taste of is any of my blacktail venison or 2013 Cabernet, because I finished those awful quickly.
NEXT: FEEDING THE OBSESSION: AN OKLAHOMA TURKEY HUNT WITH MOSSY OAK
Enjoy the outdoors?
Sign up for daily stories delivered straight to your inbox.