This pumpkin spice latte moonshine recipe is a new take on an old classic.
If you are a fan of moonshine-style recipes, like this apple pie, blueberry pie, or even chocolate-covered-cherry moonshine, then this new fall classic recipe for pumpkin spice latte moonshine is for you.
This recipe is very easy because there is no cooking required, unlike all three recipes above. What you'll find is that you'll get a taste of pumpkin pie and coffee flavors blended together with a smooth taste of alcohol. You will be drinking a perfect, early-autumn sipper for a campfire or get-together with family or friends.
Also, like all the recipes above, this is not real moonshine. It is simply called moonshine because it is stored in jars like the real thing.
Pumpkin Spice Latte Moonshine
Ingredients
1 half gallon apple cider
1 29-ounce can of pumpkin puree
Pumpkin pie spice
2 cups dark brown sugar
2 cups 190-proof Everclear
1 cup coffee liqueur
2 tablespoons vanilla extract
To get this easy recipe started, simply combine the apple cider, a can of pure pumpkin, 2 cups of brown sugar, vanilla extract, and 6-8 tablespoons of apple pie spice in a large pot. Whisk everything together until smooth.
If you find yourself wanting to experiment with different flavor profiles, you can try incorporating cinnamon sticks, ground cloves, ground ginger or ground nutmeg.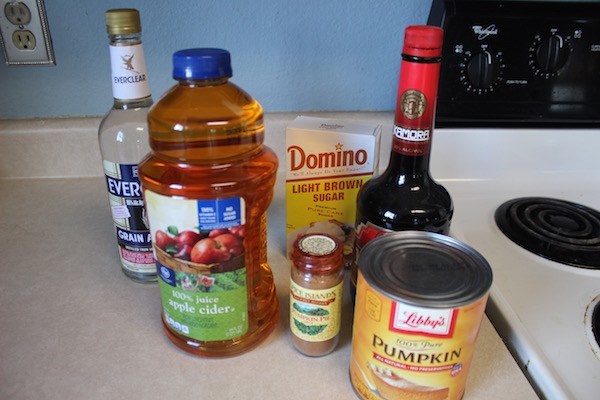 The amount of pumpkin pie spice you use is up to you. I used 6 tablespoons. You can also do it yourself by adding cinnamon, ginger, nutmeg, and sugar, all individually. I just found it more convenient with the all-in-one pumpkin pie spice.
Once combined, pour in the 2 cups of 190-proof Everclear and 1 cup of coffee liqueur. If you prefer more heat (alcohol), put it in there! The taste will blend when stored.
Do not used a cream-based coffee liqueur. It will curdle in storage if you do. However, the coffee liqueur is important because that is what gives this moonshine recipe the latte taste.
All that is left to do is jar it! If you would like to make more of this recipe at one time, just double the ingredients.
Be sure to store this in the refrigerator and let it sit for at least five days before drinking. The pumpkin and alcohol will separate inside the jar but that's OK; just shake it up before opening.
Go buy some mason jars and enjoy your pumpkin pie moonshine!

All images via Brad Smith
NEXT: THE BEST RECIPE FOR HOMEMADE APPLE PIE MOONSHINE
WATCH
Enjoy the outdoors?
Sign up for daily stories delivered straight to your inbox.