Editor's Note: Products featured on Wide Open Pets are independently selected by our editors. However, when you buy something through our links, we may earn a commission.
Dogs love rawhide, but they can pose a risk to your pet — luckily, there are safer alternatives.
Rawhide treats are always a pet favorite — but according to the AKC, they can cause real digestive issues for your dog. Rawhide bones are touted as all-natural, which can appeal to pet owners, but you need to be wary. They're made from dried animal skins that have been brined in salt to prevent decay — if you source your rawhide from the USA, you can ensure quality control, but that won't solve the main issue. Since it can't be chewed down, the larger chunks your dog bites off and swallows can cause blockage or obstructions in the esophagus or intestines. Instead, look for chews that are 99% or 100% digestible, meaning they will safely break down in the stomach and won't cause issues for your pup — but they function the same as rawhide, so they'll provide entertainment and a way for dogs to expel energy. Here are our favorite alternatives to rawhide:
Best Rawhide Alternatives for Dogs

These thin bully sticks are perfect for smaller dogs or puppies — and they're made from grass-fed, free-range beef and are fully digestible. These sticks improve dental health by scraping away tartar and plaque and also help to calm and soothe anxious or overactive dogs. One of our editors is a huge fan of these for her new rescue pup — it keeps her distracted and content.

These treats are chemical- and additive-free! Earth Animal no-hide chicken chews have a five-star rating on Amazon and are made from wholesome ingredients like chicken, brown rice, and eggs. They're hand-rolled and baked in Lancaster, PA and come in a few different flavors, like venison or peanut butter.

These turkey tendon strips are slow-roasted and made from turkeys sourced in the USA. They're great for dogs with sensitive stomachs and are a high-protein, low-fat option for your dog.

These sweet potato fries are made from USA-sourced spuds, there's only one ingredient in these dehydrated treats: sweet potato. They're a great option for dogs with sensitive stomachs or limited diets.

These bully sticks are extra-thick for aggressive chewers and bigger dog breeds — the thick treat will take even the most excitable chewer a few days to get through. One reviewer on Amazon wrote: "I searched long to find a healthy, excellent sourced product that would work for both my dogs. These fit the bill and did not disappoint me!"

These Yak Cheese Chews are locally sourced from a third-generation farm in Washington and made in the USA. In the creation of these delicious treats, the lactose is removed so these won't have any ingredients that will irritate a dog's stomach — and dogs of all sizes will love them.

Rawhide free, grain-, gluten-, dairy-, and soy-free, these peanut-flavored options are great for dogs with sensitive stomachs. They're also made in the USA, and the fun shape and delicious peanut taste will entertain your dog for hours.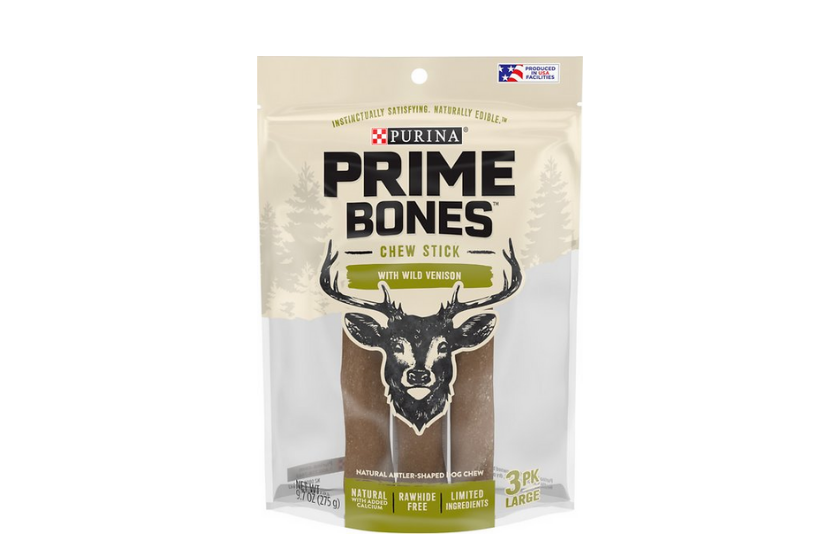 These wild venison treats are from trusted pet brand Purina — and are perfect for big dogs, because these antler-shaped bones are pretty huge. They have added calcium in them and will freshen their breath the longer they chew them.
What does your dog love to chew on? Tell us on the Wide Open Pets Facebook page!
This post was originally published on July 25, 2019. It was updated by Alida Nugent.
Enjoy the outdoors?
Sign up for daily stories delivered straight to your inbox.