Editor's Note: Products featured on Wide Open Spaces are independently selected by our editors. However, when you buy something through our links, we may earn a commission.
When the cold weather comes, the first parts of your body to experience a loss of heat are the extremities. This includes your fingers. If your fingers are numb from the cold, it's unlikely you'll be able to draw your bow efficiently, or more a crisp trigger pull on your rifle. That's why a good pair of hunting gloves is a necessity for most hunting scenarios. While there's a ton of options out there, finding a quality pair that will last you for years is often easier said than done. There's often a ton of little quirks that can either make or break a pair of cold weather hunting gloves. Today, we'll break down some of the things you should consider when picking out a pair for this year. You don't want the reason you missed a chance at the buck of a lifetime to be because your gloves failed you. We'll also give you some recommendations based on the time of year they are useful, the weather conditions they are built for, and a variety of regions to cover most hunters here in North America. We tried to cover the gamut to make sure there was something for hunters of all budgets.
Choosing Hunting Gloves That Suit Your Needs
If we're being honest, all hunters should have several options for gloves at the ready during the season. For instance, in the early season you're probably going to want a pair of lightweight gloves. Temperatures are usually still mild in those times, so you can get away with a simple non-insulated pair during those times. Once the temperatures start to drop, that's when you're going to need to consider insulation and materials.
Most of the cheaper gloves on the market come with 3M Thinsulate insulation in them. Which is fine for many hunting scenarios where you're only in the woods for a few hours. Thinsulate is a synthetic material that has the benefit of being very thin and quick to dry when wet. However, if you're planning multiple all-day sits in the treestand from the peak of the rut in November into the late season, you may want to look at fleece or wool instead. Fleece is also synthetic, light, warm, and dries quickly. The downsides are it's usually much more expensive than Thinsulate, and it also won't keep your hands warm if the gloves get wet. There's also PrimaLoft, which is another synthetic material. It uses much finer and softer fibers to keep heat trapped. It has water-resistant qualities naturally and offers great durability. Some people believe it's warmer than fleece or down.
On the flip side, wool is natural and is produced from animals like sheep. It has natural water-resistant qualities that keep them warm even while wet. The big downside is that once a pair of wool gloves is saturated, it takes a long time to dry out. Wool may be ideal for a morning waterfowl hunt where you go home and dry off near a hot stove afterwards. They may be less ideal for a long backcountry hunt where your gloves must be air dried and it is consistently raining. Wool is always going to be the warmest insulation you can get for gloves, especially if you go with the Merino wool variety. Merino is sheared from specialty sheep, and it has great warmth, comfort, and moisture wicking ability that suits it well to hunting gloves. Wool also tends to be more windproof than fleece which is something to consider if you're hunting an especially windy state like Wyoming.
Personally, I like my gloves to have a lot of dexterity in the fingers, especially for bowhunting. I don't want to to remove my gloves when that big buck steps out to get an accurate shot. That's a lot of excess movements that could spook the deer if it happens to be close. Fortunately, manufacturers are getting much better about this kind of thing, and many are now making gloves that allow you to operate a phone or other touchscreen device while wearing them. I also like gloves with non-slip grips of some kind. I don't want the reason I miss a chance at a big buck to be because my firearm or bow slipped or shifted as I was getting into position.
The dexterity issue is why I don't recommend mittens for most hunters unless they are of the pop-top glove variety, which is a shame because mittens are usually slightly warmer than gloves. However, unless you're hunting at long ranges where you can remove them quickly and without being detected, there's a chance pulling your mitten off in the limited moments you have to get a shot off could come back to burn you Now, with all that said, let's look at some of the best hunting gloves on the market today. We've made selections to cover a variety of seasons and budgets, so there's bound to be something here that will fit your hunting style.
1. The Best for Early Season Hunting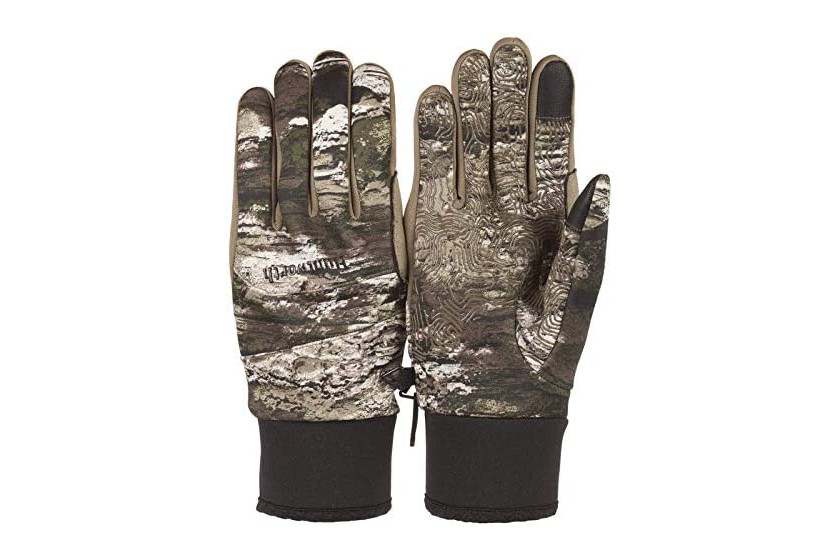 We'll start things off with a lightweight option that's perfect for the warm conditions of early archery seasons. These gloves are unlined, but they do come with a durable water repellent (DWR) finish, that helps keep them dry if you're hit by an early fall rain. Huntworth offers this glove in four different camo patterns. One feature we really like about these is the fact that index finger and thumb are made to be touch screen capable. So, now you can operate your electronic equipment. We also like Huntworth's tacky grip on the inside of the fingers. They just make it easier to hold your bow or manipulate the controls on your camera without needing to peel your gloves off first. For $19.95, they are also very affordable for just about any budget.
2. The Lightest Option

If you're looking for something that's truly lightweight, it's hard to beat the 1.3-ounce weight of these gloves. These are an excellent option for warm weather hunting. First Lite gave these gloves moisture wicking and odor control capabilities which make them great as shooting gloves for deer hunting. However, we also like these as a lightweight pair of gloves for upland bird hunting. They have a ton of dexterity in the fingers which makes slipping off the safety of your shotgun quick and easy when a rooster pheasant flushes right in front of you. These gloves also have touchscreen capabilities so you can easily stay connected without needing to make a lot of excess movements that give away your position. These gloves are available in three different color patterns and start at around $50.
3. An Early Season Pair With Added Dexterity

Another light to midweight pair that's best suited for early season, the Sitka Traverse camo hunting gloves offer an excellent amount of dexterity. That's partially thanks to the silicone print on the palms that gives an extra bit of tactile feel while using them. At the same time, Sitka added ax suede to the thumb and index finger to ensure you can operate a mobile device without removing them. These are a good option for anyone planning an early season backcountry hunt in the mountain west where warmth isn't your biggest concern. Sitka offers five different camo patterns and a solid black. There is also a women's version of these same gloves.
4. A Transitional Pair to Take Into the Mid-Season

For anyone looking for a glove that can transition from the late season into the peak of the rut through November, Under Armour has a fine option with this wind-proof option. These gloves have a lightweight Permaloft insulation. These do offer a little less dexterity than an early season glove, but UA did build in the ability to operate a touchscreen device, which is great because we hate getting our fingers numb just to respond to a hunting buddy's text on a frosty morning. Under Armour offers this glove in several different camo patterns including Realtree Edge.
5. This Pop-Top Pair is Perfect for the Mid-Season Chill

These pop-top mittens are the best of both worlds for hunters who want extra warmth. These gloves are built with 80 grams of Thinsulate insulation and there are full finger gloves under the mitten portion to give more dexterity. The glove portions are built for manipulating touch screen devices, and the fingers and thumb also pop off for when you need a deft touch. These gloves also feature an odor-resistant lining to help hide from the sensitive nose of that big buck. The reason we picked these over other pop-top options is because the mitten portion closes using a magnet instead of Velcro, which makes too much noise for a hunting situation. Another nice feature is a small, zippered pocket where you can slip a hand warmer in for extra warmth.
6. The Best Waterproof Option

For serious waterfowlers, there is almost no way to avoid getting your hands wet while picking up downed birds or retrieving your decoys. That is where these waterproof gloves come into play. Sitka designed these waterproof gloves to have a Gore-Tex membrane that breathes and still manages to shed water. This ensures your fingers stay warm and at the ready for the next pass of low-flying ducks or geese. They also offer excellent wind protection and warmth thanks to the PrimaLoft insulation. The only downside is they do lose something in the dexterity department. However, these are the perfect decoy gloves for the serious waterfowler. They are expensive at $139, but they're one of the best pairs of hunting gloves on the market today.
7. A Splurge That's Well Worth the Price

If you know the KUIU name, you already know their gear comes with a high price tag, one that's usually justified by the quality of the equipment. These gloves may be $119, but they are an exceptional choice for a hunter who needs a combination of warmth and protection from the elements. These gloves feature a toasty wool lining and PrimaLoft insulation in the palm portions. KUIU included leather on the palm and fingers to increase the dexterity of these gloves. The outer fabric is also DWR treated to shed rain and snow. There's also an HDry membrane to help make these gloves totally waterproof and windproof. If you're planning a serious backcountry expedition, these gloves are an excellent choice. KUIU offers a simple grey color, but also their popular Vias, Verde, and Valo camo patterns.
8. This Budget Pick For Mid- to Late-Season

Most hunters know Browning for their firearms, but they make some fine hunting clothing too. These waterproof gloves feature two layers of outer shell fabric and 80 grams of PrimaLoft insulation. The leather palms have a silicone overlay which helps with dexterity. Although these are thick gloves, don't expect them to easily manipulate delicate items or your firearm. We appreciate the elastic cinch at the risk. It helps greatly with keeping heat from escaping through the seam between your coat and gloves. Browning offers these gloves in Realtree Edge and Timber. They also offer it in Mossy Oak Bottomland and Break-Up, so there's one to match any hunting outfit. Clocking in at under $40, we like this option for any hunter who wants a toasty warm option for mid- and late-season that's also not going to break the bank.
For more outdoor content from Travis Smola, be sure to follow him on Twitter and Instagram For original videos, check out his Geocaching and Outdoors with Travis YouTube channels.
Enjoy the outdoors?
Sign up for daily stories delivered straight to your inbox.