Anglers come in a wide variety, and very few fish the exact same way. You do see fishermen and women divided into vague groups, however. You have species-specific groups, such as bass fishermen, crappie fishermen, or walleye fishermen. You have devoted tackle lovers, such as crankbait fishermen, finesse fishermen, or live bait anglers. But one of the biggest distinctions—often determined by financial status or proximity to fisheries—is boat anglers and bank anglers.
Like many, I've flipped back and forth. Growing up and having access to my father's boat, I was able to use it to fish whenever I wanted. There were several oxbow lakes and a river close by, so I had many options. Fast forward a few years, and I moved off to college. The city I was studying in was 40 to 50 miles from my home fisheries, and there was no way I could store a boat at my apartment. If I wanted to keep fishing consistently, I'd have to figure out something else.
A little research and map studying revealed a couple local lakes that appeared as though they had great bank access. I was stoked to have a place to go even if I couldn't reach everything the lake had to offer. I did have to change my tackle setup a little bit to accommodate a few nuances of bank fishing. First, I had to be able to fish and move (on foot) effectively. Second, I had to make sure I didn't go broke hanging up expensive tackle on tree branches.
I prepared a small tackle box that I could strap cross-body around my shoulder. It was light and didn't hinder me at all, and it allowed me to keep my lures and pliers within reach. I also switched to some cheaper lures and saved my quality gear for boat trips. It was an adjustment, but I soon came to really enjoy bank fishing.
Fast forward a few years later, and I have moved again, and I have a boat again. I primarily fish out of my boat but still enjoy the opportunities I get to bank fish or wade fish. Bank fishing is great for new anglers and allows people to hone their fishing skills before investing in a boat. Great bank fishing can be accessed all across the country in the form of local ponds, park lakes, and small rivers. You just have to find it. If you do get the itch to travel a little, here are four of the best fishing areas in the United States for those without a boat.
Lake Michigan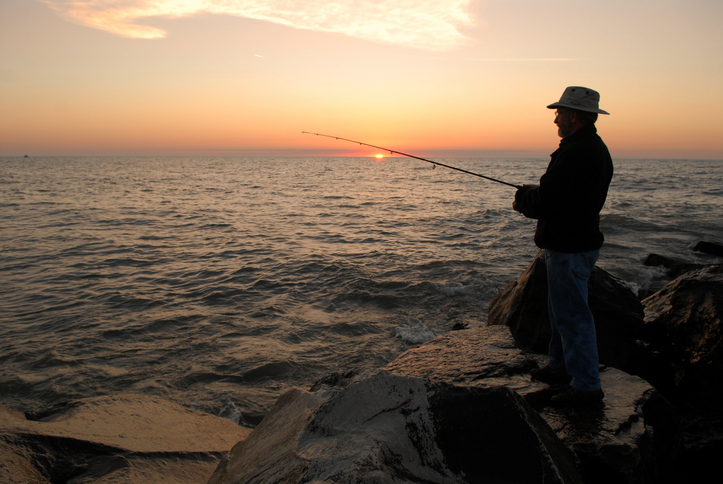 Lake Michigan is the largest freshwater lake in the United States. It has 22,440 square miles of surface area and a 1,640-mile shoreline. The math alone should demonstrate the great amount of fishing opportunities this lake has to offer. Lake Michigan practically has it all when it comes to species to fish for. The lake is full of largemouth bass, smallmouth bass, walleye, chinook salmon, coho salmon, steelhead trout, lake trout, brown trout, and multiple species of catfish. Granted, not all the species are commonly caught from the shore; but with that multitude of species to fish for, you never know what you could reel in.
When it comes to fishing without a boat, Lake Michigan's lengthy shoreline provides endless areas to target. The lake is full of long piers and marinas as well, which are often dynamite areas for bank fishermen. Live bait fishing and throwing artificial lures both work well in Lake Michigan — and as I mentioned, you never know what you might catch.
Upper Arkansas River in Colorado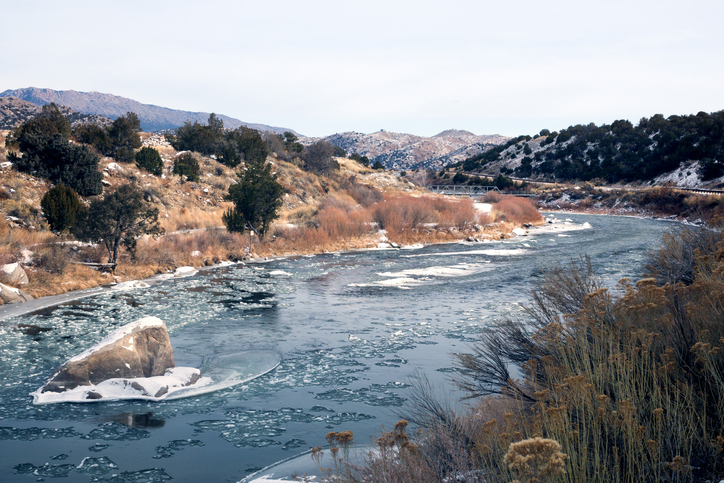 The Arkansas River winds through several hundred miles of Colorado and hosts great fishing throughout. For an extra spectacular fishing experience, you should focus on the upper hundred miles starting around Leadville. The Arkansas River is one of the United States' premier trout streams and is home to nearly 2,000 trout per mile. While having a plentiful trout population, the river also presents a chance to hook into a trophy brown as well.
The many miles of winding river provide the perfect bank or wade fishing experience. The Arkansas River is characterized by endless water with tons of public access and plenty of current to keep those native trout hanging around. Lots of anglers will drift fish from the bank and throw live bait, frozen shrimp tails, or salmon eggs; but what appears to be the most fun is throwing small, suspending jerkbaits and rooster tails for big browns!
Lake Fork in Texas
The famed Lake Fork in Texas covers about 42 square miles and has 315 miles of shoreline. Located just outside of Dallas, Lake Fork offers one of the best fisheries in the country. Even though it is often said to be overcrowded and tough to fish, Lake Fork should still be on every angler's travel list. While Lake Fork has very good populations of crappie, bluegill, and catfish, it is hard to argue against the true king of Lake Fork: the largemouth bass. Lake Fork dominates the Texas record books with not only the state record bass (over 18 pounds) but also has the top six bass caught in the state (all over 17 pounds).
Considering that Lake Fork has a sizable shoreline and many marinas and docks, bank fishermen should be able to find good places to fish. Spawning season is a great time to target fish from the bank, as the fish have moved shallow and can be easily casted to from the shore. While Lake Fork might not offer the opportunities that Lake Michigan does, it does give you the chance to catch the biggest bass of your life.
Castaic Lake in California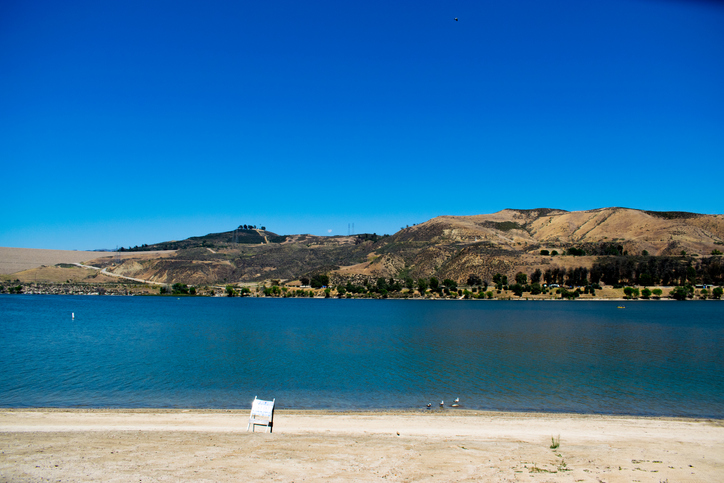 Even though Castaic Lake is significantly smaller than the other two lakes mentioned earlier, it is a true bass fishing powerhouse. Coming in at just shy of 3.5 square miles of surface area and 29 miles of shoreline, it is easy to see how Castaic can be overlooked. Yet it harbors some of the largest bass in the country and is no slouch for catching striped bass or trout. Not only can you pull big fish out of this lake, the scenery is unlike many other places in the country.
Castaic Lake lies within the Castaic Lake State Recreation Area, and all of the shoreline is public. The recreation area itself is full of trails and potential access to the water, making it possible to fish multiple parts of the lake. The shoreline is characterized by lots of dry canyons and rocky riprap, making the lake's cover unique. If you do find yourself fishing from the banks on this lake, make sure to pack a big swimbait to increase your chances of catching a giant.
No Boat, No Problem
While it does feel as if a boat unlocks endless possibilities for an angler, not having one shouldn't be seen as a disadvantage. You just need to change your approach and stay positive. Think about it this way: You can fish areas that boat anglers might not be able to get to, or present a bait in a way that the fish don't see often. Even better, you won't spend as much on gas! Staying positive and being resourceful will land you more fish than having a boat alone will.