Here are the top five best crankbaits for bass, according to experienced anglers. Tie one of these on for a better chance at success.
If you're a bass angler that loves to fish crankbaits, one that likes to bring out the big guns in order to catch that elusive lunker, this list is for you.
The fact is that freshwater bass fishing is the most popular type of angling on the continent. It stands to reason that among all of the choices of lures and baits to use to catch big bass, the crankbait is one of the most-purchased and useful tools in our arsenal. It's a joy to chuck these great lures and start cranking while waiting for a strike, and we can only hope we'll hang on when it happens.
Over the years we've used a lot of different models and different fishing techniques in an effort to catch more and bigger bass. Along the way, we've developed a few preferences.
Let's cover the basics for a moment and discuss these venerable baits and what they can do. Then we'll dive into our recommendations.
What is a Crankbait?
Generally speaking, a crankbait is a type of hard bait that can be attached directly to your line. The term "crankbait" is meant to denote the fact that the fisherman will cast this lure some distance into the water and "crank" it back with his or her reel, over and over at different speeds, to cover as much water as possible. A crankbait is designed to drive down and through the water and remain below the surface (for the most part) during the retrieve. Crankbaits typically employ treble hooks attached at the bottom (or belly) portion as well as the back of the tail.
The types are many. There are shallow diving crankbaits, medium diving crankbaits, and deep diving crankbaits that will reach depths of 12 to 20 feet spending on the model. Many use a plastic lip, which helps supply the diving action as well as the tight wobble that bass find so irresistible. The lip typically serves as the attachment point for the fishing line. There are also lipless crankbaits made popular with the game-changing Rat-L-Trap, first invented in the 1960s by Bill Lewis.
The Best Crankbaits For Bass Fishing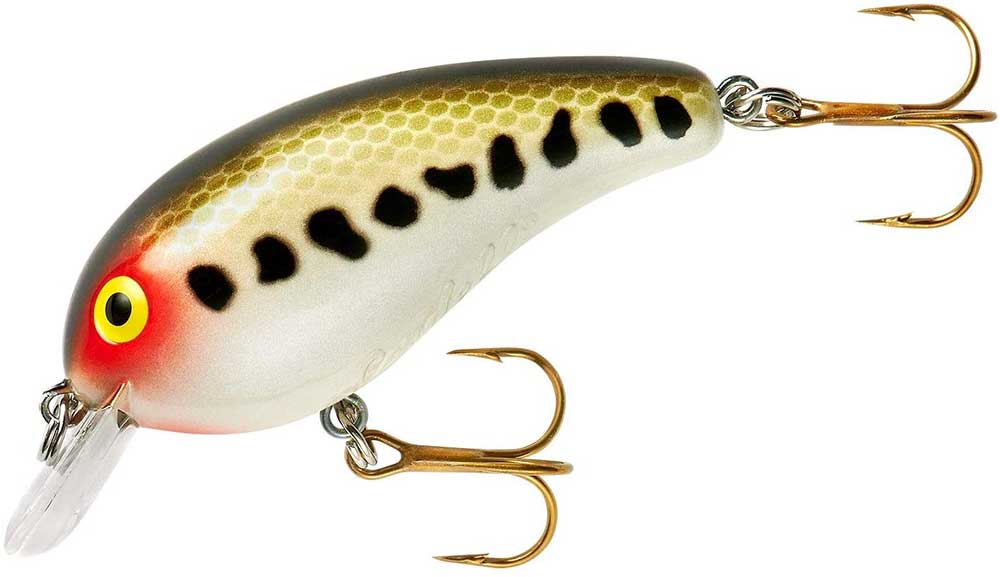 If I had a dollar for every time that I ever casted a Big O, I'd be a rich guy. Some like to call it an "alphabet plug" thanks to their letter-based name, but this was one of the first square bill crankbaits with a tight wiggle that could really catch bass. It's stuck around a long time for good reason.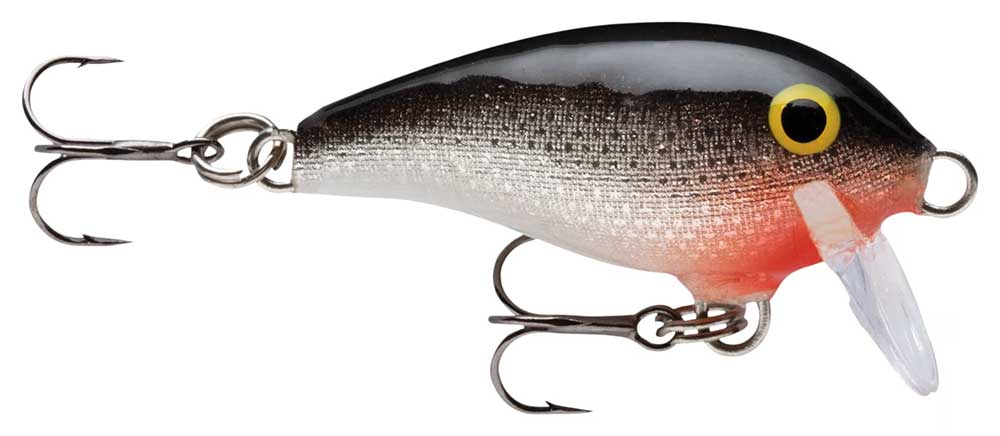 Some companies have been doing it right for so many years that we have come to expect great things from them, and Rapala never seems to disappoint. The Fat Rap series of crankbaits dive to depths of 7 to 12 feet or more. A great technique is to crank it hard to depth, and then let it start to float. The biggest problem that I would have using these lures: pike would eat them right off of my line and disappear with them.

Suffice it to say that the Strike King XD bait has passed the test with flying colors. Its siblings, the 8XD and 10XD, also have a knack for finding a way into the mouths of both largemouth and smallmouth bass. There are so many good reasons that this offering needs a place in your tackle bag, but maybe one of the best is that Hall of Fame pro and five-time B.A.S.S. Angler of the Year Kevin VanDam had a hand in designing and testing this lure, and the results show.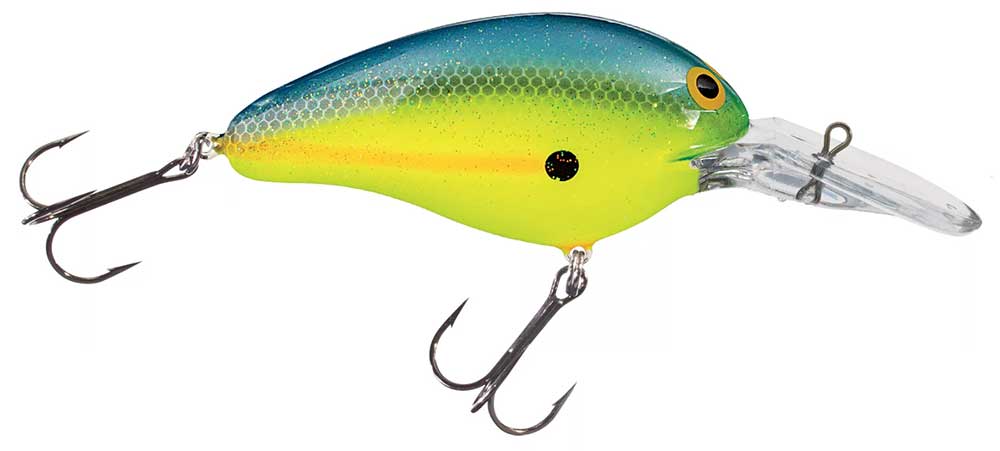 As with many of these baits, just their name alone can remind us why we've chosen to include them here. One of the first truly deep-diving crankbaits, the DD22 (the Ds standing for "diving depth") has proved its worth to weekend anglers and to the pros who first used it to fill huge bags of bass. This was the first in a series of crankbaits that caused a fundamental shift in manufacturing. It moved from baits that just scratched the surface, to baits that plunged to the depths and found deep fish that no one else was catching.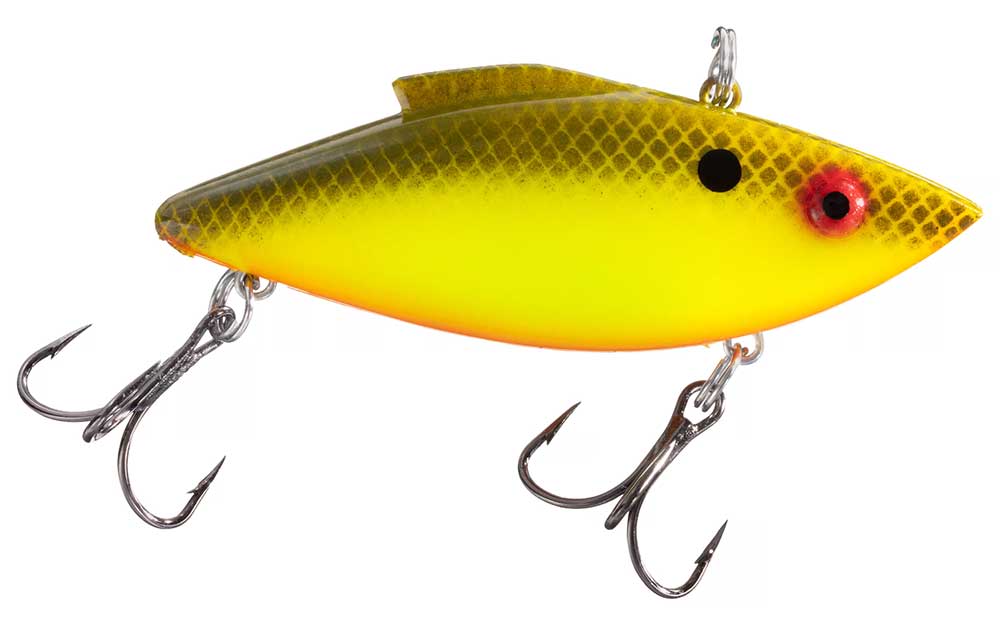 When Bill Lewis invented the Rat-L-Trap he couldn't have known the kind of history that this excellent lure would have. Luckily, he lived to see a lot of it happen. This bait has been called the "career maker" by some due to its legendary fish catching abilities. In fact, its success has been so great that it has sold millions of lures and spawned almost as many knock-offs over the years, but we've got to give credit where credit is due.
Crankbait Fishing For Largemouth and Smallmouth Bass
Whether you're cruising Castaic Lake in the northeastern part of Los Angeles County, California, or searching the Kissimmee Chain of Lakes Area in Florida, you're probably going to benefit from fishing a crankbait the right way. Match the crankbait colors to the baitfish or prey in your area, and add it to your tackle box. With time and experience, you'll see why they're good choices.
Fishing lures that catch fish over and over will continue to find a place in our tackle bags alongisde the jigs, topwater lures, and soft plastic finesse baits. They all have their place, and when they imitate a favorite prey like crawfish or shad, bass can rarely resist.
With all the different lifelike types of crankbaits available now, you can find versions of these ideal for shallow water, deep water, or anything in between.
We love crankbait fishing. It's all about long casts and consistently giving ourselves something to do. Over time we can zero in on what works for us, and ideally catch a lot of bass along the way.
Looking for a new way to display those antler sheds? Go to Rack Hub and use the coupon code Craiger. Be sure to follow my webpage, or on Facebook and YouTube.
NEXT: QUIZ: HOW MANY OF THESE 55 BASS FISHING EXPERIENCES HAVE YOU HAD?