South Carolina angler catches the biggest flathead catfish he'd ever seen, which also happened to be the new state record.
Paul Daniels is an experienced fisherman. He's been fishing the Cooper River in South Carolina for 50 years, and he has the hot spots pretty well sussed. Two years ago, Daniels won a fishing tournament with a 51-pound flathead catfish he pulled from one of those honey holes.
But, even he was shocked when he hooked a monster flathead from the very same spot this past February. Daniels was fishing with his wife, Janet, when he landed a monster 84-pound, 9.6-ounce flathead catfish. He declared it the biggest one he'd ever seen. But it was Janet who talked him into keeping the fish and taking it in to weigh it.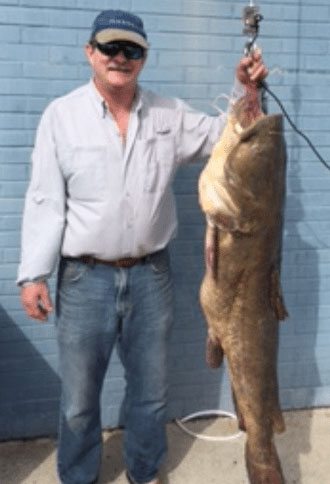 The Hanahan angler was ready to release the beast back into the river, but his wife convinced him to take the fish to the Cooper River Marina and have it officially weighed and measured. Good thing, too, as it turned out that Daniels' fish crushed the previous South Carolina flathead catfish state record of 79.6 pounds.
"I knew it was a big one as soon as I set the hook," Daniels said. "If it wasn't for my wife, I would have released the fish right back in the river. But she encouraged me to go weigh her first before we released her back in the river. I didn't want to kill the fish, especially one this big."
Daniels was fishing a live shiner on a drop-shot rig above a Drifting Stix drift weight, which he swears by.
"I have started using Drifting Stix and they allow us to fish in heavy cover without getting hung up," he said. "The big flathead was in a deep hole covered with structure where the Drifting Stix is designed for."
Like what you see here? You can read more great articles by David Smith at his Facebook page, Stumpjack Outdoors.
NEXT: ANGLER CATCHES ABSOLUTE MONSTER CATFISH WEIGHING NEARLY 300 POUNDS
https://rumble.com/embed/u7gve.v3tsf1/