With summer finally here, many of us will be spending a lot of extra time outdoors. But with the sun stronger than ever (and chances of rain creeping into the forecast), it's important to equip ourselves with the right gear—especially when it comes to jackets.
The perfect women's outdoor jacket not only offers protection from unexpected weather changes but also enhances your overall look. Whether you're planning a hike through lush trails, a camping trip under the starry sky, or simply exploring new destinations, a well-chosen outdoor jacket becomes your trusted companion. But with a myriad of options available, how do you choose the perfect one? From considering the fabric's breathability to ensuring proper waterproofing and exploring versatile designs, this guide unveils the secrets to finding the ultimate summer jacket that seamlessly combines functionality, fashion, and your unique sense of adventure.
Get ready to elevate your outdoor experience with our selection of the best women's jackets from Amazon for the summer season.
1. Magcomsen Athletic Jacket

This jacket offers a breathable and lightweight wear for your summer adventures. The UPF 50+ fabric provides maximum protection against harmful ultraviolet rays, shielding your sensitive skin from the elements. Stay cool and dry with the high-density mesh fabric that enhances ventilation and effectively absorbs moisture, allowing sweat to dry quickly. The 4-way stretch fabric ensures improved mobility, allowing for a full range of motion during your activities, while the athleisure stand-up collar provides extra sun protection for your neck. With plenty of pockets, you can securely store your essentials while on the go.
2. Libin Full Zip Sun Protection Hoodie
This jacket is designed to provide you with optimal protection against harmful UV rays, thanks to its UPF 50+ fabric. With its breathable and quick-drying properties, you'll stay cool and comfortable even during intense outdoor activities. The hoodie design offers extra sun protection for your neck, while the low-profile thumbholes ensure your sleeves stay in place. Equipped with multiple pockets, including hidden zippers and inner compartments, you can keep your essentials safe and secure. Whether you're hitting the gym, practicing yoga, or enjoying a hike, this versatile jacket is a must-have.
3. 33,000ft Lightweight Running Vest With Pockets
Crafted from windproof and lightweight fabric, this vest keeps you warm and dry while allowing for a wide range of motion with its soft and flexible 4-way stretchy material. It is water-resistant and breathable, ensuring comfort even in light rain. With its reflective features, including a stand neck collar and contrast piping, it provides high visibility for night runs. The vest also offers six functional pockets, allowing you to securely carry essentials such as your cellphone, wallet, and keys. Whether you are hiking, cycling, or traveling, this sleeveless jacket is a practical and stylish choice.
4. Avoogue Waterproof Packable Rain Jacket
This jacket is the perfect companion for unpredictable summer weather. Crafted from lightweight and waterproof fabric, it keeps you dry during light rain showers, making it ideal for everyday activities like running errands or enjoying outdoor events. With its packable design, it can be easily folded into a small bundle, allowing you to carry it with you wherever you go. The adjustable hood and full zip-up closure provide added protection against wind and rain, while the elastic waist design offers a flattering fit.
5. Longbida Cropped Denim Jacket

Crafted from a comfortable cotton polyester blend fabric, this jacket offers a skin-friendly and vintage-inspired feel. Its classic cutoff button-up design adds a touch of charm to any outfit, making it a popular choice for various occasions. The jacket features two chest fake pockets and two side slant hand pockets, along with a turndown collar and button cuffs, allowing you to experiment with different styles. The chic fray bottom raw hem edge adds a trendy twist and makes it easy to pair with any clothing in your closet.
6. Ybenlow Jacket With Drawstrings and Pockets
The robust stitching and sturdy material of this jacket ensure long-lasting use, making it a reliable choice. It features a military-inspired design with four front patch pockets, adding a touch of utility and style. It also includes an adjustable drawstring waist, allowing you to customize the fit and enhance your silhouette. Pair this lightweight jacket effortlessly with any shirts, denim jeans, or boots for a casual, work, hiking, or outdoor look.
7. Orolay 3/4 Length Trench Coat

This practical coat offers both a delicate appearance and comfortable wear. The stylish double- breasted design with six buttons adds an attractive and fashionable touch to the coat. Additionally, the coat comes with two side hand pockets that provide convenience for storing your essentials, freeing your hands up for anything you need to do on the go.
8. Acelitt Casual Zip-Up Hoodie
This hooded sweatshirt is the perfect addition to your summer wardrobe. It's lightweight, soft, and incredibly comfortable to wear, with a jersey fabric that provides a cozy and warm feel. The hoodie features two side pockets, allowing you to carry small essentials while you're out and about or working out. Pair it with boots, jeans, or leggings for a trendy look during any season and enjoy the convenience of the zip-up closure.
9.
JTANIB Lightweight Packable Rain Jacket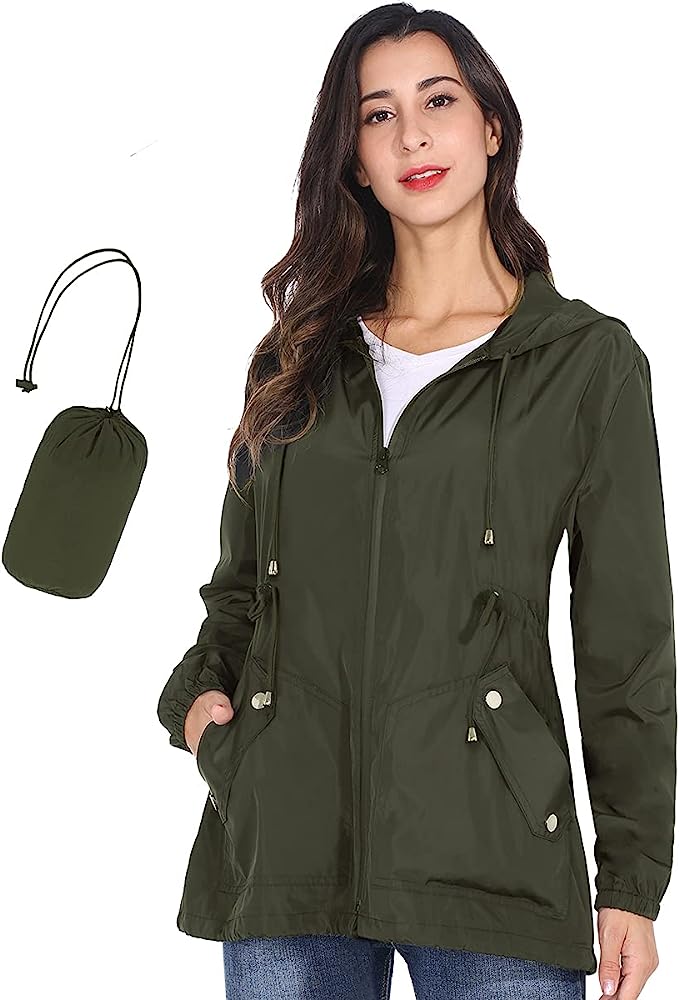 Be ready for any weather with this lightweight, packable rain jacket. It's perfect for outdoor activities like hiking and traveling, with an effortless storage design that allows for easy folding and fits conveniently into the included storage bag. The professional sunscreen fabric provides exceptional UV protection, blocking up to 99.95% of harmful rays. With its enhanced waterproof feature, it effectively repels water molecules and dries quickly after rain. The hooded design adds extra protection against strong winds, ensuring your comfort and safety.
10. GUESS Adjustable Long Sleeve Anorak Jacket
Made with a blend of polyester and nylon, this jacket offers both durability and comfort. The adjustable sleeves and hood allow for a customized fit, providing flexibility in various weather conditions. With zippered and snap front closures, it offers convenience and easy on-off wear. The two front zippered pockets provide storage for your essentials while on the go. Additionally, the elastic back belt detail adds a touch of fashion-forward style.