Dancer spent the first five years of his life roaming the streets of Thailand. With no one to take care him and no place to call home, he was forced to survive with very little food, water, or shelter. The Soi Dog Foundation eventually rescued the down-on-his-luck pup and he traveled overseas before landing at Almost Home Animal Rescue.
Dancer was a mellow boy who liked to keep to himself, but he quickly became a furry favorite among the volunteers. He loved hanging out with people, relaxing on long car rides, and munching on chicken nuggets—but he preferred to be the only pet. This made it difficult to find a forever home for Dancer, until one woman and her son decided to take a chance on him.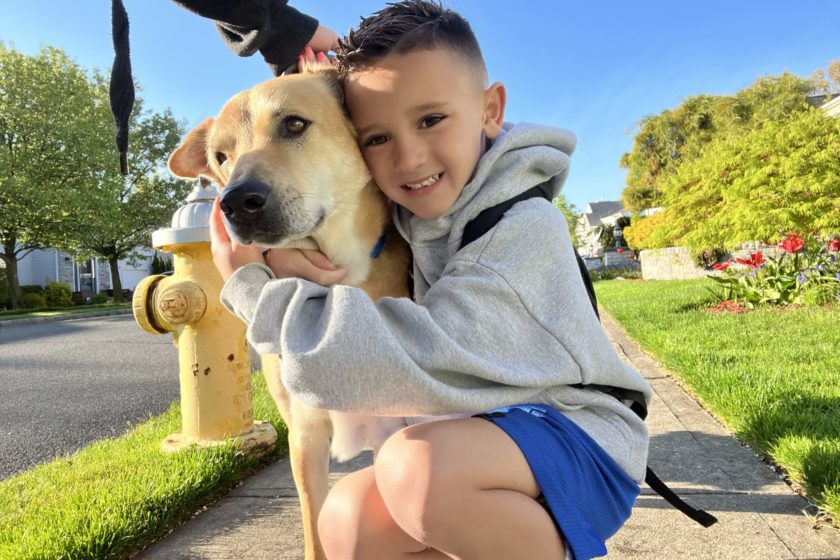 It didn't take long for Dancer and his human brother, James, to become best friends. They spent every moment together, whether it was watching a movie on the couch or digging in the yard together. All of their quality time helped Dancer adjust to his new house, so when another dog joined the family about a year later, he was ready. This would have seemed impossible before Dancer was rescued by Almost Home, but with a little time and patience, he accepted his new four-legged family member with open paws. Now, they love to play together and try to steal the best spot on the bed. Dancer has even become friends with James's bunny!
Thanks to Almost Home, Dancer has a loving home, the best big brother, and two furry BFFs. It doesn't get much better than that!