Is staying at an amusement park's resort actually worth the money? The suites and rooms are nice, and staying at the resort might be convenient for tackling a park as big as Orlando's Walt Disney World. But for the same price you might pay to stay at the resort or cheaper, you could book an amazing vacation rental instead. You and your family and friends will not only have more room for less money but also more privacy to relax and wind down after a long day at the park. Plus, you might be able to book a place that has a fun theme and other cool and unique features and amenities that you not only wouldn't find in a resort room and have it all to yourself. So if you're planning to visit one of Orlando's sizable theme parks, consider booking one of these nearby Airbnbs instead.
Disney Mansion
12 minutes from Disney World and Animal Kingdom
For: Large groups, family reunions, or corporate outings
16 guests, 11 bedrooms, 24 beds, 5 baths
Resort amenities might be a reason why you would want to book a room, but consider booking this Airbnb instead. This massive mansion has its own private pool and hot tub on the back patio, where there are also plenty of places to lounge around. The inside is spacious enough for everyone to hang out, cook, and eat together, and there is also a movie and game room that has theater seats and a 70" screen. And for the tennis players and golfers who look forward to playing at resorts? This property is walking distance from their community tennis courts and golf courses. There are extra tennis rackets and balls for complimentary use, and you won't have to worry about having to commit to an expensive golf package since you can make easy changes to your tee times as you wish.
Mickey Mouse Themed Getaway
2 minutes from Disney World
For: A family of four
4 guests, 1 bedroom, 2 beds, 1 bath
This vacation home is a great pick even over a hotel room for those who are traveling in small groups or with their immediate family. Less than two miles away from Disney parks, this condo will make you and your family feel like you never left the park. It has Mickey-Mouse decor all over the place and even a Mickey-Mouse themed bedroom, which might have you dreaming about the mouse ears for a little while, but will keep your kids excited nonetheless. And if you're looking for the resort-like perks this place has to offer, there's a swimming pool, hot tub, basketball court, gym, and arcade for you to enjoy outside of the parks.
Marvelous Villa at the Encore Resort
10 minutes from Disney World
For: A couple of families traveling together
12 guests, 5 bedrooms, 8 beds, 5 baths
This galactic-themed Airbnb rental has all the features to make you feel like you're out in space. Although it's located on a resort, it's not a theme park resort, meaning that the pricing is much cheaper for what you would be getting. It has a Star Wars-themed playroom that mimics the interior of a spaceship, complete with flat screen tv and a couple of playground slides. It also has a Marvel superhero-themed game room that has air hockey and ping pong, as well as a large, private swimming pool outside with a spillover spa. The theater room has a large projection screen to watch movies on from a comfortable sofa and cozy bean bag chairs. You'll also have access to resort amenities including a waterpark, restaurants and bars, sport courts, fitness center, and a play area. The resort also offers a free shuttle service to Disney World, so you won't have to worry about parking at the park.
RELATED: Best Non-Disney Theme Parks for Family-Friendly Fun
Margaritaville Waterfront Cottage
5-10 minutes from Disney World
For: A couple of families traveling together
10 guests, 4 bedrooms, 5 beds, 4.5 baths
This beach-themed cottage is a great alternative to an amusement park resort stay because it offers complimentary transportation to Disney World, Universal Studios, SeaWorld, Island H2O Live Waterpark, and Sunset Walk retail center. Each bedroom has its own en suite bathroom, so when the kids are all done playing together, families can retreat into their own privacy for the night. Unfortunately, you won't have access to the community pool or gym, but the home comes with its own private heated pool and hot tub, which beautifully overlooks a lagoon. And as this rental's name implies, a margarita maker will be provided.
Storey Lake Villa
10 minutes from Disney World, Universal Studios, and SeaWorld
For: Large groups or multiple families traveling together
16 guests, 9 bedrooms, 13 beds, 5 baths
This beautiful and spacious home is the perfect retreat-style stay for those visiting any Orlando theme parks. It has a Marvel superhero-themed game room with fuzzball and gaming consoles for everyone to play, as well as large screens in its multiple living rooms for guests to hang out and watch movies. Some of its bedrooms are themed, including a Harry Potter-themed room and Star Wars-themed room. The backyard has a private screened-in lanai that holds a big swimming pool and hot tub, and there are plenty of loungers to relax on. Located on the Storey Lake Resort, you'll have access to the tropical resort pool that has a lazy river, two waterslides, and a splash pad. You can go fishing, canoeing, or kayaking at the community dock, or go play volleyball, mini-golf, or basketball. You can also grab a drink at the tiki bar and hang out inside the resort's clubhouse, where there is a guest lounge area.
Wizarding Home
10 minutes from Wizarding World of Harry Potter and Disney World
For: The ultimate Harry Potter fans
13 guests, 5 bedrooms, 8 beds, 3 baths
Step into the world of Harry Potter and stay in this magical home, inspired by the popular fantasy series by J.K Rowling. It has four themed bedrooms that represent the different Houses of Hogwarts, and the fifth bedroom represents the Headmaster's Office. Even the living rooms and dining areas have magical wizard-like decor, so you'll actually feel like you're staying at the Hogwarts Castle. But this mystical Airbnb isn't just a medieval castle. The backyard also has a private lanai with a swimming pool and loungers to relax on, so you can still feel like you're staying at a resort.
What're your favorite summer festivals to attend? Share your suggestions with us on our Wide Open Roads Facebook!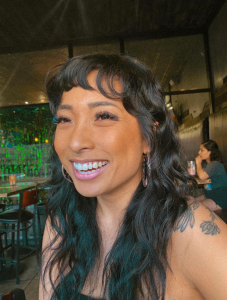 Lauren Pineda is based in Austin, Texas, and found her love for writing in local music journalism. She now enjoys writing about all the hilarious mishaps and adventures that happen when traveling somewhere for the first time and prides herself on being a budding traveler with an ambitious drive to learn more about the places she visits. Instagram: @lt.jpeg
Enjoy the outdoors?
Sign up for daily stories delivered straight to your inbox.