Searching the vanlife hashtag on Instagram, Reddit, or wherever you get your social media fix will primarily bring up pictures of luxury van dwellings. Tricked-out Mercedes Sprinters have somehow become synonymous with adventure vans, which, because we are talking about vehicles, after all, can seem ridiculous.
If you've ever thought about packing your life into a vehicle, jumping off the grid, and hitting the open road, or are just interested in taking a road trip to your nearest national park in comfort, keep reading for tips on selecting the best adventure-mobile for you. First things first, there are many things to consider about the vehicle in which you will live out your vanlife dreams. Chiefly - all the options.
Types of Van Conversions
While they are great and favorites for a reason, Mercedes Sprinters, Dodge Promasters, and Ford Transit van builds are not the only way to go about living on the road. However, van conversions are widely regarded as relatively easy for first-time builders and vanlifers to DIY independently. This is due mainly to the wealth of knowledge at your fingertips for almost every configuration and layout imaginable. The downside to camper vans is pretty exclusively the cost barrier to acquisition, and for the Mercedes owner, the maintenance cost associated with Sprinter vans is certainly no joke.
Skoolie Conversions
Skoolie conversions (exactly what it sounds like; school busses turned into homes) are a great option for people with larger families, more pets, or even those who desire to be off-grid for extended periods. This is especially true if they desire the ability to take more than seven steps in one direction inside their tiny house. Skoolies are also available in a wide array of sizes (from 19 feet to a whopping 40), making parking spots and accessibility one of the most significant decisions a potential skoolie owner must consider before choosing their rig. This sentiment rings more accurate, mainly if this will be their first time driving a vehicle of this size.
Box Trucks & D-I-Y
Box Trucks and other conversions - retired FedEx trucks, Uhauls, and ambulances also make rugged and road-hardy tiny houses, though these DIY conversions are not for the faint of heart. Turning these vehicles into functioning homes can be trying and is, by many of the folks who elect this option, often better left to professionals.
Overlanding Rigs
Overlanding rigs - big, beefy, lifted vehicles made to withstand all types of weather and terrain and able primarily to rescue themselves in the event of mishap due. This is thanks to the inclusion of things like winches and pulleys, which are spectacular options for folks who care more about the destination than about finding a parking spot or, if we're being honest, than being anywhere where parking lots exist general. Overlanders and their people are digital nomads who make money online, taking their rigs to secluded campsites that most people's vehicles can only dream of for epic boondocking adventures (camping in the middle of nowhere with no hookups or amenities). Signal-boosted WiFi is a must, but social interaction? Eh.
RELATED: Why RV Toilet Paper Is (Almost) More Important Than Gasoline
RVs & Pull Behind Trailers
RVs and Pull Behind Trailers are great for folks who don't want to necessarily do the work of a complete van conversion or skoolie build. They come pre-fabricated and have a seemingly limitless combination of lengths, floor plans, and finishes. The budding designer or die-hard customizer can always paint and execute D-I-Y changes around the space, but for the most part, RVs and pull-behind campers are ready to set off on the next adventure fresh off the lot. RVs come in various classes; Class A being tour-bus-like behemoths, Class B being manufactured sprinters and van chassis vehicles, and Class C being the infamous lofted camper van we know and love today.
Jeeps, Minivans & Sedans, Oh My!
What would you say if I told you that the vehicle you have now could be the adventure mobile of your dreams with a bit of modification? If you have giant dogs and a Toyota Corolla, you might not want to listen to me. If you are a family of six, moving into the family van may not be so appealing either. But, if the circumstances are right (or if you only plan on traveling part-time), constructing a modular build of some sort to slide in and out of your vehicle can be a very appealing and cost accessible way to get on the open road sooner, and in a car you know you're comfortable driving.
Okay. Now that we've got the bulk of the options laid out (literal tiny houses and boats are excluded), there are a few things to consider when choosing which one is the best fit for you.
Drivability & Comfort
If there is one thing I recommend you do before purchasing a rig - it is to drive it. Drive several. Try out different wheelbases and roof heights. Try vehicles of different lengths to assess what you're comfortable with. Driving around with your house in the backseat full-time is a very stressful thing on its own; adding anxiety about left turns or power lines or how exactly to enter the grocery store parking lot every time you have to do it (and it will often be) is a surefire way to kill the fun of van life. Trust me.
Parking & Accessibility for City Driving
This is kind of a supplement to the last point. If you're planning on using your rig to explore cities, find overnight parking in residential areas or otherwise move from place to place quickly, this is probably something you want to consider. Does the rig fit in a standard parking spot? Can you parallel park it with no problems? Making sure the size of your rig isn't a hindrance to your adventure is a big thing to consider, and one folks can neglect in their excitement about hitting the open road and diving into digital nomadism if they're not careful.
Cost of Purchase & Maintenance
As discussed, Mercedes Sprinters, Dodge ProMasters, and Ford Transits are some of the most common domiciles among members of the vanlife community. However, the rise in popularity of the vanlife movement and supply chain issues, both attributed mainly to the COVID-19 pandemic, have made the cost of acquiring these vehicles unrealistic for many an aspiring millennial/gen-z van lifer. Add this to the notoriously high maintenance cost (specifically for Sprinter vans), and these vehicles can be a bit off-putting for even the most willing DIY-er.
Older vehicles are generally more affordable to repair, and skoolies have famously long-lived engines and mechanical components that can be affordable over the long term with proper care and maintenance. Overlanders, off-road kitted Jeeps, and other more adventurous vehicles will have needs specific to their outfitting. They will likely need more regular maintenance due to being regularly exposed to rugged terrain.
Comfort & Amenities
This consideration requires two separate layers. First, what do you need to be comfortable, and second, how long? For example, you may not think you need to be able to stand up in your van to be comfortable on the open road, yet find yourself wishing you'd sprung for the high roof after three straight weeks of sitting and crouching. If you're planning on being a lifer and traveling full-time, consider what you'll be okay with and what you'll thrive with. Do you need hot showers every night (ok, let's be honest, twice a week)? If so, you're going to want to make sure that your house has everything you need— water capacity, hot water, electricity, etc.) to make that happen no matter the weather outside your tiny house.
If you plan to travel only part-time, you can probably get away with fewer creature comforts and a higher reliance on utilizing the outdoor space as a primary living area. This is especially true of smaller vehicles. The level of minimalism that you're personally comfortable with is also something to consider; if you consider yourself a maximalist or generally enjoy having things in your home, a minivan or other small space may not be for you.
Adventure Capability
The last and most important (in my book) is adventure capability. I cannot say this any other way, but your 2WD Ford transit may or may not make it to that epic camp spot you saw framed through someone else's back doors on social media. If extremely picturesque and secluded spots are what you're after, a Class C RV may have some trouble traversing a path there. That RV campsite you're dreaming of spending the winter at may not allow skoolies or overlanders as a park policy. Making sure that your bucket list of travel destinations is accessible to your vehicle of choice is critical to getting the experience of your dreams from your nomad lifestyle.
Ultimately, the most important thing to consider about whichever vehicle will help create vanlife for you is you. If you've read this far, then I can only imagine you're excited beyond belief to begin the next chapter of your life as a van-dwelling explorer. You've searched the hashtags, scoured social media for inspiration, and are now seeking out vanlife guides in hopes that you don't trip as you take this giant leap of faith. As someone on the other side of the gap between this particular dream and reality, I have one last word of advice:
Send it. Fully.
If you're going to do it, do it right. Invest in your dream and yourself. Take yourself seriously. You deserve at least that. Make your van dwelling the home of your dreams, even if it's not a van at all. There will be people who don't understand, and folks who don't see the vision. It's not about them. It's about you.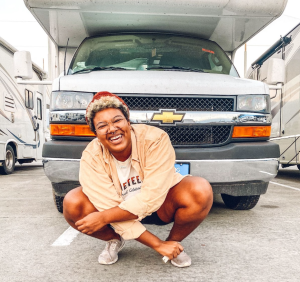 Jupiter (they/them) is a twenty-something wanderer who has traveled the United State full-time in a Class C RV since 2019. They are accompanied by their two dogs, and spend their time hiking, writing, reading, seeking out the best food on the road, and finding new Black & LGBTQ+ friendly places to explore. Instagram: @doesthiscountasvanlife
Which adventure will you go on? Tell us on Wide Open Roads Facebook!