Summer is a great time to retreat to the Adirondacks, where the most luxurious lodges were once enjoyed by the wealthy only. Nowadays, the style in how these affluent lodges were built and decorated has been used to create the most relaxing and beautiful getaways for anyone and everyone. Our guide below will tell you which lavish lodge is the unique, perfect choice for your high-quality lake vacation.
History of the Adirondack Great Camps
"Adirondack Rustic" was the defining architectural style of the Gilded Age and characterized the luxurious lodges that the 19th century elite such as the Vanderbilt and Rockefeller families would retreat to. Known as Great Camps, these accommodations were designed to blend into the natural beauty of the Adirondack Mountains built with the native natural materials by local labor. A few remain, turned into luxury getaways, and even new Adirondack resorts owe much of vibe to these original lodges.
Lake Placid Lodge
For: Larger family/friend gatherings or corporate getaways looking for outdoor recreation within a resort
A member of Relais & Châteaux and OPAL Collection, this five-star historic luxury stay is the only resort located directly on Lake Placid. The lodge is a great choice for those who want to spend the majority of their vacation on site, but also want to be close enough to explore the Lake Placid area including nearby natural attractions such as the Ausable Chasm (the Grand Canyon of the Adirondacks) and Whiteface Mountain, Lake Placid's Olympic history, and other historical sites such as a couple surrounding Great Camps.
Accommodations
The lodge has a variety of lavish accommodations ranging from 13 beautiful multi-bedroom suites built with hand-carved wooden beams and gorgeous stonework to 17 private, romantic cabins uniquely decorated by different local craftsmen. Meal options include an in-room menu for breakfast and all-day dining, holiday-specific dining, private dining with hand-picked vintage wine tasting in the Wine Cellar, and two restaurants.
Activities
The resort offers plenty of activities to keep your group busy or your kids off their phones this summer. The Whiteface Club has tennis and golf courses, where you can reserve times, book lessons, and rent equipment. The lodge also provides canoes, kayaks, and electric boats for you to use, and Lake Placid has some of the rainbow tour fishing in New York state. And for an extra $35, a chef will prepare and cook your catch for a fresh dinner that evening.
Guides are also available to help you navigate other outdoor activities. They can provide trail maps for hiking or mountain biking, lead guided hikes or horseback rides through the Adirondack wilderness, host a boat tour on a pontoon or their 35' Hacker-Craft, help arrange a license for you if you need one to go fishing, instruct you on how to ice and rock climb, or connect you with the local whitewater rafting company along with providing transportation, gear, and lunch. And during the evenings, there's a lakeside bonfire where you and your family can make s'mores.
Winter is also a great time to stay because of their outdoor recreation. Tributing to the area's Olympic history, the lodge offers ice skating, ski jumping, and bobsled rides. There are also other winter recreation options including snowshoeing, cross-country skiing, downhill skiing, toboggan rides, and dog sled rides. And just because it's cold doesn't mean the lodge won't have its nightly lakeside bonfire. Regardless of how deep the snow is, hot chocolate and s'mores will be served.
The Whiteface Lodge
For: Family gatherings or friend vacations looking for more of a spa getaway
Competing with Lake Placid Lodge is the four-star Whiteface Lodge. Having just opened back in 2005, this resort is much newer and adds a modern touch to the rustic elegance that defines Adirondack lodges. What also separates Whiteface Lodge from Lake Placid Lodge is their award-winning spa, known as the best in Lake Placid. So if you're looking for more pampering, then this resort might be the best choice for you.
Accommodations
Whiteface Lodge offers spacious one, two, and three-bedroom luxurious suites that are decorated with a blend of handcrafted Adirondack furnishings and modern comfort. Their finest and largest suites are for housing larger parties, with custom features to accommodate up to ten guests in one suite such as a private elevator in the bi-level Presidential Suite and individually unique views from the five different Grand Lodge Suite options. The resort also presents some of the best culinary experiences in the area, presenting the KANU Dining Room, one of the best restaurants in Lake Placid. The Canoe Club Grill is a great beachfront place to refuel after swimming, and Peak 47 offers casual dining. There also is an in-suite dining menu and the favorite Old Fashion Ice Cream Parlor for all your summer sweet tooth cravings.
Activities
The lodge's 5,700-square-foot spa features the most lavish treatments influenced by the serenity of the Adirondack Mountains. Focusing on health and wellness, the resort offers services such as a variety of massages, facials, body wraps, nail treatments along with steam rooms, saunas, and professionally-led exercise and yoga classes. But even though Whiteface Lodge is known for their spa, there are other activities that will keep you active and moving.
Take a complimentary shuttle down the road to the Canoe Club, the resort's Lake Placid beachfront facility. It has complimentary kayaks, pedal boats, canoes, paddle boards, and outdoor accessories such as volleyballs, tetherball, and horseshoes. Ask the concierge service to book a pontoon, Hacker Craft, or Ski Nautique, which also comes with equipment and instruction on tubing, water-skiing, and wake-boarding. And if you're traveling with the kiddos, there are children's programs that have scavenger hunts, obstacle courses, and guided off-site adventures such as hiking, canoeing, and kayaking that will keep them busy while parents can enjoy some alone time.
Golden Arrow Lakeside Resort
For: Small families or groups of friends who might be bring along their furry best friends
Golden Arrow Lakeside Resort is family-owned and the first U.S. resort to receive the Audubon International Platinum Eco Rating for Hotels. They pride themselves on prioritizing sustainable and eco-friendly practices as much as they can in every aspect of the lodge, from dining and recycling to housekeeping and energy saving. This lodge isn't far from Olympic Village and sits beachfront on the tranquil Mirror Lake, boasting the whitest and cleanest beach in New York.
Accommodations
Lodging options include lakeside rooms, specialty rooms with whirlpool tubs and/or fireplaces, family suites, and kitchenettes. Their 3rd-floor Deluxe rooms are pet-friendly so that all your family members can partake in the fun. For larger groups, Golden Arrow offers their Camp Sunny Cove home rental, a secluded hideaway on Lake Placid that can house up to 14 people. There is a seven-day minimum stay required, so this is perfect to book for a week-long family reunion.
Activities
Since Mirror Lake doesn't allow motorized crafts, the water stays clean making swimming in it is pretty popular. The resort also has complimentary rowboats, canoes, kayaks, pedal boats, hydro-bikes, and paddle boards that you can check out, but keep in mind it's first-come first-served. There's a heated indoor pool that has a sauna, steam bath, and two whirlpool tubs, all built with environmentally-friendly piping.
In the winter when Mirror Lake is safely frozen, the resort clears a rink for ice skating and pond hockey, and you can also take a ride with the Lake Placid Dog Sledding Team or ride down a toboggan chute ride onto the frozen lake. The first floor rooms also turn into ski-in/ski-out lodging for cross-country skiers.
Garnet Hill Lodge
For: Guests who want to unplug from the modernity of everyday life
Overlooking Thirteenth Lake in Lake George, Garnet Hill Lodge takes you back to simpler times with its rustic charm. There are no TVs or phones in the main lodge known as the Log House where most of the lodging options are located, but their staff can deliver and receive messages and a public phone is available if necessary.
Accommodations
The Log House has two types of accommodations that combine marble touches with Adirondack woodwork: standard rooms and balcony rooms with sliding doors that open up to beautiful views. There are also two cottages for more spacious accommodations that are walking distance from the Log House called the Birches Cottage and Tea House Cottage. You'll have to book a minimum of two nights to stay at the resort, but breakfast is complimentary.
Activities
The resort's Outdoor Center gives you all the resources you'll need to enjoy your time away unplugged. Staff will help guide you to what you're interested in whether you want to venture off on your own or a professional to lead you in a tour in fishing, hiking, canoeing and kayaking (reserve boats ahead of time), and hunting (the lodge is an ideal place for hunting excursions). If you want to go mountain biking, the resort offers rental bikes for you to use on the variety of trails nearby.
RELATED: Discover The Picturesque Beauty of The Sagamore Resort in New York
The Point
For: Those looking for an extravagant, but intimate romantic getaway
As one of the smaller vacation stays in the Adirondacks, The Point in the Saranac Lake area is considered one of the most stylish. The Forbes Five Star resort was originally built as a private residence for the Rockefeller family and was the first Relais & Cháteaux member of North America. It is adults-only, meaning that the kids stay home while the parents get to enjoy their own private getaway.
Accommodations
Across four historic buildings, there are 11 distinct guest rooms that feature gorgeous lake views, handcrafted beds, and stone fireplaces. They are decorated with furniture and art dating from the Great Camp Era and provide a romantic atmosphere for couples. The most requested accommodation is The Boathouse, a suite that sits above the resort's boat storage. It has a master bedroom with a canopied bed, bathroom with bathtub for two, and two twin beds that hang from the ceiling on a wrap-around deck.
Cuisine is world-class and seasonal and dining in the Great Hall is a chance to step out of your intimate bubble and chat with other guests over some incredible food. You can also enjoy cocktails on a vintage Elco boat ride around the lake to end your night.
Activities
Summer activities include tennis, waterskiing, croquet, badminton, swimming, wakesurfing, kayaking, paddle boarding, and hiking. Learn about the history of the other Great Camps by going on a Hacker Craft tour around the lake, ask for a complimentary fishing license, or go rock climbing in the High Peaks. A new and exciting excursion offered this year is a scenic seaplane tour that presents incredible aerial views of the Adirondacks.
White Pine Camp
For: History buffs looking for beautiful places to have lazy afternoons
White Pine Camp was once an Adirondack Great Camp built for President Calvin Coolidge in 1907 on Osgood Pond and is now a quiet retreat for those who love history. During the summer, President Coolidge and his wife would spend their time at the lodge, as locals tell how he fished more than he tended to his presidential duties. It's now a peaceful haven that has plenty of places to hang out and enjoy views of the surrounding St. Regis Canoe Wilderness and Saranac Lake.
Accommodations
This lodge is much smaller than the previous lodges we mentioned, with only 13 distinct cabins and cottages to choose from. All are decorated with hand-built Adirondack furnishings and amenities, and most have porches and patios to intake the views on.
Activities
Although the lodge has a more relaxed atmosphere, you can still go hiking, boating, and fishing. The boat house stores kayaks, canoes, and rowboats that you don't have to make a reservation for, just take a life preserver with you as required by state law. The hiking trails are great for seeing the nearby forested areas and birding. Serious birders visit White Pine Camp to see a rare three-toed woodpecker and other aquatic birds that nest in the area. Morning guided nature walks are also offered by a naturalist from July to August.
Shared facilities at White Pine Camp are what makes the lodge great. Go bowling at the same bowling alley that President Coolidge used himself, grab a drink and sunbathe at the luxurious Japanese Tea House, or walk through the recently restored Alpine Rock Garden that resembles what gardens looked like in the 1920s.
Elk Lake Lodge
For: Those looking for a "true Adirondack Wilderness Experience"
Protected by the New York State Conservation Easement, Elk Lake Lodge sits in the middle of a 12,000-acre private preserve and surrounded by the Dix, Macomb, Nippletop, and Covin Ranges. The lodge was built from timber from the preserve's forest and is eco-friendly with solar power, water sourced from aquifers, and organic food sourced from local farms.
Accommodations
The main lodge has six rooms, each with twin beds and a private bath, and is also where the dining hall is located. Nearby are eight unique, private cottages that offer the best views of the Adirondack Mountains and Elk Lake. While each cottage has a living room and modern bath, only some have kitchens and fireplaces.
Activities
The lodge provides kayaks, rowboats, and canoes for boating across Elk Lake, and fishing for Brook trout is popular. But the "true Adirondack Wilderness Experience" is characterized by the 40 miles of private trails in the Adirondacks' High Peaks that are exclusive only to Elk Lake Lodge guests.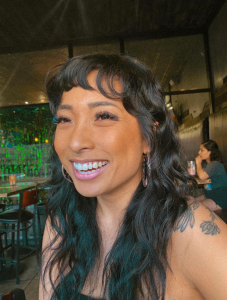 Lauren Pineda is based in Austin, Texas, and found her love for writing in local music journalism. She now enjoys writing about all the hilarious mishaps and adventures that happen when traveling somewhere for the first time and prides herself on being a budding traveler with an ambitious drive to learn more about the places she visits. Instagram: @lt.jpeg
Enjoy the outdoors?
Sign up for daily stories delivered straight to your inbox.