When it's cold outside, wild game is what you need to warm you up.
There is nothing that beats winter more than some delicious wild game soup, stew, or chili. Most of these recipes are pretty easy to make, but it's getting the wild game that is the hard part. However, let's just assume that last part is already taken care of. With that in mind, here are eight recipes you are going to want to try before it starts to warm up right around the corner.
1. Venison Taco Chili
This recipe comes together a lot easier than what you may think. However, if you have some deer, antelope, elk, or moose ground up in the freezer, this is where it's at.
Ingredients
1 medium thawed venison roast
1 packet of ranch mix
1 packet of taco seasoning
1 large diced onion
1 can of corn, 1 can of chili beans, 2 large cans of diced tomatoes
1 tablespoon cumin, 1 tablespoon chili powder
Fresh cilantro
Here's the directions on how to cook it up!
2. Squirrel and Acorn Dumplings Soup
There is just something about squirrel and squash together that makes this a perfect winter time soup.
Ingredients
Soup:
2 squirrels, cleaned and dressed
2 quarts chicken, turkey or squirrel stock
4 or 5 carrots, diced about ½-inch
1 or 2 white onions, diced about ½-inch
3 or 4 garlic cloves, fine dice
Any other vegetables you might want to add, such as peas or corn
spices (any combination of thyme, sage, cayenne, celery seed, red pepper flakes, etc., 1 bay leaf, and salt and pepper)
butter or bacon fat
water
Dumplings:
1½ cups flour
½ cup, heaping, acorn flour
4 tsp baking powder
1 tsp baking soda
pinch salt
pinch of grated nutmeg
¾ cup milk
couple tbls butter or lard
Are you ready get to cooking? Here's what you need to know.
3. Southwest Venison Soup
Do you want a venison recipe that has the tastes of a can of spicy Spaghettios? You've just found it!
Ingredients
1 lb of ground venison
2 cartons of tomato soup
1 can of corn
1 can of black beans
Several cloves of crushed garlic
1 jar of salsa
1 bunch of fresh basil
1 8 oz block of cream cheese
We know you are going to want to make this again. On that note, here's the directions.
4. White Chili with Wild Turkey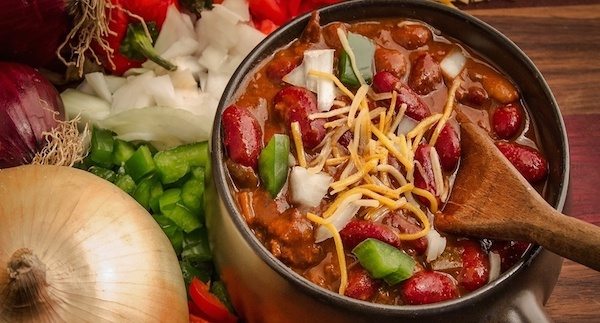 Wild turkey? Now we are talking. Everyone you know will want to get in on this. Hopefully you have some of this left over from a successful fall hunt!
Ingredients
? ½ cup chopped onion
? 1 ½ tablespoons chopped garlic
? 4 teaspoons ground cumin
? 1 ½ pound uncooked wild turkey breast, cut into cubes
? 4 cups chicken stock
? 2 tablespoons chopped seeded jalapeño chilies
? 1 teaspoon dried marjoram
? 1 teaspoon dried savory
? 1 16-ounce can beans
? 1 16-ounce can navy beans
? 2 chopped potatoes
? Several dashes of hot pepper sauce (Tabasco)
? Chopped green onions
? Grated cheddar cheese
? Sour cream
Here you go! Everything you need to know to make all you are going to want to eat.
5. King Salmon Chowder
We figured we would just go and screw up the works with an amazing fish recipe. Any fish can work for this recipe, just something nice and fleshy like king salmon, catfish, or walleye is just amazing.
Ingredients
Fresh caught fish fillets, cubed into small chunks
Chopped onions, potatoes, carrots, and celery
1 can of creamed corn
1 can of evaporated milk
chicken broth
fresh garlic, fresh dill, and pepper
butter
shredded cheese
Make sure you put this one in your favorites tab. Here's the step by step instructions.
6. Crockpot Venison Enchilada Soup
Sticking with the Tex-Mex style venison recipes, here's a recipe you need in your life. Add in some extra cheese to really bring out the flavors!
Ingredients
1 venison roast
2 cans of diced tomatoes
1 can of corn
1 can of black beans
1 can of enchilada sauce
2 cups chicken broth
1 large diced onion
2 bay leaves
garlic powder
cumin
pepper
2 cups Mexican cheese
fresh chopped cilantro
This one is a little more involved. Here's how to do it.
7. Hare Stew
Hunter, Angler, Gardener, and Cook has got it figured out when it comes to cooking wild game. Hank Shaw just might be the foremost expert for that matter. Here's a loose adaptation of one of his recipes for a classic rabbit stew.
Ingredients
4 hare hind legs
olive oil
1 teaspoon saffron
2 teaspoons chili powder
1 onion, chopped
5 cloves garlic, chopped
1 cup chopped parsley
1/2 cup red wine vinegar
Want to make it up like Hank Shaw? Here you go.
8. World's Best Venison Chili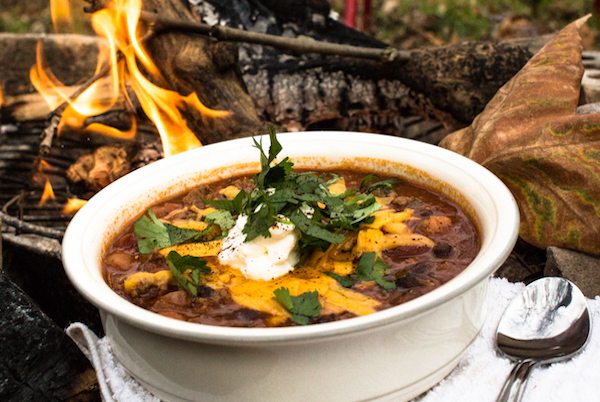 With a title like that, you know this chili has to be good. Luckily, we just might have saved the best for last.
Ingredients
2.5lbs ground venison with fat added (ideally you want about 18-20% fat)
.5lbs ground beef, 83/17 or 80/20
3 Tbs rendered bacon fat, or canola oil
2 green bell peppers, diced
2 poblano peppers, diced
3 jalapeno peppers, diced
3 serrano peppers, minced
2-3 habanero peppers, minced (depending on desired heat level)
2 yellow onions, diced
5 cloves garlic, minced or smashed
28 oz can of crushed tomatoes
16 oz can of diced tomatoes
26 oz can of Ranch Style beans, or substitute regular pinto beans
2 16 oz cans of black beans, drained
1 can tomato paste
1 bottle dark ale / beer
1 tsp salt
1 tsp ground black pepper
1/2 tsp paprika
1/2 tsp cumin
2 - 3 tsp dark chili powder (depending on desired flavor)
Freshly chopped cilantro, sour cream, and grated cheddar for garnish
Holy cow that's a lot of ingredients. However, you know it's going to come out tasting awesome. Do you think you can handle the world's best chili? Found out here here and see what you got.
NEXT: CATCHING CRAPPIE THROUGH THE ICE? HERE'S A GREAT RECIPE TO TRY!
Enjoy the outdoors?
Sign up for daily stories delivered straight to your inbox.