We may watch it on television or see the videos, but we haven't always had the chance to try some of these hunting techniques, and it's about time we started. For our purposes here, we'll stick to the North American game animals that we know and love the best, but if you're interested in other big-game hunting from around the world, we have that as well.
Some of these great possibilities can be tried during the winter months when other species aren't legal to pursue, and some of them need to be waited on patiently until the season rolls around. Either way, they need some strategy to make the experience the best it can be, but you can do it with a little planning.
Whether you have heard of these methods or not, you will find yourself wanting to try them, especially if you use a guide or an outfitter. Sure, you may not be able to try all of these in your lifetime, but you can certainly add them to your bucket list. Since some of these are somewhat based on regional hunting opportunities, you may have to travel to try them, but then that's all part of the adventure!
Jump Shooting Puddle Ducks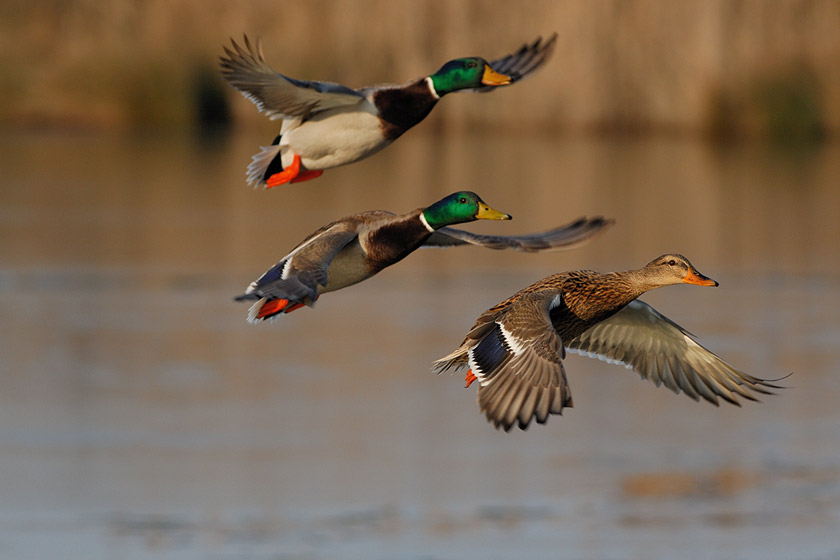 Here is one of the most fun ways to do some wingshooting for dabbling ducks like mallards, pintails, teal, or wood ducks that you can ever try. While it might not be unheard of to try this on public lands, it really is a technique better suited for private property since you may have a better idea of who may or may not be in the area.
You'll need a steady hand and a steady heart, and you will need to put on your best "stalking shoes" since waterfowl already on the water or in a field are some of the most wary birds that you will ever hunt. I've done this many, many times in my hunting career, and I'll be the first to tell you that trying to sneak up on sitting puddle ducks and then get into close enough range to draw up in them when they flush is an unnerving task we are all ready to try.
Still Hunting Deer
It should be said right off that most of us have done this many times over, but let's welcome those who may not have tried it. Simply put, this is the method of at-the-ready, slow walking to cover ground and try to ambush deer before they are ready for it. Needless to say, not many archery hunters will do this, although it is not unheard of, more so that shotgun and rifle hunters can have a distinct advantage (especially in the snow) of catching deer unaware of their presence.
Sure, you can try this on public land, but many deer hunters will tell you that, without knowing who else is there or where they might be located, it can be dangerous to take shots on a level plain. Private land or not, you have the responsibility to know your target and what is beyond it before touching off a round at a deer.
Night Hunting for Predators
This my be the one hunting technique that we all want to try the most. It's exciting, it has a purpose, and it can be done in virtually every state in the union. This is a great technique to try with a friend or friends since it can entail something for everyone: while one hunter is hunting, the on-deck shooter can do the calling and spotting.
Calls, decoys, and even night vision optics can be used to take furbearers during a night hunt. The choices of rifles and ammunition are seemingly endless, not to mention that many enterprising coyote and bobcat hunters routinely use a shotgun loaded with their favorite buckshot.
Bowhunting Turkeys
If you want to prove your worth with your favorite archery bow, then this is the way to do it. Here's where your scouting and concealment skills will really come into play since you're going to need to get a big Tom up close and keep him there to make the shot count.
And don't think that you are limited to the spring season since in some states both the fall turkey season and the start of bowhunting for deer coincide meaning that your turkey blind could become a deer blind in an instant. Be sure to check your state and local regulations to be sure, but it's not out of the question that you could bag your buck and your Tom from the same blind.
Bowfishing
While we're sure that our bowhunting brothers and sisters around the nation haven't forgotten how to use their bows once deer season is over, we know that not everyone has had the chance to fire an arrow at some invasive carp or other fish that can be legally taken with a bow. Yes, you will need some gear like a bowfishing specific reel and arrows, but there are systems for both compound bows or recurve bows, and maybe the best part is that kids can be taught the technique from an early age.
Please check out my book "The Hunter's Way" from HarperCollins. Be sure to follow my webpage, or on Facebook and YouTube.
Enjoy the outdoors?
Sign up for daily stories delivered straight to your inbox.