Having the proper resources to prepare wild game can make all the difference. Here are some essentials to get you started.
We do it for different reasons, but a lot of us will tell you that the most important part of hunting is harvesting the meat.
The meat from a deer or an elk, for example, is virtually useless if you don't have a way to properly harvest and prepare it.
For the occasional hunter who might or might not get a deer, some of the things we want to suggest be added to a wild game kitchen might not be applicable. But for the hunting camp manager, who's going to be dealing with a lot of meat before the season's through, will see the benefits of these bigger, more capable items.
Bottom line is this: we've got a list of essential food processing products that will only up the value of your kill.
Sausage Stuffer
The new Guide Gear 15-pound sausage stuffer is the top of the line in terms of bang for your buck. Its easy-crank operation, paired with its stainless steel construction, make it a cinch to use and care for.
And, with three different stuffing tubes, you have options when deciding the size of your sausage.
Heavy-duty dehydrator
Who doesn't love deer jerky? You can get a dehydrator for yourself and make your own. The Guide Gear 10-tray, heavy-duty food dehydrator is maybe the best way to get it done. With more than 15 square feet of drying space and a 750-watt heating element, it does more than enough for the common hunters looking to do it themselves.
Electric Meat Grinder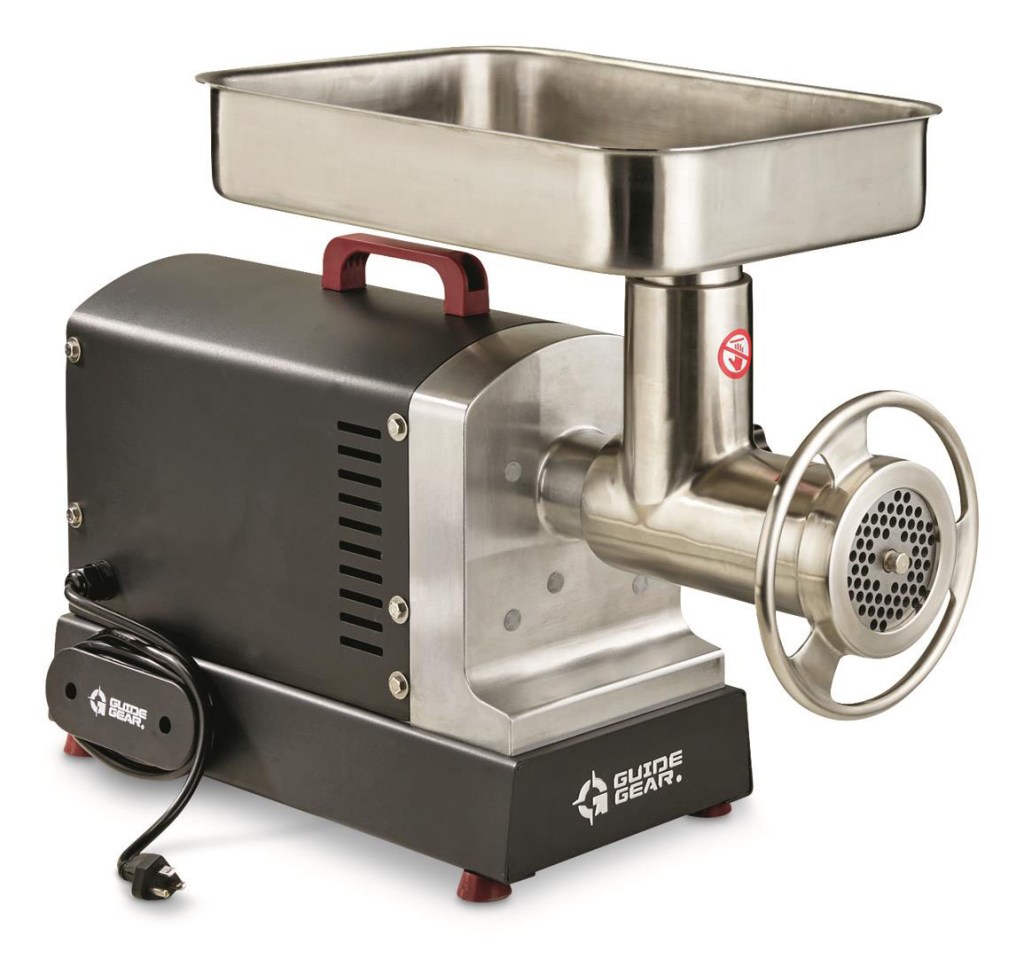 In many ways, a meat grinder is the most important tool to add to your kitchen. With a 1,125-watt, 1.5-horsepower motor, the Guide Gear #32 commercial-grade meat grinder grinds 12-12.5 pounds per minute, which is more than enough for a DIY-type of setup. Depending on how much meat you're working with, you may want to go with the #22 size instead.
For a considerably lower price, you can still have a grinder with a 750-watt, 1 horsepower motor.
Meat Slicer
Any easy way to butcher your meat is with a deli-style cut. How much more venison would you go through if you could make sandwiches with it?
The only way to do that efficiently is with a meat slicer. A strong, reliable motor is essential, and the 250-watt induction motor on the Guide Gear 10-inch electric commercial-grade meat slicer will do everything you need it to.
Additionally, its 10-inch blade offers plenty of versatility, whether you want to cut deli slices or venison steaks. It will give your knife hand a well-needed break.
Meat Mixer
A mixer is a game changer if you're serious about harvesting game meat. It offers endless possibilities of seasoning and mixing your meat with pork, ground beef or bacon.
Thhe Guide Gear 7-Gallon Mixer has all of the bells and whistles that make a mixer so great, with a 40-pound, 7-gallon meat capacity, in addition to its 90-degree, lockable tilt function.
Its stainless steel components offer both durability and a sharp look.
Now, think of the variety of prep work you can do, and the ultimate recipes and meals you'll enjoy with all this gear.
Make it happen, and you'll see the dividends pay off within a season itself.
NEXT: WE'VE ENTERED THE ARCHERY PHASE OF THE WHITETAIL UNIVERSE
Enjoy the outdoors?
Sign up for daily stories delivered straight to your inbox.