Few firearm calibers are as timeless as the .22 Long Rifle. It has served as the default introductory shooting cartridge for years. With a wildly simple rimfire design, this cheap and plentiful round is perfect for basic firearms and shooting training, as it makes hardly any noise and produces almost no recoil whatsoever. However, the caliber isn't exclusive to first-timers, as .22 rifles can serve as fantastic small game rifles, too. Countless hunters swear by their favorite .22 rifle when it's time to chase down some squirrels or rabbits.
And whether you're a hunter or just someone who likes to go plinking at the range, no one can deny how nice it is to shoot for hours without wearing out your shoulder or your wallet. In fact, for the budget-minded shooter, a .22 rifle might be one of the least expensive additions they'll make to their gun collection. The market for .22 rifles is fairly loaded, but we've done some legwork for you, putting together a list with some of our favorite offerings. We chose the entries on this list based on a few criteria: ease of operation, reliability in accuracy and performance, accessibility (how easy it is to get ahold of one), and overall cost. But don't feel like you have to limit yourself to one; few rimfire rifles really break the bank, so make your wish list as long as you want.
The methodology for shotgun selection and other advice shared throughout this guide incorporate a blend of firsthand experience and enhanced insight as to what's new and most innovative on the market today. Our three lead experts (and WOS staffers) are avid rifle hunters and longtime target shooters with a keen understanding of firearm features that can amplify a gun's accuracy, fit, and overall performance. Two of them are also parents to young kids with hands-on experience introducing growing youth to the sport in a comfortable, safe environment.
The editorial team members with the most contributions to this "best of" roundup included:
Eric Pickhartz: Wide Open Spaces Editor in Chief, parent, avid rifle hunter, and target shooter
Sereena Thompson: Wide Open Spaces Social Media Manager, parent, avid rifle hunter, and target shooter
Travis Smola: Wide Open Spaces Staff Writer, avid hunter, and target shooter
Best All-Around .22 Rifle
Ruger 10/22
Why we selected it:
The Ruger 10/22 name is one of the most reliable and customizable on the market. Our Social Media Manager Sereena Thompson swears by it, not only for her kids but for herself, too.
Favorite features:
Tough-to-beat design that sets the standard
Multitude of variations to fit every need
Pros:
Rotary magazine
Customizability via accessories
Cons:
Trigger leaves a lot to be desired
Stock sights are OK, not great
It only feels right to start with a true American classic. Featuring one of the most reliable semi-automatic rifle designs to ever exist, it'd be impossible to know how many Ruger 10/22 rifles could be sitting in gun safes. One sits in the safe of our social media manager, who loves most everything about it. The 10/22 has tons of variations that have hit the market over the years, namely the Sporter, the Carbine, the Tactical, and the Takedown. Each one boasts the smooth action fed by that famous rotary magazine, and the 10/22 is about as dependable and accurate as you can possibly find in such an inexpensive gun. Its magazine capacities can vary from 10 rounds all the way up to 100. It's one of the most customizable rifles, with countless accessories available including aftermarket mag releases, triggers, and picatinny rail systems that can take advanced sights, bipods, and other accessories. The stock rifle, however, does come standard with a scope mount adapter for tip-off mounts, but experienced gun owners have claimed that the adapter can be a little finicky.
Thompson has added a few small accessories but says that this is the gun she feels confident putting in her young kids' hands as an early shooting implement. The safety features keep things on the level while the accuracy and performance builds confidence. "I feel like my kids are able to pick up the 10/22 and instantly build proper shooting form, skills, and experience," Thompson told us. "And then I can grab it and confidently kill a squirrel or prairie dog from reasonable range just as easily. That's what I really like about it."
Best Value-Based Choice for a .22 Rifle
Savage 64F
Why we selected it:
Savage is a trustworthy, long-lasting gunmaker and doesn't skimp on its less-expensive guns. That's proven with the Savage 64F's price-to-value ratio.
Favorite features:
Straight-blowback semi-automatic action
Carbon steel barrel
Pros:
10-round magazine
Durability
Cons:
Synthetic stock lacks aesthetics
Savage made a name for itself in the budget tier of the centerfire rifle market. However, the brand's rimfire offerings provide the same bang-for-buck allure. The 64F isn't only a great rifle for a bargain at about $130—it's also become a household name for many of the same reasons as the 10/22: It's accurate, customizable, and reliable. Featuring a detachable box magazine and a 21-inch barrel with a 1:16 twist rate, this rifle is as efficient as it is precise. It's also both lightweight and slick to look at, with a carbon steel barrel and receiver and a black synthetic stock. However, if you dig the classic look of a wood stock, you're out of luck with this one. Similar to the 10/22, it inherits an incredible variety of aftermarket products, from upgraded triggers to extended magazines and all the way to folding stocks. This is a fantastic option for the hunter hoping to take a crack at small game, but it's also an absolute blast if you just want something to take out to the range for a day of shooting. Additionally, Savage sells a takedown model that you could easily stash in a backpack.
Best Unique-Looking .22 Rifle
Thompson/Center T/CR22
Why we selected it:
Thompson/Center is known for its bolt actions and muzzleloaders, but this .22 meets all the criteria. The T/CR22 is equally at home at the range as it is in the squirrel woods.
Favorite features:
Stellar-looking hardwood stock
Optics-ready with included rail
Pros:
Crisp, reliable trigger
Short overall length
Cons:
Higher price
If you're looking to pay a little more for enhanced precision, the T/CR22 from Thompson/Center is one of the best options on the market, still offering a fairly attractive bang-for-buck price point. Shooters and hunters alike will get to experience some of T/C's most admired centerfire offerings in a smaller, less-expensive package. With a 17-inch carbon steel barrel and a 1:15 twist rate, this rifle is noticeably more accurate than most similar guns chambered in .22 LR; and it also features a built-in rail, perfect for quickly mounting scopes. The 10-round detachable box magazine is great, and the light-colored wood stock is amazingly eye-pleasing. Our editor Eric Pickhartz owns this gun and says this would be the go-to for a hunter or plinker who loves a unique-looking rifle. "I figured a .22 like this would likely fall into the ownership of my kids, and they'll be proud to acquire such a great-looking gun that's just as effective as it is eye-pleasing," Pickhartz said. The MSRP is $472, making it a little pricier than others in the category, but it's worth it in our minds.
Best Pick for a High-Quality Lever Action .22
Henry Golden Boy Lever Action
Why we selected it:
A Henry Repeating Arms .22 deserves a spot on lists like these on reputation alone, and the Golden Boy Lever Action might be most synonymous with the name.
Favorite features:
Drilled and tapped octagonal barrel
Shiny brasslite finish on the receiver
Pros:
Impressive looks
Walnut stock
Cons:
Higher price
Almost too nice to use heavily or treat roughly
Maybe you always wanted a classic Old West-style lever action rifle but were scared off by the $1,000-plus price tag that often accompanies such guns. That is where the Henry Golden Boy comes into play. This rifle has an MSRP of $617 but has the same classic octagonal barrel, brass receiver, and walnut stock that are standard on the beautiful Henry rifles available in larger calibers. The .22LR version has a tubular magazine and holds 16+1 rounds. The 20-inch barrel has a 1:16 rate of twist. A classic lever action rifle design in a fun and affordable caliber like .22? Sign us up. This gun should provide hours of fun plinking or on the target range with friends, and will be a conversation piece any time you bring it out.
Best Precision .22 Rifle
Tikka T1x MTR
Why we selected it:
Even Tikka, known for hunting guns on a totally different level, is capable of making a great .22. This is a precision-ready rifle that can serve a multitude of purposes.
Favorite features:
Lightweight (5 pounds, 11 ounces)
70-degree bolt lift
Pros:
Aggressive texture on grips
Low-profile magazine
Cons:
Length of pull sits between "youth" and "full-grown"
No recoil pad
Tikka is another firearms manufacturer that is better known for high-end big game hunting and precision rifles. However, it also makes a solid line of bolt action rifles chambered for rimfire rounds. Tikka makes two variants of the T1x MTR in .22LR. One has a 20-inch barrel, while the other has a 16-inch barrel. Both have a 1:16.5 rate of twist. These are precision rimfire rifles. They are fitted with a single-stage trigger, and the muzzle is threaded. The receiver is pre-drilled and tapped for a picatinny rail and accessories. This is the gun to consider if you are looking for superior accuracy backed by a trusted brand. The buttstock is hard plastic, but you can find aftermarket recoil pads and even length of pull spacers, which helps work around one of the few negatives about the T1x.
Best Legacy Semi-Auto .22 Rifle
Marlin Model 60
Why we selected it:
Our editorial staff writer Travis Smola loves his Marlin Model 60, which is something of a family heirloom. It's a classic design that's just plain fun to shoot.
Favorite features:
No frills but uber-reliable
Pros:
Walnut stock
Tubular magazine with good capacity
Cons:
Can be tough to find
Some are picky about ammo
I admit, I have a soft spot for this one. That's mostly because I still have one of my grandfather's old Model 60s (he had at least two). The classic Model 60 semi-auto design has not changed much over the years. It still has a tubular magazine that can hold up to 14 rounds. It still has the classic walnut stock. Marlin has introduced a few new variations over the years, though, such as the 60sn. That gun has a synthetic stock in black, while the 60c has one finished with Realtree Hardwoods. These guns have a 19-inch rifled barrel with a 1:16 rate of twist. Marlin sells one variant, the 60sn with a 4x20mm scope and mounts already attached. The Model 60 is a great gun for fun target shooting, and also for hunting and pest control around the home. The fact that it starts at under $200 is a great selling point, too. The only downside I've encountered is that I'll get occasional stovepipe failures with some forms of lead ammo. They're easy enough to clear up, but it appears to be a quirk of the Model 60 that it takes some experimentation to find out what type of ammo each rifle likes the best.
Best Break-Down .22 Rifle
Browning SA-22
Why we selected it:
The Browning SA-22 has a fantastic break-down feature but maintains accuracy. Built as a tribute to John Browning's gunmaking mind, it's a high-quality rifle with history at its back.
Favorite features:
Takedown design
Ease of cleaning and storage
Pros:
Scroll engraving on the receiver
Polished blued finish
Cons:
Bottom ejection takes getting used to
When it comes to nice-looking semi-auto .22s, the Browning stands out with its beautiful, checkered Walnut stock. It is hard to go wrong with a gun that was designed by the legendary John Moses Browning. This is one of his lesser-known designs. These guns were ambidextrous before their time with the bottom ejection port. The 19-inch, polished and blued barrel has a 1:16 rate of twist. The SA-22 has a unique design in that the 10-round magazine loads through a port in the stock. It helps give this rifle a slim design that is easy to handle. The varmints and other small game won't know what hit them, but this will also feel at home while plinking away at the shooting range.
Best Innovative Design in a .22 Rifle
Winchester Wildcat
Why we selected it:
Winchester has been around a long time, but the Wildcat ushers in a changing perspective. It represents the new age of innovation and includes unseen aesthetics for a unique look.
Favorite features:
Field-removable lower receiver
Futuristic look
Pros:
Ambidextrous skeletonized buttstock
Included optics rail
Lightweight
Cons:
Specific ergonomics may not be for everyone
Needs a cheek riser if you add an optic
For anyone who wants a rifle that is light as a feather, the Winchester is worth a second look. This rifle weighs only 4 pounds, thanks in large part to the molded polymer stock that cuts out all unnecessary weight. This gun has a fascinating design because the entire lower receiver can be pulled from the stock with the press of a single button. Inside, it holds two Allen wrenches at all times to help make sight adjustments in the field. A slide lock button adds an additional degree of safety, important for newer shooters. The front sight is a ramped post, while the rear is a ghost ring. As an additional bit of versatility, this gun can take aftermarket magazines intended for the 10/22. This is one of the more interesting recent additions to the semi-auto rimfire market, making it appealing for those who like to be on the cutting edge. It's also popular because of its price of only $270.
Best Historical .22 Rifle That's Still Effective
Marlin 39A
Why we selected it:
It's built on the longest-lasting, continually produced shoulder firearm platform in the world, meaning the Marlin 39A has earned a trusted reputation for more than 100 years.
Favorite features:
Quality emphasized over quantity
Hooded front sight
Vintage, classic look and feel
Pros:
High capacity
Forged steel parts
Cons:
Tough to find
Prices can get steep
If you're seeking the looks of a classic hunting rifle, then the Marlin 39A will fit the bill. These guns are outed as the longest-running continually manufactured rifle in the world, which says a lot on its own. Our Social Media Manager Sereena Thompson says the feel of the walnut stock and the optimization of the bluing on the barrel combine for a seriously strong candidate in the "greatest .22 ever" category. This is the gun that you pass down to your kids, and they pass down to theirs, which is exactly what Thompson was looking for. "It's a special firearm," she said, and anyone who owns one will be carrying on a legacy that's approaching 100 years of age. "I'd be proud to gift this to anyone," Thompson said. "Since the plan is to eventually give it to my son, that way I'll always have access to it if I want to take it out for a few shots." That's a sign of a quality gun: You are eager to share it with loved ones, but you want to keep it close enough to use when you can.
Shopping Tips for First-Time Rifle Buyers
The best way to find out if a gun is truly what you're looking for is to, well, shoot it. Try to find a shooting range or gun shop that allows you to "try before you buy," and you'll be able to differentiate between different models to find what it is you're really looking for. And if you're going for a gun that's going to be used by a youth shooter, getting them in on the tryout action is worthwhile, too.
Focus on the features we've highlighted throughout this list, and determine which ones you desire, require, and can live without. Each gun mentioned here can satisfy a need, but not all can give you exactly what you are looking for. Do the research, shoot as many as you can, and make smart decisions based on your and your style of hunting.
The Final Takeaway on .22 Rifles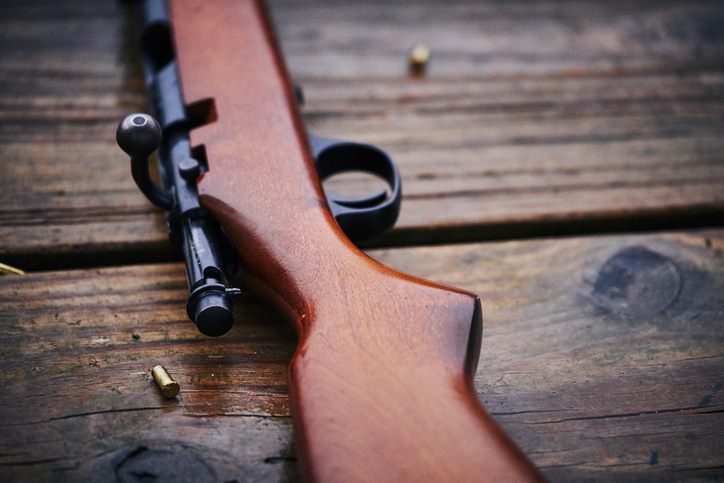 The .22 rifle holds a special place in the hearts of many shooters and hunters. It's often the first gun that's used by a beginner and can help build the right skills and acclimate you to firearm use, which you can use to your advantage when you graduate to bigger calibers and more high-powered guns. But not all .22s are created equal, and this collection represents a great starting point for a variety of needs and intended uses. If plinking away at targets is something you're after, or you're trying to find a gun that can hunt small game with efficiency, then a .22 rifle is where you should aim your crosshairs.
For more outdoor content from Travis Smola, be sure to follow him on Twitter and check out his Geocaching and Outdoors with Travis YouTube channels.