If you're looking for a new pair of riding boots, then you'll definitely want to check out these 10 great brands.
As equestrians, we demand a lot of our riding boots. We need our boots to be highly durable but also comfortable. And they need to look great when we step into the show ring. A quality pair of horseback riding boots can be a significant investment, but if we know that we'll use them for years and years, it's worth it.
But not all boots are made the same. Some are waterproof, some are water-resistant. Some are lace-up, and others are pull-on. When it comes to riding apparel, you have so many choices! If you are shopping for boots in the future, then consider these 10 brands which make the best equestrian riding boots.
Boot Brands

Ariat is perhaps one of the most well-known equestrian apparel brands. Ariat is known for producing durable, quality products, and their boots are designed to keep you comfortable during long days on your feet. Ariat is known for their awesome women boots but also have quality men's boots.
From the Ariat Heritage to the Challenge Field Boot, their super cute and sturdy cowboy boots with the square toe, even animal print casual footwear, and cute jodhpurs are all best sellers. Here's a great pair of horse riding boots you can snag on Amazon.

The Parlanti brand is well-known around the show ring. With cutting-edge technology and the option to choose from standard or custom-made equestrian boots, this brand offers riders plenty of choices and a large selection. Their short boots and zip paddock boots are also super cute and well made. The price tag might throw you off, but they're impeccable.
Check out this beautiful pair of women's boots. You can get them here.

While not your average riding boots, you can't beat a pair of Dubarry boots for their style and quality. Dubarry tall boots are known for being extremely durable, and they're a must for wintertime as winter boots. Let's be honest, your stable supplies aren't complete without 'em.
Grab a pair of brown leather riding boots here.

Want top quality boots that will help you stand out? Der Dau offers boot styles ranging from the simple and elegant to the attention-grabbing - think patent leather and crystals, perfect for your dressage classes!

If you're looking for an affordable yet stylish knee-high option, TuffRider offers a wide variety of women's boots to fit a tighter budget.
Grab a pair of these leather boots here.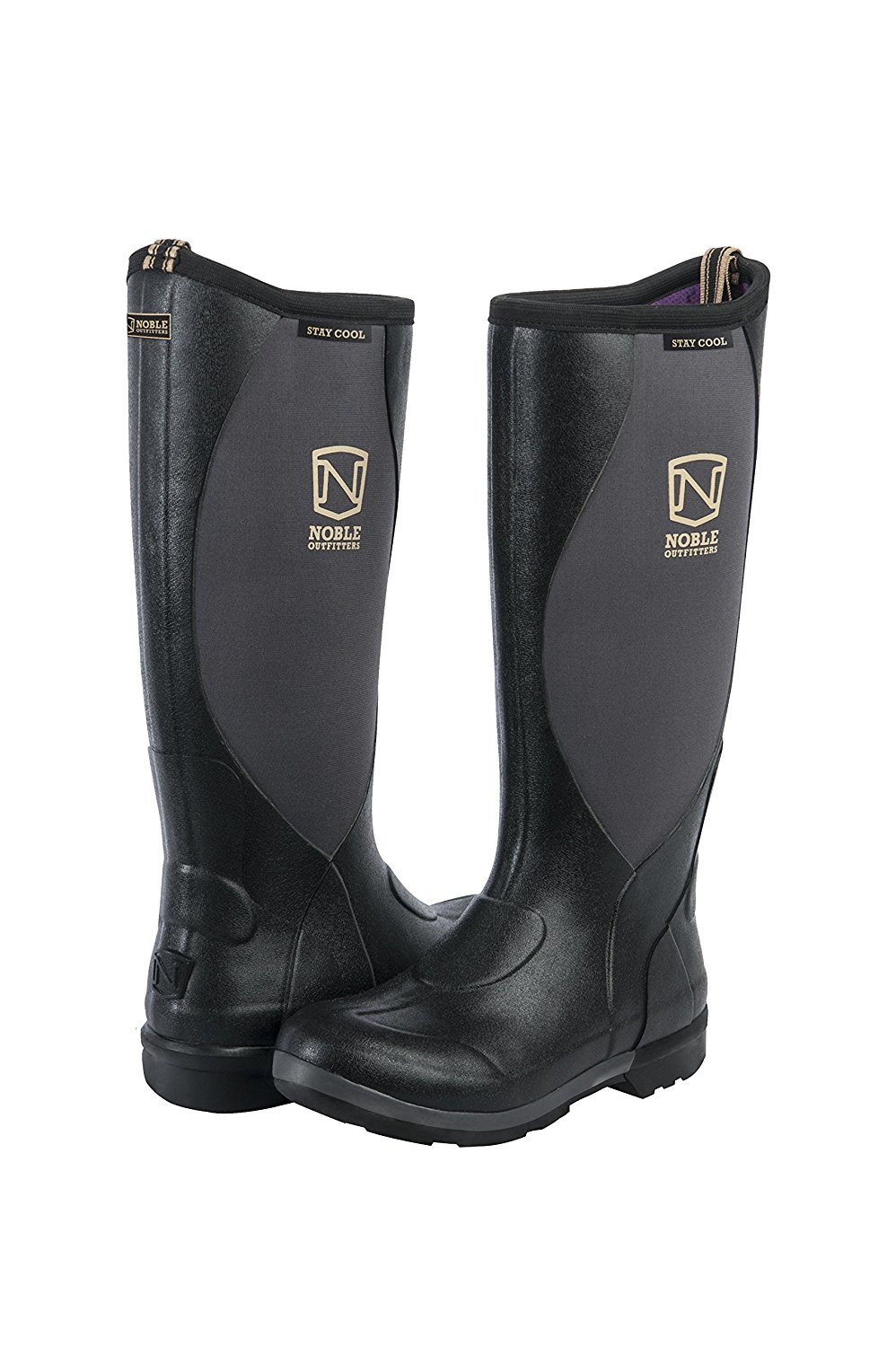 Amazon
Noble Outfitters has quickly sprung onto the scene as one of the top equestrian clothing brands. While not a producer of riding boots, the brand does make many field boots and rubber boots, which are practical for use around the barn in mud season, cold winter days, and more. These are also more comfortable as wide-calf boots
Grab a pair of gray muck boots from Amazon.
E. Vogel is known for being one of the top brands in custom riding boots. With lines of stunning field and dress boots, you can choose the Western boots or English style that match your riding discipline perfectly.
Provide the company with your measurements, and they'll custom-make a pair of tall riding boots specifically for you - no more struggling with stuck zippers or boots that are too tight in the calf.
The B Vertigo brand offers many different equestrian gear at affordable prices. The brand is known for producing quality, comfortable boots.
Mountain Horse is a brand which is known for producing affordable yet quality equestrian footwear. They have a large line of English riding boots and work boots in many different styles.
Grab a pair here.
If you're looking for a top-quality, standout boot, then you'll want to check out those offered by De Niro Boot Company. De Niro produces top-of-the-line boots in countless different styles, including these with a round toe.
Some other notable brands that make quality knee-high boots, over-the-knee boots, and short boots include Lucchese, Justin Boots, and Frye. Maybe surprisingly, even fashion brands like Tommy Hilfiger and Michael Kors makes a good riding boot.
There's nothing better than a great pair of boots that truly fit. Buying a pair of boots is a long-term investment, especially when you choose from the brands above. And don't forget boot socks! Get some here. What else do you need? Well, stable blankets and horse blankets are a must for colder weather and winter riding, and don't forget your saddle pads.
What about rain boots? Check out brands like Muck and Hunter Boots, but don't forget that Danner, Timberland, Dr. Martens, and Chelsea boots also design great waterproof boots. All of these brands make high-quality boots and are solid boot brands for the barn or out in the pasture.
What brand is your favorite when it comes to buying riding boots? Tell us in the comments below.
This post was originally published in 2017.
Enjoy the outdoors?
Sign up for daily stories delivered straight to your inbox.