That's right, YETI's now in the dog bowl game, too.
With YETI's track record of producing top-of-the-line liquid storage units, it was only a matter of time before it targeted dogs, too.
Considering the cooler king's position in the outdoors market, the inclusion of dogs and YETI's thriving product line was arguably overdue.
The new YETI Boomer 8 Dog Bowl is simple, yet so much nicer than your average bowl, which fits in line with the brand's collective identity.

Rather than investing in a plastic bowl that'll inevitably live a short life, or a metal water bowl that simply can't hold up against the elements, you now have the option of buying one bowl to last you forever.
I first laid eyes on the Boomer 8 stainless steel dog bowl at ATA 2019 in Louisville, Kentucky. Although I'd heard YETI was coming out with a dog bowl, I hadn't looked into it much yet, so I took the opportunity to dig in a little.
I just assumed it was insulated, like the majority of YETI products. That kind of made sense, right? Maybe it would somehow manage to keep the water cold, despite having no way to cover the top of the bowl?
Yeah, there's no insulation. A YETI product manager highlighted the bowl's toughness and really nothing else.
He basically just said, "Look, man, if you want an extremely tough bowl that'll last you forever, this is the one you want."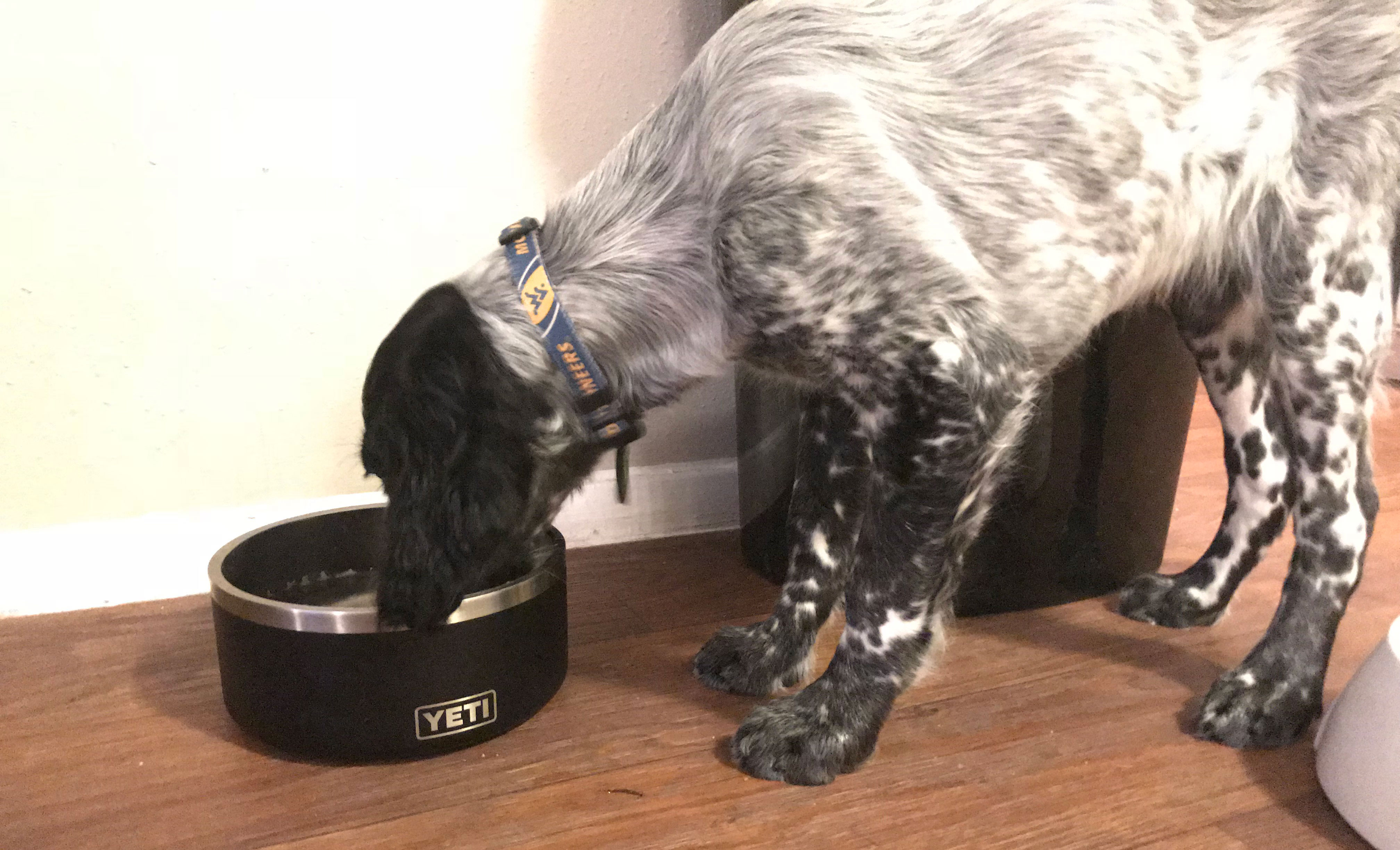 And, tough is exactly how I would describe it after using it for a month with my new English setter puppy.
Using double-wall, non-insulated, 18/8 stainless-steel construction, this bowl can literally handle anything. It hasn't really mattered just yet, as it's only left my house once or twice so far. However, I can see where it would last a long time throughout the course of multiple hunting seasons.
Boasting BPA-free cleanliness, the Boomer is food-safe, water-friendly, rust resistant, puncture-resistant, and dishwasher-safe.
Dog owners also have a variety of DuraCoat color options to pick from, as well as the classic, stainless-steel look. Plus, they can customize the bowl to feature their pet's name or a variety of other designs.
However, my favorite feature of this bowl is what YETI calls the BearFoot Non-Slip Ring, which keeps the YETI dog bowl firmly in place, rather than sliding around at the mercy of a puppy roughhousing.
The YETI Boomer dog bowl holds an ideal 8 cups of water or food, and runs right at $49.99. Customer reviews say this is one of the best dog bowls you can get for your best friend.
This post was originally published on March 16, 2019.
NEXT: THE GUNNER KENNELS G1 IS THE ULTIMATE CRATE-TRAINING TOOL
WATCH
Enjoy the outdoors?
Sign up for daily stories delivered straight to your inbox.