Wild for Wild Game Recipes? Just in Time for Fall!
Outdoor Channel.com
Just in time for the fall, here are some wickedly wild game recipes. All you gotta do is catch -n- cook!
Aching for some wild game recipes? Hopefully soon your freezers will be filled, so here are some recipes to cook your quarry!
Pan Seared Duck Breasts over Brown Rice Stir Fry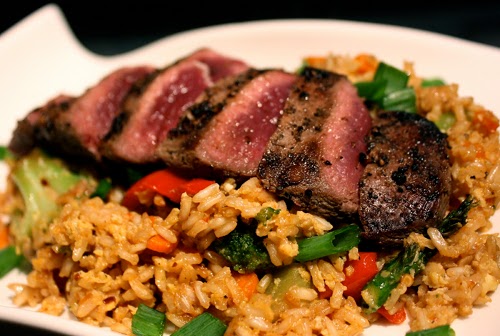 What you need:
2 Wild Duck Breasts, plucked and trimmed
1/4 Cup Teriyaki Sauce
Fresh Cracked Pepper
1/4 Cup Sesame Oil
2 Cloves Garlic, minced
1 Pinch Red Pepper Flakes
1/2 Cup Onion, diced
1/4 Cup Carrot, diced
1/2 Cup Red Bell Pepper, diced
1/4 Cup Asparagus, sliced
1/4 Cup Broccoli Florets
2 Cups Cooked Brown Rice, at room temperature
2 Large Eggs, beaten
Soy Sauce, to taste
Green Onions, sliced (garnish)
What to do:
Season duck breasts with fresh cracked pepper and douse with teriyaki sauce; set aside at room temperature for an hour before cooking.
Heat a cast iron skillet over high heat and sear duck breasts on each side for 2 – 3 minutes for medium rare.
Remove and let rest while finishing the stir-fry.
In a wok over high heat add oil, garlic, and red pepper flakes; sauté 30 seconds, careful not to burn the garlic.
Add vegetables and cook until just tender.
Add rice and eggs, stirring until eggs are just scrambled; remove from heat.
Add soy sauce to taste.
Begin plating by placing a generous portion of the stir-fry onto the center of each plate.
Slice the duck breasts and rest on top of the stir-fry.
Garnish with sliced green onions. Serve.
Recipe courtesy of Art of Manliness.com
Backstrap Poppers (Oh yeah…better than any jalapeno popper ever!)
What you need:
1 pound deer backstrap
several jalapeno peppers
softened cream cheese
Tony Chachere's Cajun seasoning
Thick cut bacon
What to do:
Slice backstrap into 2-3 inch by 1 inch wide and 1/4 inch thick pieces
Slice peppers in half lengthwise
Remove seeds (unless you can stand the heat!)
Fill each pepper half with cream cheese and lay on a piece of meat
Sprinkle with seasoning to taste
Wrap each pepper with half a slice of bacon and secure with toothpicks.
Place on baking sheet and bake for 15 – 20 minutes at 350 degrees.
Place in broiler to crisp the bacon if desired.
Chow down! But have that beer chaser ready…it's gonna be hot!
Recipe courtesy of Backwoods Bound.com
Wild Boar/Pig Stir-fry: When Bacon just won't do!
What you need:
1 pound pork or wild pig loin, sliced into thin strips
3 teaspoons corn or potato starch
2 teaspoons soy sauce
1 teaspoon Shaoxing wine or sherry
1/2 teaspoon salt
1 teaspoon sugar
3 teaspoons sesame oil
3 tablespoons peanut oil, lard or vegetable oil
3 large garlic cloves, sliced thin
1 to 3 small dried hot chiles, crumbled
A 1-inch piece of ginger, peeled and minced
3 to 5 green onions, sliced on the diagonal into bite-sized pieces
1 pound of asparagus, sliced on the diagonal into bite-sized pieces
Sesame oil to garnish
What to do:
Slice the pork and mix it well with the marinade (starch, soy sauce, Shaoxing wine, salt, sugar and sesame oil). Let this marinate on the counter while you cut all the vegetables, about 20 minutes or so.
Heat a wok or large saute pan. Add the peanut oil or lard.
When it starts to smoke, add the minced garlic and ginger, as well as the crushed chiles.
Add the pork and any marinade in the bowl and stir fry for 2 to 3 minutes.
Add the asparagus and green onions and stir fry for a few minutes, or until you begin to see some liquid start to form in the bottom of the wok.
Don't overcook pork; saute for another 2-3 minutes.
Turn off the heat and drizzle the sesame oil over everything. Serve with rice.
Recipe courtesy of Honest-Food.net
Deep Fried Wild Turkey Fingers
What you need:
5 pound turkey breast, boned and cut into strips
Italian dressing (enough to cover the turkey strips)
1 tsp garlic powder
1 tsp cayenne pepper
1/2 tsp liquid smoke
2 cups milk
2 eggs
2 cups flour
kosher salt and freshly ground black pepper to taste
canola oil for frying
What to do:
Marinade the turkey strips for several hours or preferably overnight in the Italian dressing, garlic powder, and liquid smoke.
Beat the eggs and then add the milk; mixing well.
In another bowl add the flour, salt and pepper. Add cayenne pepper to the flour mixture if you want some spice.
Dip the turkey strips into the egg mixture and then into the flour and seasonings.
Deep fry in heated oil until golden brown and the juices run clear. Drain.
For quick sauce: Melt two tablespoons butter and add salt and pepper.
Slowly add two tablespoons flour and cook for a minute or two to thicken; stir.
Slowly add one cup of milk and stir.
Serve and enjoy!
Recipe via Outdoor Channel.com
Jalapeño Venison Cheddar Burgers
What you need:
1 pound ground venison
½ cup red onion chopped finely
1 egg
salt and pepper to taste
Smoked Cheddar Cheese
Chopped jalapeños
buns
butter
Arugula
What to do:
In a mixing bowl, combine the ground venison, onion, egg, salt and pepper.
Mix well and form into patties.
Carefully put on the grill, they will be soft.
Cook to desired standards.
Add cheese, sliced jalapeños, and arugula.
Add condiments and enjoy!
Recipe courtesy of Great Venison Cooking
As if there weren't more reasons to be excited for hunting season!
NEXT: 10 Best Venison Recipe Posts from Wide Open Spaces [PICS]