When it comes to the dream fishing experience, many fly anglers already know Montana as one of the best places on earth to cast for big rainbow and brown trout. Our high-elevation lakes and valleys provide scenery so gorgeous they've inspired movies like "A River Runs Through It," and artists and authors—both fishing and non-fishing—around the world.
I've been lucky enough to fish the waters throughout my home state of Montana since I could hold a rod, and after a 15-year career in the fly fishing industry around the world, I still love my local rivers most (especially the Missouri and the Blackfoot).
Fly fishing opportunities are everywhere here, which means there are plenty of choices for anglers of all skill levels:
Beginners looking to start out with help from an experienced guide will find no shortage of outfitters willing to take them out for a day.
Someone looking for a quick session while visiting one of Montana's big cities (usually Bozeman, Missoula, or Billings) can sign up for a fly fishing trip through a local fly shop.
Experienced anglers hoping to get away from it all on a float trip deep into the backcountry will find tons of options depending on the time of year, water flow, and the species they're seeking.
However, Montana is vast, with more than 10 hours of driving from east to west. So it pays to do a little research and make a well-informed decision about which location will best suit your particular fishing needs.
Montana Fishing Regulations
Everyone should go through Montana's fishing regulations before ever casting a line, because residents and non-residents alike need both a fishing license and a conservation license before getting started. Montana has also introduced what's known as an AIS Prevention Pass in 2017. It's an extra pass designed to help fund aquatic invasive species prevention, keeping rivers cleaner, healthier, and helping waterways support more recreational usage.
According to Montana Fish, Wildlife, and Parks (referred to by locals as "FWP"), a fishing license allows a person to fish for and possess any fish or aquatic invertebrate authorized by the state's fishing regulations. It is nontransferable and nonrefundable. The license enables one to fish from March 1 through the end of February of the following year. The costs vary depending on how many days you're planning to fish, your age, and whether or not you're a resident.
If you choose to bring your own boat for a float trip on Montana rivers, you must pay for a $30 Nonresident Motorized Vessel Protection Pass or a $10 Nonresident Non-Motorized Vessel Protection Pass, both of which are good through December 31 of the given year.
River and Stream Regulations
When you are planning your trip, make sure to pay close attention to the state's river and stream-specific regulations; check both online for respective updates and talk to a local fly shop for current or approaching changes, they are the best fly fishing experts.
Many waterways have specific legal fishing times, for instance. Especially as water temperatures heat up throughout the summer season, there may be "Hoot Owl" closures which require all fishing to cease at a certain time of day (often 2PM when the water heats up from the sun). It's still very possible to book a fishing trip when Hoot Owl closures are in effect; it simply means your guide will likely want to leave the boat ramp early in the morning when the water is coolest.
Some rivers and streams may be wade fishing only, or may be closed for various management reasons throughout the year. They may not be open to any kind of float fishing, or open but with limits on motorized / non-motorized vessels. If you happen to wander into a no-fishing area, a closed waterway, or are caught fishing after Hoot Owl hours, game wardens can and will ticket you, whether you are aware of your transgression or not. Come prepared: know the rules, know where you're fishing, and review the seasonal guidelines.
One last key thing to keep an eye on are equipment-specific regulations. Many waters require the use of flies with barbless hooks because it makes for a quicker release of fish.
Where to Fish in Montana
There is no shortage of world-class fly fishing in Montana. Growing up here, I've fished a lot of our beautiful waterways. Here's where I recommend going:
The west and southwest Montana are usually considered the prime spots—which means they are by far the busiest trout waters in Big Sky Country. One of the main rivers you'll hear about is the Yellowstone River, which houses cutthroat trout, rainbow trout, brown trout, and mountain whitefish along it's nearly 700-mile length. This Blue Ribbon Stream originates in Yellowstone National Park in Wyoming and flows all the way to North Dakota, where it eventually confluences with the Missouri River, another storied fly fishing waterbody. You'll find plenty of fly fishing guides, fly fishermen and access points along the length of both of these.
The stretch of the Missouri River located between Helena and Great Falls (roughly in the center of the state) is one of the most famous stretches of trout fishing rivers in the world. Known for angling large fish as well as medium-sized fish, the "Mo" is home to a thriving trout culture and fishes well year-round. (Just pack many, many layers of warm clothing for the winter months!) A visit to Craig, Montana, right on the Missouri, is perhaps one of the most "Montana trout experiences" available to visiting anglers.
A bit further south, the Missouri River confluences near Bozeman with two other Blue River Trout Streams, the Gallatin River and the Madison River. The former was where they filmed many iconic scenes in "A River Runs Through It," and the latter is considered one of the best dry fly fishing spots on Earth, especially near Madison Junction and the famed Three Dollar Bridge not far from West Yellowstone. The excellent Jefferson River is also close in this part of the state. Consider camping at Missouri Headwaters State Park or near the quaint, picturesque town of Ennis as excellent home base options while you explore each of these rivers.
If you're looking for a place to target Arctic grayling, consider trekking to the headwaters of the Ruby River, which is one of the smaller rivers in Big Sky Country. Most anglers who target trout wait a little later in the year to fish this location. The only problem with it is that access points are somewhat limited.
The Big Hole River is another storied grayling fishery, but it's also a famous Blue Ribbon Trout Stream. Keep in mind that it's almost exclusively catch-and-release.
We already mentioned the Bitterroot and Blackfoot Rivers, two Blue Ribbon Streams fork off the larger Clark Fork River in the western part of the state near Missoula. All of these waters are excellent places to plan a trip, and Missoula is home to many breweries, a quirky downtown, and eclectic hotel options.
On the other side of the state it's impossible not to mention the Bighorn River, flowing east of Billings, which offers excellent angling for rainbows and browns. The only downside of Bighorn is that it's quite popular and can be crowded with anglers, especially during prime insect hatches.
If you're not in the mood to battle crowds and busy boat ramps during peak season on some of Montana's more famous waterways, consider blue lining—walking up the plethora of small streams and creeks dotting the state's mountains with a lightweight rod (three-weight fiberglass rods are a personal favorite for creek fishing). Just be sure to pack bear spray (and know how to use it) and plenty of good snacks before heading off for your own Montana fishing adventure.
READ MORE: Montana River Guide Attacked by Black Bear While Camping
Should You Hire a Montana Fly Fishing Guide?
If you've never been to Montana before it's easy to feel overwhelmed. It's not a bad idea to hire a guide to give you the low down on good general locations to fish, and the best time to tie on a streamer, nymph, or a dry fly.
Even if you don't hire a guide, stop into a local fly shop or two and chat; buy a few flies—support the small-town businesses—and see if you can gather some information. Most fly shop employees are more than willing to share information if you're nice and spend a few dollars in their shop. Montana welcomes returning anglers year after year, but no one knows what's going to catch fish better than the locals.
For those totally new to fly fishing, the benefit of hiring a guide is that many will supply all the gear you need—from your waders to fly rods and the flies themselves. Going with a guide is also a nice option if you're not sure what gear to buy before you go, or whether you're ready to invest at all.
READ MORE: 7 Fly Fishing Clinics for Women Who Want to Learn to Cast
Most outfitters offer the option of a half or full day trip. Trips are typically priced by "boat" and can fit two guest anglers plus guide service, which means it's easy to split the cost with a friend. Most guides will not take more than two anglers on a trip, as most Western drift boats are designed to hold two anglers and one rower. As a rule of thumb, expect to pay $300 to $450 for most half-day guided fishing trips and $500 to $700 for a full-day trip. Most of these trips provide lunch and non-alcoholic beverages as part of the fly fishing experience; bring your own alcohol (if allowed) and any specific snacks you'd like to have along for the day.
There are also some outfitters that offer all-inclusive packages that include lodging, as well as other classic Montana activities such as horseback riding, hiking, and other Western adventures. Obviously, these are going to be much more expensive depending on the types of lodging and other services offered but can be an excellent way to book your trip without worrying about additional logistics.
If you do choose to hire an outfitter, it's usually best to book well in advance. Many top outfitters and guides book their entire season early—up to a year in advance—although you may sometimes be able to find a deal if one has a cancellation.
Montana Fishing Etiquette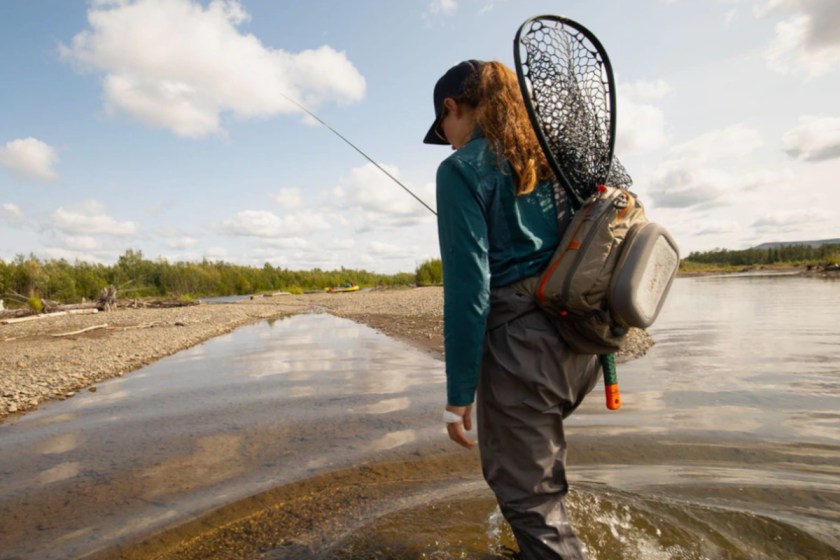 As one of the prime trout fishing destinations around the world, Montana is home to many rivers and creeks which are often very busy, especially during the peak summer season. Here's how to be a good visitor:
Give other anglers plenty of space and don't crowd them. In general, respect the other anglers sharing the water. We're here to enjoy the process and the day on the water, not to get in a fight on the river.
Watch out for boats coming down the river.
Get off the boat ramp as quickly as possible. If you're using a boat ramp, prepare your boat in the parking lot and then back down the ramp; the goal is to get on and off the ramp as quickly as possible—don't block the entire ramp while others are waiting to launch. Ramps are a shared resource, and causing a traffic jam is a surefire way to anger the locals and interrupt a working guide's plan for the day.
Fishing Montana is an experience every dedicated fly angler should have at some point. Between the great fishing and gorgeous scenery, you are sure to have an adventure in Big Sky Country!