Here's a nice review of the ice fishing gear you will need to take with you for a successful day out on the hard water.
Back during my construction days we had a saying: "I'd like the winter more if I didn't have to stand out in it all day."
Now that those days are behind me, I love the thought of staying outside in the winter, especially if I'm out on the ice for a day of ice fishing. When the temperatures fall, it's all about having the right ice fishing gear to make the most of your opportunities.
Certainly, it's your personal safety and the safety of those around you that should be the first and last concern. It's imperative that every ice angler know and understand the conditions and trust their local resources as to whether the ice is safe enough to be on.
Ice fishing is a tried and true way to enjoy a winter afternoon outside, whether you're catching panfish with the kids or targeting monster lake trout with your ice fishing buddies.
Instead of explaining what angling on the ice is all about, let's get down to brass tacks and provide our gear list suggestions. Here's a simple review of the items needed to make your day successful, comfortable, and safe.
Ice Auger
Ice auger options are as plentiful as the panfish in your bucket after a successful day of fishing. They come in the old school hand auger style, two-cycle gas-driven, and even rechargeable, high-powered batteries.
Not only that, but for the environmentally conscious anglers, there are models that are powered by four stroke motors, and even by propane!
We'll recommend the well-known name Eskimo for their Sting Ray Power Auger, which creates an 8-inch hole, has a 33cc Viper engine, and includes a see-through gas tank.
Tip-Ups
As with the ice augers, there are so many brands and styles that hard water anglers everywhere can choose with confidence, but the Eagle Claw Ice Fishing Arctic is a great example of the basic, simple version that's worked for generations. This style is grat if you plan on using a lot at the same time.
Alternatively, you could go with something like the Frabill Pro Thermal Tip Up with its insulated lid that prevents the hole from freezing over, even in temps that hit -25 degrees below zero.
Ice Fishing Shelter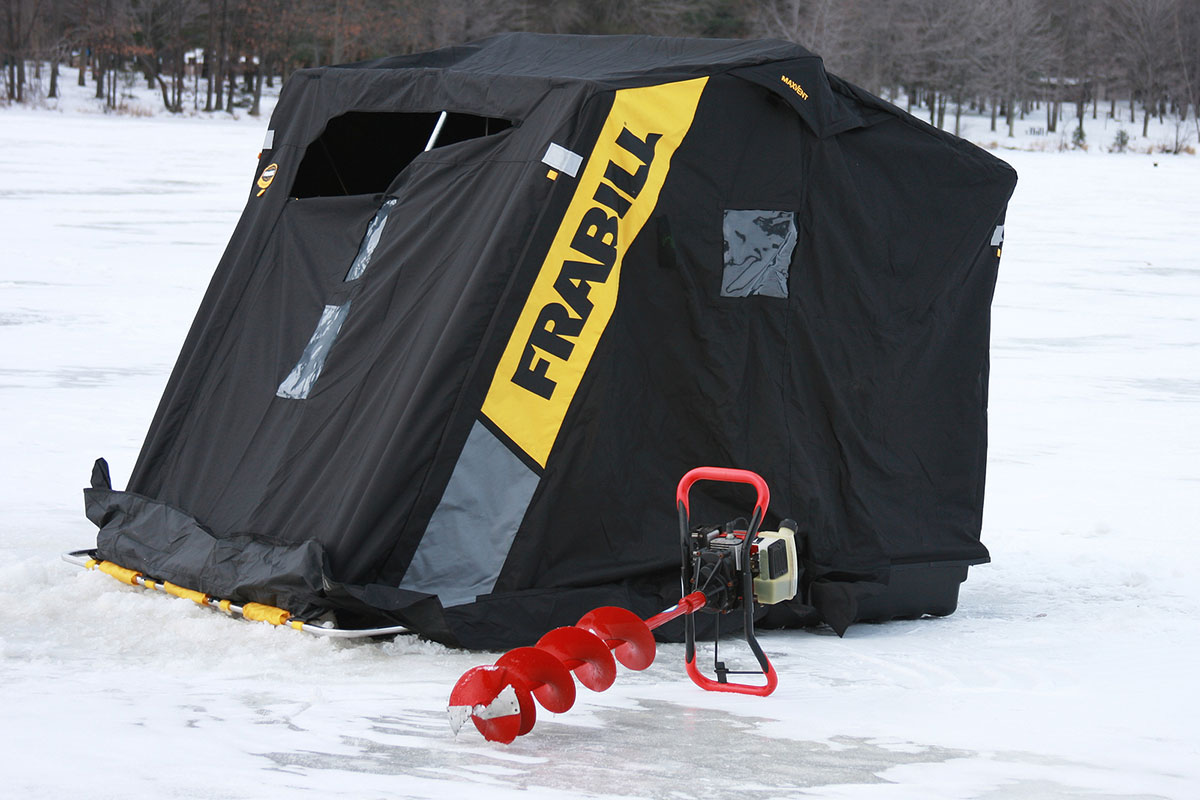 Some folks take this part of ice fishing very seriously and construct large, luxurious shelters that are more like homes than ice angling shelters. Others don't mind a small portable shanty. For those of us that just need a break from the wind and cold there are as many good choices as there are jigs in your tackle box.
We'll start big and recommend the 8-person Gymax Ice Shelter, a gigantic waterproof shack for all your friends or family to fit into.
The Goplus Portable Ice Shelter Pop-up scales things down, and though the description says it's a 3-person, we'd envision being able to squeeze four people inside without much problem. The Nordic Legend Two-Man is another great option if you're only planning on going with one other person.
Finally, the Clam Kenai Pro might be the best pick for a single user, as there's still plenty of room for gear but it doesn't weigh much or take up much room at all.
Ice Fishing Rod and Reel Combo
Sure, you can get down to individual rods and individual reels, but manufacturers have been putting together these combos for years and they're really good at it.
Many anglers just drop a line—and only a line—down an ice fishing hole, planning to reel (or merely "pull") any fish through the hole by hand.
For those who want the best chance at success, here are some popular choices:
Ice Fishing Line
If you're going to go ice fishing, then you're going to need some top quality line that can stand up to the cold, the abrasion potential, and the possibility of a big fish!
There is a big decision to make regarding what type of line you use. Fluorocarbon ends up being one of the favorites for ice fishing because it is stronger than monofilament and more abrasion-resistant.
This is in concert with the stronger but more visible braided lines, which do come in diameters so small that they work quite well even in clear water.
Don't think that veteran ice fishermen won't use monofilament, because the right mono works just fine in the right conditions. Here are some good examples of each type that we'd spool on our own reels.
Mono
Fluorocarbon
Braid
We've gone through the basics, and you could undoubtedly catch fish and have a great time with the gear we've listed so far. What other accessories might you want to round out your trip to the frozen lake for the day?
Ice Fishing Apparel
A successful ice fishing trip starts with the right cold-weather apparel. Without it, just setting up on the ice with your ice fishing equipment can be miserable or even dangerous if the temperatures dip below zero.
Bibs

Bibs are nice since they can provide excellent protection against the harshness of the ice, but they can also give a little more freedom to shed layers when the sun comes out or when you enter a heated shack.
Among the most popular choices are the Frabill L3 Fishing Ice Bibs, with "a waterproof, windproof, breathable 300-denier nylon taslan shell with sealed seams, highly visible 3M Scotchlite reflective material, 150g 3M Thinsulate insulation, large well-placed pockets and hand warmer pockets with Tricot lining, full elastic shoulder straps with quick cam-lock buckles for all-day comfort, and padded knees and seat."
Jacket
You need an ice fishing jacket to be waterproof, yes, but how about windproof, insulated, and non-restrictive? A good ice fishing jacket will round out your fishing suit and should contain all these qualities.

There are lots of well respected choices, but the Striker Ice Climate Series takes the cake as far as our recommendations go. It has a 320D Tussor shell with high-performance PU laminate and it's double insulated with low-loft Thermadex insulation. You can remove the softshell fleece liner and the hood, making it versatile for when you're going in and out of an ice shack.
Boots
Boots are always one of the most searched for, reviewed, and well thought out pieces of sporting equipment that we buy, and manufacturers continue to come top with great choices for us. This may be the most important part of your ice fishing adventure, since your feet are in constant contact with the ice. Drilling ice fishing holes often causes water to splash over your feet, and you need to have good traction when there's no snow covering the slippery surface.
They need to be well insulated, especially at the sole, comfortable, come in every size possible, and if they look great, more the better.
One thing I've always done is found a pair of boots I can combine as extra-insulated waterproof hunting boots and ice fishing footwear. These fit the bill: the LaCrosse Hunt PAC Extreme 2000 Gram hunting boots.

Obviously you'll need hats, gloves or mittens, long underwear, and quality insulated socks, but those items aren't necessarily specific to ice fishing. They're generally understood as outdoor winter wear, so make sure you've supplied yourself with the apparel accessories you know you'll need.
Here are a few other things that can make all the difference when it comes to an excursion out on the frozen lake.
More Ice Fishing Gear and Accessories
Flashers
You're going to gain a huge advantage if you use some electronics while ice fishing, but the same stuff you access on your bass boat isn't going to work on the hard water.
With venerable names like Humminbird, Lowrance, and Vexilar you can't go wrong, but the top pick goes to the Humminbird ICE-55. It has four manual/seven auto depth scales, six-color fiber-optic flasher display, and dual beam power to save you time and effort.
Sleds
These vaunted and simple devices were born from the desire to get everything out onto the ice in one trip. From the early days of using the kid's old runner sled to today's updated versions, you almost can't go wrong. The Otter Pro Sled is a great choice, and would work just as well for beginners as it would veteran ice fishermen.
Ice Scoop
After you drill your hole, a lot of slush will fill up the channel which hinders dropping your line and landing fish, so you're going to need a simple tool like this Frabill Ice Skimmer to clear your hard-earned hole.
Bait
The Great Bait Debate doesn't take a break for ice fishing, and it's always a matter of determining what the fish are feeding on. Personal preference and availability will weigh in too, but here are our two recommendations.
For live bait, go with spikes. If you didn't already know, spikes are another name for maggots. Judging by the way they catch fish, we think the little critters have earned a bad reputation in the bug world!
Our other piece of advice is simple, and certainly not a secret in the ice fishing world. We say you should almost always use a jig. The Jigging Rap from Rapala sits atop the mountain of ice fishing jigs.

Jigs come in so many sizes and shapes that it's hard to count, but you should start small, in the 1/32 oz range and continue up to the 1/4 oz size. When fishing for larger, more aggressive species such a pike or walleye, increase to 1/2 oz or larger, depending on conditions.
Metal Boot Cleats
Boot cleats can be an afterthought for some since the ice can be snow covered or rough enough to ensure good footing. But in cases of clear, open ice it can be easy to slip and fall, but can be tackled with boot cleats.
Safety Picks
Just for the record, safety picks are corded, retractable ice picks you wear around your neck over the shoulders. If you happen to fall through the ice, these picks greatly improve your ability to climb out of the water and back onto the ice.
Grab them with you hands, dig them into the ice surrounding the hole you fell into, and ideally they help you drag yourself out. In some cases, you can find kits that include picks, cleats, and a whistle.
The Final Word
Catching fish on open water and catching them through the ice are two different things. But we found a way to continue our angling passion, even when the winter rolls in and the water surface freezes. And as technology and innovation has advanced, it's made it easier and more comfortable to do it.
There are plenty of venerable companies and manufacturers that have made it a point to give us not only the best fishing equipment, but the best ice fishing gear out there, and they do that with great confidence.
Of all the fishing tips you can gather, gear lists like these, especially for those starting out, can be invaluable.
Looking for a little more or even hot lunch for your hunting blind? Follow my webpage, or on Facebook and Twitter.
NEXT: THE BEST BLACK POWDER RIFLES HAVE THESE THINGS IN COMMON
WATCH