Between bottomlands, duck marshes, and the backcountry, hunters can be hard to find during the fall and winter months. But finding the best gifts for hunters is relatively easy. As a hunter who has received everything from face paint to Yeti coolers, I can tell you that any hunting gift is a good gift (even if they already have something).
But, to make this task even easier, I've compiled a list of the best gifts for hunters that cover a range of hunting times, seasons, and scenarios. This isn't a generic list either. Here, you'll find items that I've personally tested and used, while most of the others include recommendations from hunters who rely on these products as well. No matter what type of hunter you're buying for, you're sure to find a gift for them below.
1. A Packable Stove for the Traveling Hunter
One universal truth for every type of hunter: They love a good meal. The Camp Chef Pro 16's three 30,000 BTU burners offer ample cooking space and capabilities whether in the backyard at home or at camp, plus a folding-leg design so it can conveniently stow for travel. Whether they're already the camp cook or hoping to sharpen their chef skills, the Camp Chef Pro 16 is easily one of the best gifts for hunters that they can use year-round.
2. A Premium, Comfortable Turkey Vest
Whether you're shopping for a run-and-gun or sit-and-wait turkey hunter, the Sitka Equinox Turkey Vest is the perfect vest you could give them. The compact-yet-comfortable seat cushion won't deflate like those in cheaper vests, and it stows away when it's time to make a move. It's certainly not cheap, but it should last several seasons for even the most dedicated turkey hunters.
3. The Best Trail Camera for Watching Wildlife
I've been personally testing the Moultrie Mobile Edge Pro since it came out, and I've been pleased with how well it's worked. This trail cam is compatible with multiple carrier services, and its intuitive app settings make it a breeze to operate. One of the best things about the Edge Pro is the smart setting, which captures pictures based on the setting you select. That way, if you only want to receive pictures of bucks, this setting will take the guesswork out of it for you.
4. A Meat Grinder for the Home Butcher
Skip taking meat to a processor: The Game Winner Number 12 Meat Grinder is a great gift to help save your hunter plenty of bucks after they shoot a big one. This grinder includes a host of accessories and grinds up to 7 pounds per minute, making it easy for hunters to make their own burgers and ground meat or sausage, all at home.
5. Sunglasses Tough Enough for the Backcountry
The Wiley X Kingpin's shatterproof Selenite lenses will stand up to the rigors of the backcountry, and their subtle-but-sleek frame fits a variety of face shapes and sizes. For those bluebird-sky days, the Captivate Polarized lenses help reduce glare, which is critical if you're glassing or shooting into the sun.
6. A Practical and Handy Power Bank
Whether chasing small game in a local national forest or hunting in the backcountry, they'll never complain about dead phones or satellite communication devices with the Anker Power Supply. It doesn't take up much space, it can fully charge a phone in less than an hour, and it's under $25.
7. A Compact, Lightweight Hunting Knife
Whether the hunter in your life has one or a dozen knives, they can always use one more. Knives in Alaska's Hunter line are compact folders that are great for carrying afield, and the handle length and grip texture make it easy to field dress your game in the cold or with gloves on.
8. A Durable Pair of Duck Hunting Waders
If you want to surprise the ultimate duck hunter this holiday, Duck Camp's Zip Waders are no-frills, with 1000g of Thinsulate in the boots and an uninsulated upper that's easy to layer with for colder mornings. The outer nylon-polyester blend material will stand up to unexpected snags in the marsh; and, just in case, Duck Camp's limited lifetime warranty covers them for the lifespan of the waders.
9. A Lethal and Rugged Turkey Broadhead
There are tons of options when it comes to the best broadheads for turkeys, but the cutting diameter and accuracy of the Rage Extreme Turkey broadhead make it lethal and efficient. For these reasons, it makes a great gift for the hunter who doesn't mind pulling dark-to-dark sits in a turkey blind.
10. A Pair of Crisp Hunting Binoculars
For the hunter who wants a step up from entry-level binoculars, the Leupold BX-4 Pro Guide HD 10x42 offers adequate glass and range for most hunting situations. These hunting binoculars are also easy to operate with one hand, making them an excellent companion for treestand bowhunters on a budget.
11. A Warm Pair of Classic, Proven Rubber Boots
LaCrosse is synonymous with the best rubber boots—and for good reason. The Alphaburly Pros come in a variety of camo patterns and insulation offerings that range from late-season turkey hunts to dead-of-winter whitetail hunting. We love the 1600G the most for cold weather; it will keep toes warm in temps from minus 70 to 30°F whether in the field or in the backyard.
12. Nifty, Affordable Game Shears
If the hunter in your life would rather chase whitetails and rabbits than big game, these game shears are a must for their vest. I keep a pair of these in my car, and I've even used the saw edge for field dressing deer. These affordable-yet-rugged shears are a versatile and necessary gift for small game hunters.
13. A Hunting Pack With Plenty of Storage
The KUIU Venture Divide is an excellent, versatile pack whether you're on a day trip out west or hitting the whitetail woods. Divided compartments help keep gear separated, and the drawstring main opening makes it possible to pack out a whitetail. The adjustability and hip belt on this pack will accommodate a wide size range of hunters, and the host of pockets makes it a gear lover's dream.
14. An Underrated but Necessary Stocking Stuffer
Whether you're stalking muleys on the plains or treestand hunting whitetails in the Midwest, you can never be too quiet. Stealth Strips are a cheap, easy way to silence your equipment—and make for a great stocking stuffer.
15. A GPS Watch With Great Hunting Features
The Garmin Instinct 2X Solar is an ultra-rugged smartwatch that—in addition to all the expected bells and whistles, such as a built-in sports app—features TRACBACK routing for those long walks back in the dark. It also pairs with Garmin's inReach devices and has an integrated flashlight just in case headlamps are buried in the pack, making it a handy tool for backcountry hunters. Lastly, it it has passive solar charging, offering the potential for unlimited battery life in smartwatch mode.
16. A Easy-to-Use, Crisp Diaphragm Call
Mouth calls are a low-stakes gift option, and every hunter could always use another. These two diaphragm calls—the Phelps Pink Amp elk call and Woodhaven Ninja Ghost turkey call—are both less than $15, should fit most mouths, and are small enough to fit into a stocking.
17. A Versatile and Packable Synthetic-Down Jacket
Sitka's Kelvin Aerolite Jacket is one of my favorite pieces of hunting apparel, and I find myself bringing it along for multiple trips in every seasons. Wear it alone, as a mid-layer, or over top as an everyday jacket—its packability and warmth make it highly versatile.
18. A Great Midweight Base Layer
The First Lite Kiln Hoody is a midweight layer that works as a standalone piece in the early season or a base layer during the late season. I've used this hoody on everything from spring turkey hunts to late-season whitetails, and it's a staple during hunting season. If you really want to a buy gift for hunters that they'll use, consider the Kiln Hoody.
19. A Spacious and Intuitive Pop-up Blind
Hunting from a blind is a great way to involve kids or new hunters. The Cabela ZonZ Specialist XL has a spacious interior capable of seating multiple hunters, and the adjustable windows provide plenty of shooting opportunities. The best part: Setup takes only a matter of minutes.
20. A Rugged, Bear-Proof Cooler
From storing cold food to fresh meat, the Yeti Tundra 45 will keep goods chilled on the road or at hunting camp. Unlike cheap coolers that require constant restocking with ice, this Yeti will keep ice for multiple days. The Tundra 45 is the sweet spot of price and size, but we also love the Tundra 65 because it can hold a full deer.
21. A Durable, TSA-Approved Bow or Rifle Case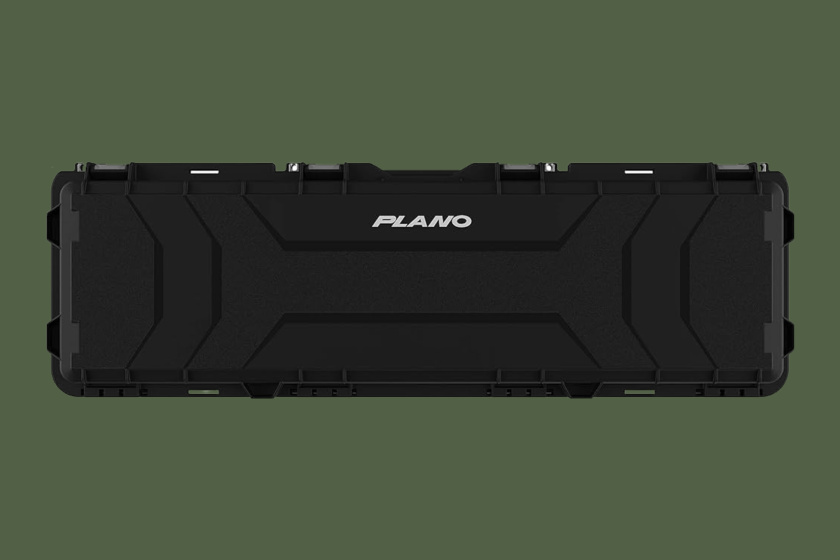 If the hunter in your life likes to go on out-of-state hunts, the Plano Fieldlocker case will keep their bow or rifle secure on the plane or in the truck. The pull-apart foam allows for customizable padding to fit your bow or rifle. This case has water-tight seals to keep moisture out and multiple handles and wheels to make transportation a breeze.
22. An Easy-to-Use and Affordable Squirrel Call
A lot of hunters get started by pursuing small game, which makes the Primos Squirrel Buster a low-stakes gift or stocking stuffer ideal for new or young hunters. The call is easy to use and makes tons of squirrel sounds, and it's very affordable.
23. An Extremely Bright, Rechargeable Headlamp
From tracking jobs to early-morning treks, the rechargeable Black Diamond Storm 500R features a bright beam great for those long treks in or out of the woods. It has multiple brightness settings, plus a green, red, and blue light option to keep you from attracting too much attention when you're close to your stand. For less than $100, this headlamp is one of the best gifts for hunters.