If you're looking for a good fishing knife, then you've come to the right place.
Whether you practice strict catch and release fishing or are into keeping a daily catch now and again, there's one tool you're always going to need on the water.
It the stands to reason that you're going to need a good fishing knife.
To keep things straight, it's important to make a distinction early on. Not every fishing knife has to be a fillet knife, and some of them fold while some are of the fixed blade type. Honestly, if it has a sharp blade and we can cut with it, it can work in a pinch as a fishing knife. It's just that we shouldn't be cutting rope with the same knife that we're going to fillet a fish with, so the need to specialize makes itself clear.
We'll cover each type and make a couple of suggestions so you can get a good idea of what's available and make the right choice when it comes time to pick your own.
Fixed Blade vs. Folding Blade
Having been the established choice for a good while, fixed-blade knives are stronger than most folding knives with few exceptions. Since they have no moving parts, they are virtually fail-safe, and make cleaning very easy.
Folding blade knives are more convenient and make for better every day carry knives. They're smaller and more transportable, plus they're typically safer to carry and store. I keep a folding fillet knife in my tackle box, then move it to my hunting backpack when that season rolls around (it works great for those precise skinning and field dressing tasks).
There are so many different options for both fixed blade and folding knives that fishermen, hunters, and outdoorsmen everywhere can typically find something perfect that crosses over into each activity.
Blade Material
More often than not, the question comes down to stainless steel vs. non-stainless steel. Non-stainless steel rusts like crazy, but holds a good edge longer if you take care of it. Stainless steel on the other hand is known to have a hard time keeping an edge sometimes, but it is also low maintenance and hassle free.
Powdered steel is probably the most expensive since it gives the user the best of both worlds: hard as heck, and holds its edge like no other.
Folding Fishing Knife
Folding knives have multiple uses, some of which connect directly to a typical fishing task. It is great to have a knife that you can toss in the tackle box and not worry about it coming out of the sheath and getting dull.
Folding knives aren't just for every day carry, and can be a great addition to your fishing tool collection.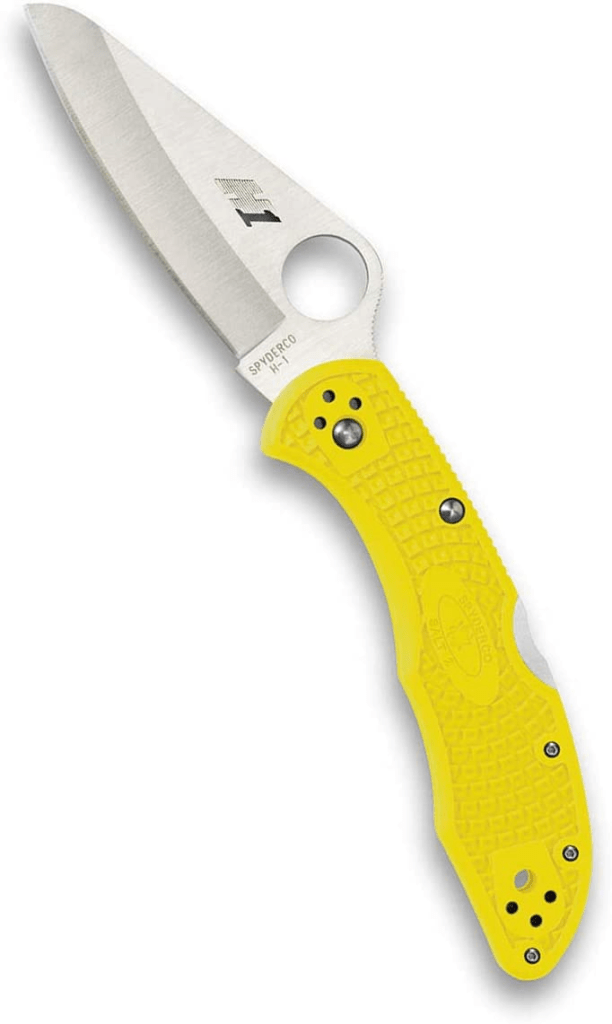 This SpyderCo Salt 2 knife has a corrosion-resistant H-1 steel blade with a plain edge (you can opt for the serrated "SpyderEdge" if you wish), back lock bar, and a titanium pocket clip that can be positioned four ways for total customizable carry. This series of knives are made for EDC, but as a fishing knife can easily be brought out on the boat and never get in the way until you need it.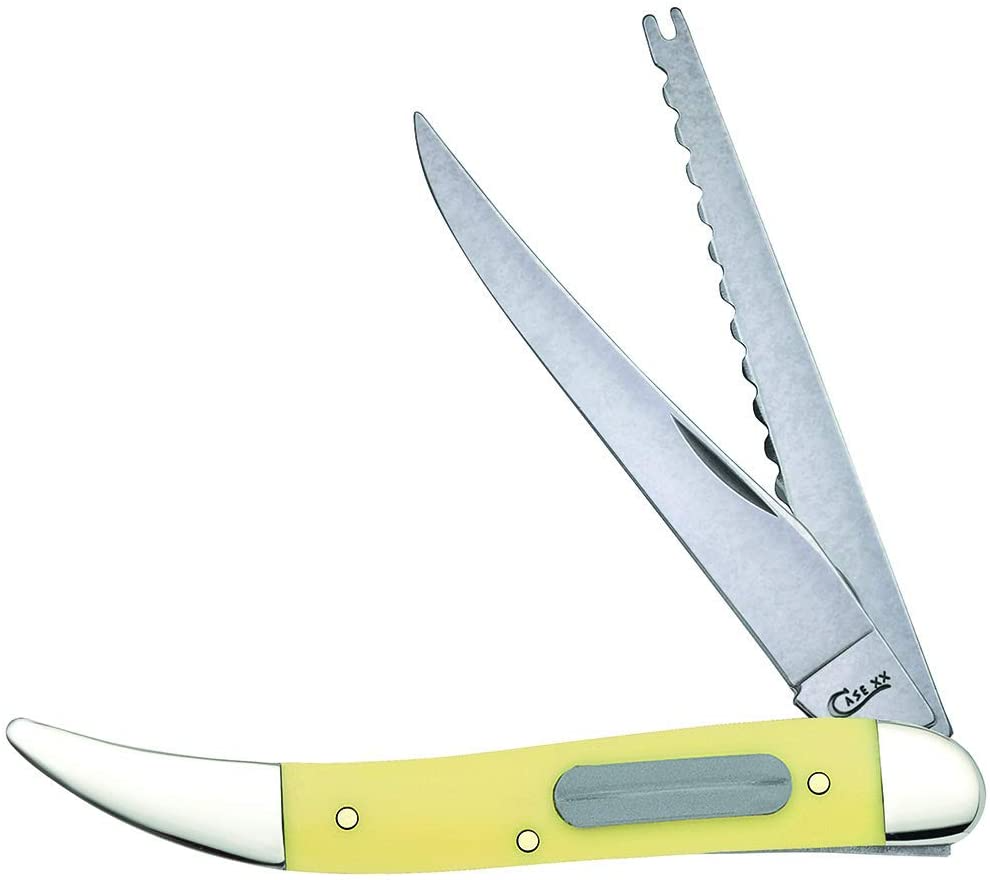 Anyone familiar with Case Knives knows at least a little bit about their legacy, and the craftsmanship in this Yellow Fishing Pocket Knife certainly helps tell the story. It uses a Tru-Sharp surgical steel blade and includes a scaler with hook disgorger, plus a hook sharpening stone.
Fixed Blade Fishing Knives

The Gerber CrossRiver was created the way Gerber produces all their knives: with a lot of thought and ingenuity. The sheath has a quick-release trigger lock, it has a blunt tip for safety around inflatables, and the HydroTread Grip has exceptional traction even when wet.
Fillet Knife
Traditional fillet knives have been around for a long time, and if you're anything like us, you've gone through a few in your day. Knife makers and the technology they use has advanced quite a bit lately, producing these and other great modern day choices.

This Morakniv Comfort Fillet Knife has a stainless steel, razor sharp blade with high quality hardness, features exceptional toughness under stress, and includes excellent corrosion resistance. Its combination of blade, rubber handle, and ease of use makes this an optimal knife for filleting.

This Bubba knife is on the higher end of costs, but there's a good reason you see them around every fillet station on every pier there is. This full tang, flex blade fillet knife absolutely flies through fish and gets the job done right.
Bubba Blade also makes shears, alternatively sized fillet knifes, and even a kit with four different interchangeable blades for every use.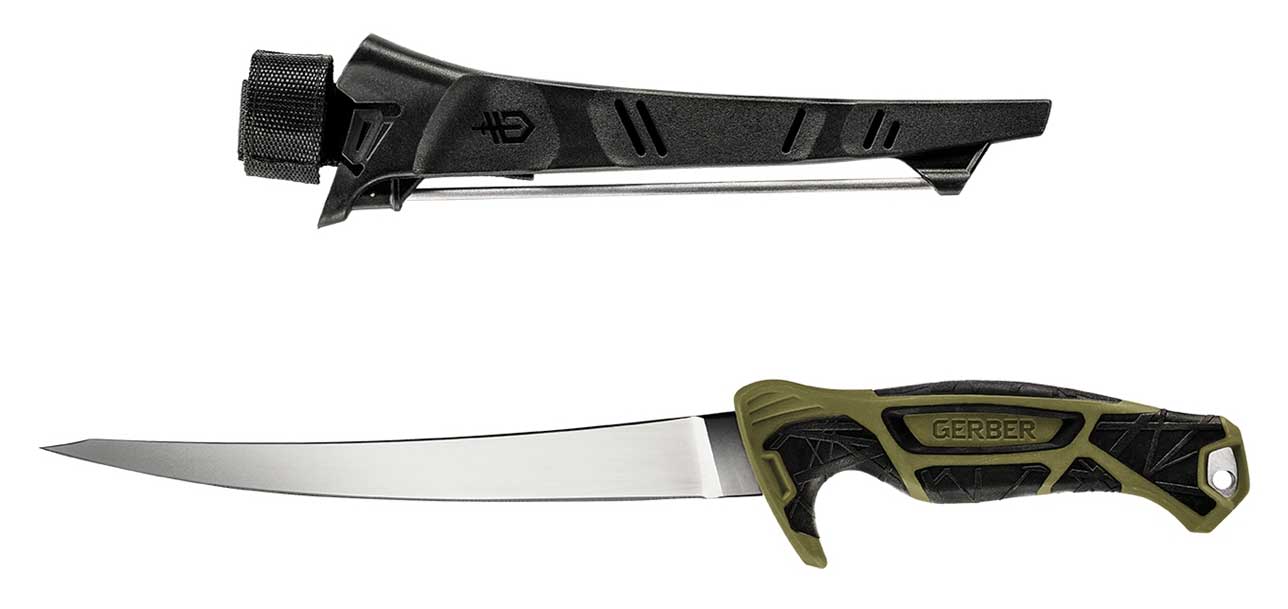 The Gerber Controller is built around a dynamite rubber grip that seems to get stickier as it gets wet. It also has a deep seated, articulated finger choil and top-handle thumbprint for great stability while cutting.
It comes in six-inch, eight-inch, and 10-inch options for every angling need, and not only that, but it comes in both a freshwater version and a highly corrosion-resistant saltwater model.
The Best Fishing Knife for You
There are lots of things to consider, and desire, when you're looking for the best fishing knife.
You might say that it has to be made in the U.S.A. You might want extras like a built-in sharpener or a reliable sheath.
You may require high-carbon steel, a non-slip grip handle, and a corrosion-resistant construction.
To be completely honest, the best fishing knife is the one that suits your own personal purpose the best. Don't overpay for things you don't need or want, but don't discount extra features either.
If you need a knife that aids a fishing trip by trimming fishing line or quickly cutting bait, then get a simpler blade to do the work for you. If you want one that you can carry with a lanyard or attach to your tackle bag, then be sure to get one with compatible features. Ergonomics are important, no matter what you're primarily using your knife for. Bait knives and boning knives can have more specific purposes and values to a more specific group of fishermen, such as charter boat captains.
Filleting is usually something that is done back at the pier, the dock, or up at the cottage on your own fish cleaning station, and you're not going to do it with a pocket knife. Once you've come in off of the water and you're not an angler anymore, the task at hand really calls for such a specific knife.
Above all else, know beforehand what you want and need, then apply those notions to your search. These suggestions don't cover it all, but will at least set you up to make a good decision no matter what kind of fishing knife you need.
Looking for a little more or even hot lunch for your hunting blind? Follow my webpage, or on Facebook and YouTube.
NEXT: GEAR REVIEW: WE INSTALLED AND TESTED THE YAKIMA TOPWATER ROD CARRIER
WATCH
Enjoy the outdoors?
Sign up for daily stories delivered straight to your inbox.