The new Diamond Archery Atomic bow for kids is just what your kid needs to get into archery and bowhunting. As a beginning level bow it's a winner.
We tested the new Diamond Archery Atomic bow for kids, a specifically-designed bow meant to help youngsters pick up bowhunting. It performed well in spite of our limitations.
The bow, made by BowTech Archery, is a true beginner's bow, made primarily for younger shooters age six and up. We didn't have access to any six to ten year old kids, and the closest we could find was a youngster of twelve. She is slight of build and small in stature, and the bow came up just a little short in draw length for her.
But it performed admirably in spite of the limitations we placed on it.
With an adjustable draw weight of between six to 29 pounds, the Atomic is perfect for kids at the lower and upper end of the strength scale. We had it adjusted close to its maximum, which provided just enough weight to cause Ella to begin to struggle ever so slightly after several shots.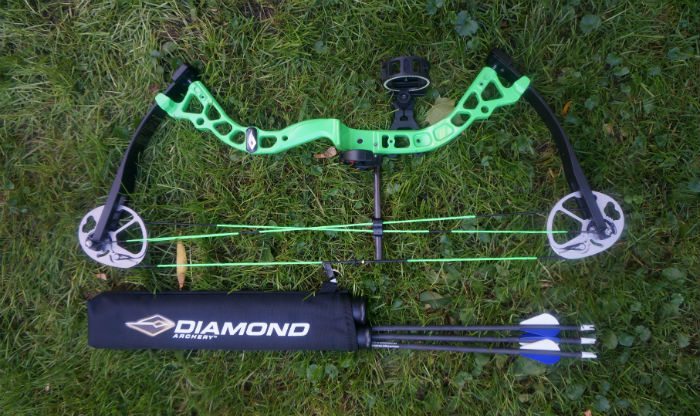 The bow's draw length is between 12 and 24 inches, and Ella could have used an extra two or three inches, but with the aid of a release she was able to pull it back to a stable and consistent anchor each time.
She stood approximately 20 feet from the target and at a stated 191 fps was able to get some good penetration with the arrows provided in the kit.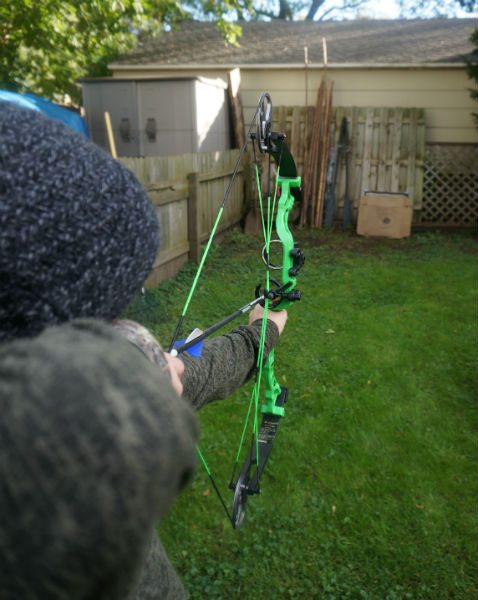 To be sure, this is a budget bow, though it's not a "cheapie." The riser is solidly made from aluminum and the parts appear to be well constructed. The cable and string can likely withstand years of use and abuse, and the cams will probably still be good long after your child has outgrown the bow.
The Diamond Archery Atomic bow kit comes with the bow, a quiver and three arrows. I will say that one of the arrows had vanes on it where the colors were wrong and were not aligned properly with the nock. This was something of a minor hassle because Ella kept having to readjust the arrow on the rest to accommodate the cock feather/vane.
But other than that, she executed her shots admirably and smoothly. After a few rounds of getting used to the sighting she was able to hit the target consistently even though bullseyes were few and far between. That is, until she began to practice over the coming days, and that's when hitting the bull became much more consistent.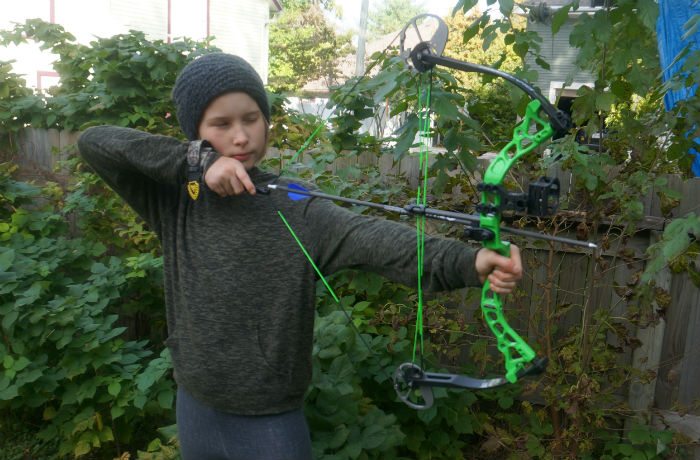 She found the draw to be smooth and consistent shot after shot, and once she got the motion down, even with her somewhat short draw length, she was able to reproduce the action with no mind to anything but the target.
The single neon green sight pin took a little getting used to as she is, of course, a beginning archer. But she soon got the hang of it, and I believe that the format of the sight will prepare her well for more complicated sights as she advances in both age and ability. The arrow rest was a bit less than ideal, as the inside tape covering began to peel after just a few shots, but other than that it performed adequately.
Overall we found the bow to be solidly built and smooth in performance. This is definitely not a child's plastic bow, and is built to last. The MSRP is around $220, which seems well worth it. It will likely provide your kid with years of use if you start him or her young enough.
Ella absolutely loves the bow. Her mother messaged me yesterday to tell me how happy she is. And she's been practicing daily in my backyard. No doubt the Diamond Archery Atomic bow will last her through the next couple of years as her skill level grows and until she physically outgrows the bow.
Like what you see here? You can read more great articles by David Smith at his Facebook page, Stumpjack Outdoors.

NEXT: Wicked Mission MXB Dagger Crossbow Review
Enjoy the outdoors?
Sign up for daily stories delivered straight to your inbox.