As urban light pollution gets worse, public lands are some of the last places you can enjoy stargazing in truly dark night skies. In 1988, astronomers Dr. David Crawford and Dr. Tim Hunter formed a global non-profit called the International Dark-Sky Association with the goal to preserve and protect communities, parks, and other areas from artificial-light pollution, which disrupts wildlife, impacts human health, and wastes energy. They also helped form the concept of dark-sky tourism, to encourage people to get out and go stargazing, track eclipses, and view the northern lights.
Today, the U.S. has 88 national and state parks designated as dark-sky destinations: places with exceptional starry nights and nocturnal viewing opportunities. But where exactly should you set up your telescope or binoculars and put your galaxy- and constellation-spotting skills to work? Here are eight star-studded, dark-sky parks to set your sights on visiting.
1 of 8
Great Basin National Park, Nevada
About halfway between Las Vegas and Salt Lake City, Great Basin offers fantastic views of the Andromeda Galaxy, Milky Way, star clusters, and planets on moonless nights, which are the best for darkest skies.
Ranger-led astronomy programs and stargazing events take place from May through September, culminating with the Annual Astronomy Festival at the end of September. The Nevada Northern Railway offers a train ride through the region's darkest sections to a viewing area with high-powered telescopes.
2 of 8
Anza-Borrego Desert State Park, California
This Southern California state park gets a lot of glory mostly for its Instagram-worthy show of spring wildflowers and towering palm oases, but the stargazing here is phenomenal. Stay in the town of Borrego Springs, the first International Dark-Sky Community in California, so designated for its efforts to reduce light pollution.
As Anza-Borrego is one of the last parks in the country where open camping is allowed, you may pitch a tent anywhere you like and watch the stars flicker in the clear night sky between the palm trees while the coyotes sing.
3 of 8
Kissimmee Prairie Preserve State Park, Florida
You don't need to drive hundreds of miles into the desert for to find dark-sky places—this park in central Florida is just a few hours' drive from the coast. Unless you have a state park pass, your only way in after dark is to camp at the Kilpatrick Hammock Campground. Reserve one of the five campsites with astronomy pads and you might get a glimpse of the International Space Station cruising around. Best of all, it's only a 2-1/2 hour drive to the Kennedy Space Center, if you're itching for more space stuff.
4 of 8
Craters of the Moon National Monument and Preserve, Idaho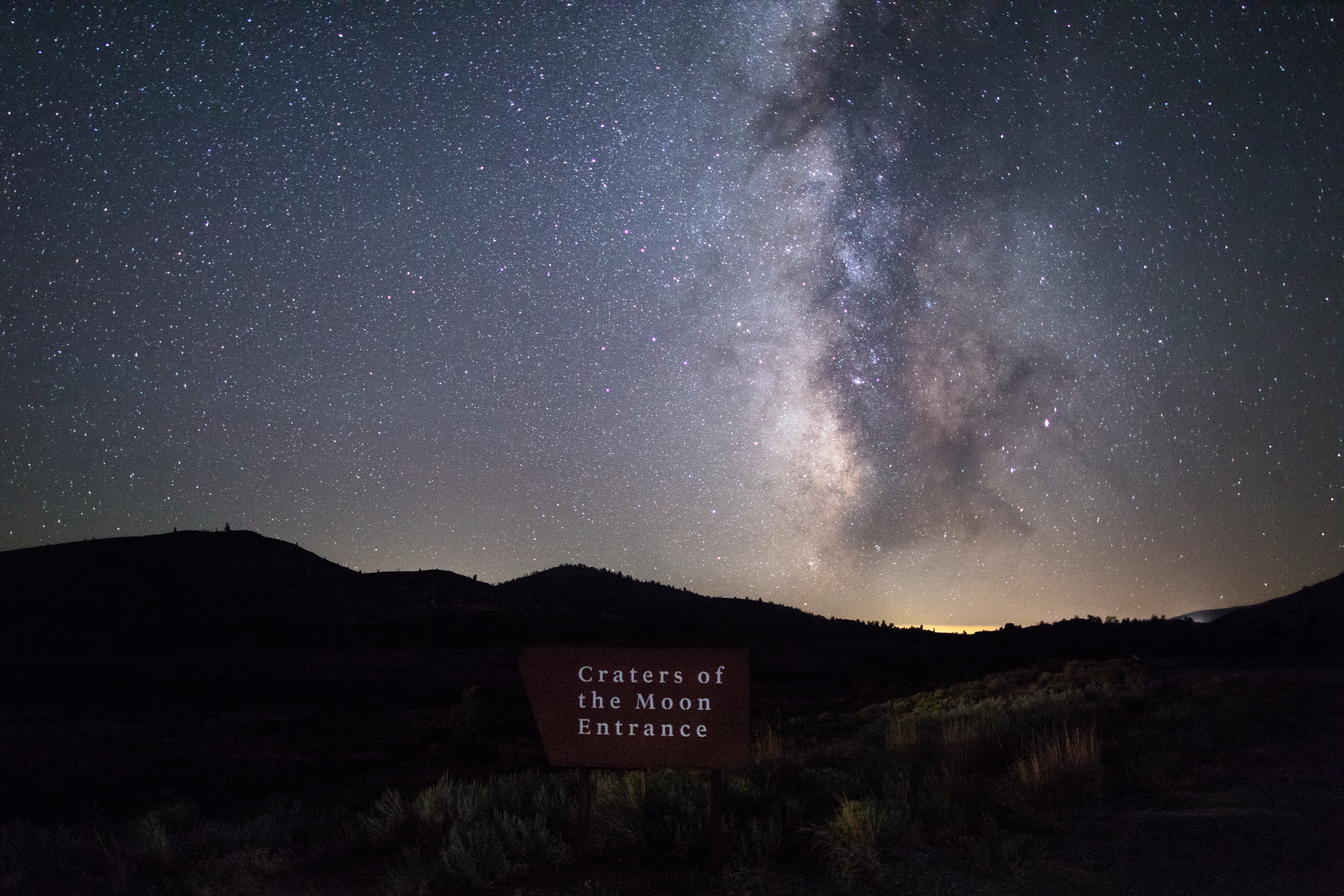 It's easy to feel like you're on the moon at this rugged, aptly named preserve about 65 miles away from Sun Valley. Wander hiking trails and explore caves during the day and stargaze at night with the help of rangers who hold full-moon hikes throughout the summer. In spring and fall the Idaho Falls Astronomical Society hosts its popular star parties here. Lava Flow Campground has first-come, first-serve sites from May-November.
5 of 8
Big Bend National Park, Texas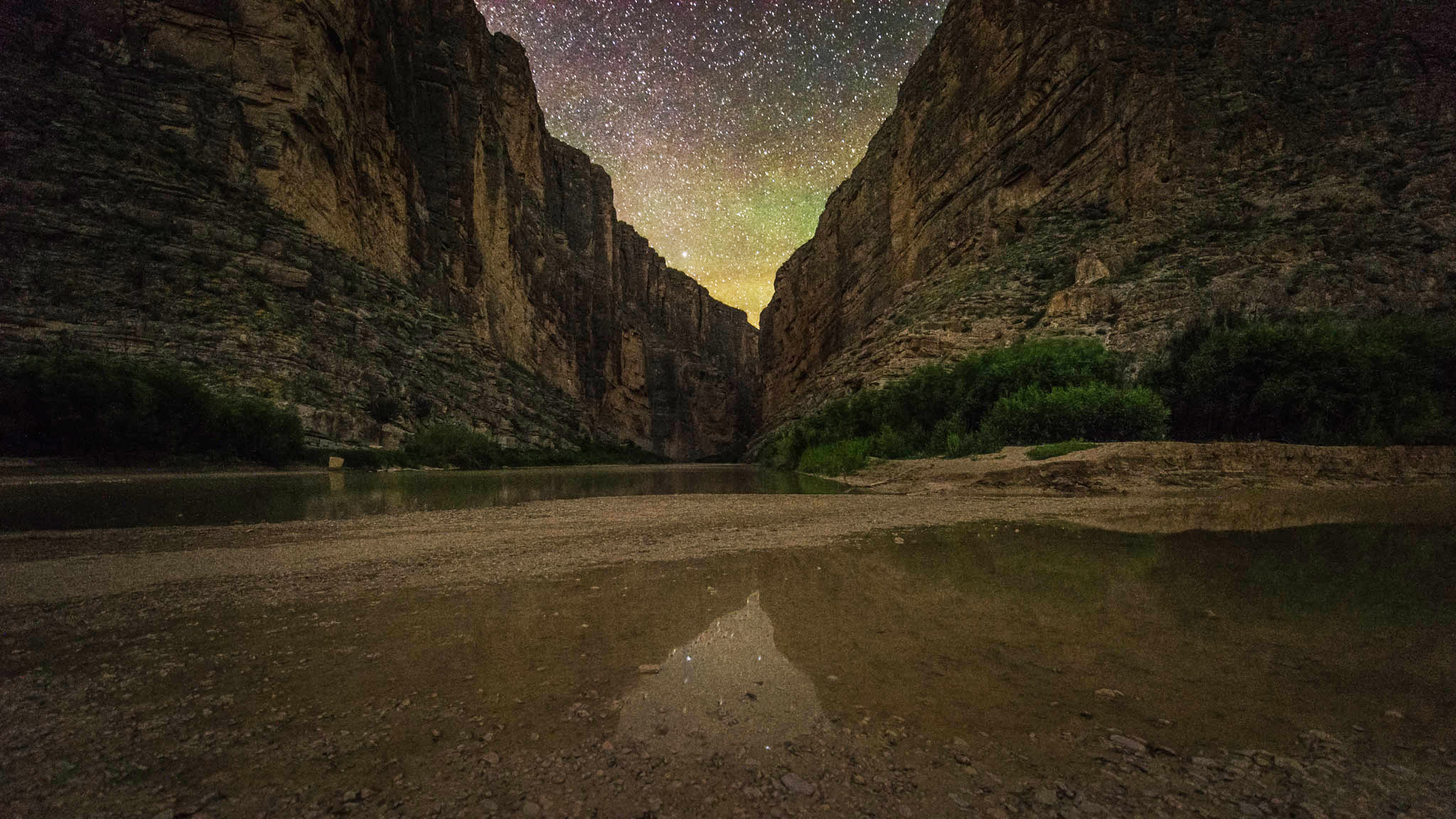 This American desert park at the Texas-Mexico border has the least light pollution of any national park in the contiguous U.S., which is why there are tons of night sky programs to enjoy. It has four campgrounds and a lodge, and the McDonald Observatory 116 miles north hosts star parties on weekends.
6 of 8
James River State Park, Virginia
Sometimes, the mountains are just the place to stargaze. After all, what better way to get a view of the night sky than at higher elevation? James River State Park is in the foothills of the Blue Ridge Mountains and has everything from hiking to kayaking in the daytime. At night, local astronomy groups host special programs about the stars you're seeing, with glimpses of Jupiter, its moons, and Mars depending on the time of year. On-site cabins and lodging are available from Memorial Day to Labor Day.
7 of 8
Dinosaur National Monument, Colorado/Utah
Though remote, there are tons of things to do at this national monument, particularly if you have dinosaur lovers in your life. During the day, see (and touch) fossils in situ at Dinosaur Quarry. At night, rangers guide full-moon hikes and stargazing walks. In late August or early September, the Dark Skies Over Dinosaur Astronomy Festival takes place at Utah's Green River and Split Mountain campgrounds.
8 of 8
Cherry Springs State Park, Pennsylvania
With so many big cities along the east coast, you wouldn't think there'd be good stargazing anywhere there. But about 180 miles north of Pittsburgh is a surprisingly dark area where you can see as many as 30,000 stars, asteroids, meteor showers, the Omega Nebula, and Venus, among other noteworthy celestial bodies. Camping is first-come, first-serve at the Overnight Astronomy Observation Field.
Enjoy the outdoors?
Sign up for daily stories delivered straight to your inbox.