It might be obvious, but what actually is the best vehicle for outdoorsmen? Here's a strong argument in favor of the pickup.
If you are one of the many outdoor enthusiasts looking for a hunting vehicle, you've got a lot of possibilities these days. Your choices include four-wheel drive and all-wheel drive off-roaders with great ground clearance, cargo space, and towing capability for a camper or a boat.
Eventually the best suited, off-road capable, backcountry vehicle we ever saw was born: the pickup truck. It's got to be the best option, and we're going to use this opportunity to explain why.
Before we start to chirp at each other about the different brands like Chevrolet, Jeep, Ford, Ram, or Toyota, let's just take a moment to be thankful for the venerable pickup truck, and pay homage to its use as the ultimate outdoorsman's vehicle.
The Best Vehicle for an Outdoorsman is a Pickup Truck
The idea has been around since the 19th century, but a pickup truck has evolved into an ideal hunting, fishing, and camping vehicle.
Sportsmen like you and I can immediately see the advantages and practicality of having an off-road capable vehicle to take us down dirt roads and off the beaten path, all while maintaining the cargo space needed for our equipment and gear.
Versatility of a Truck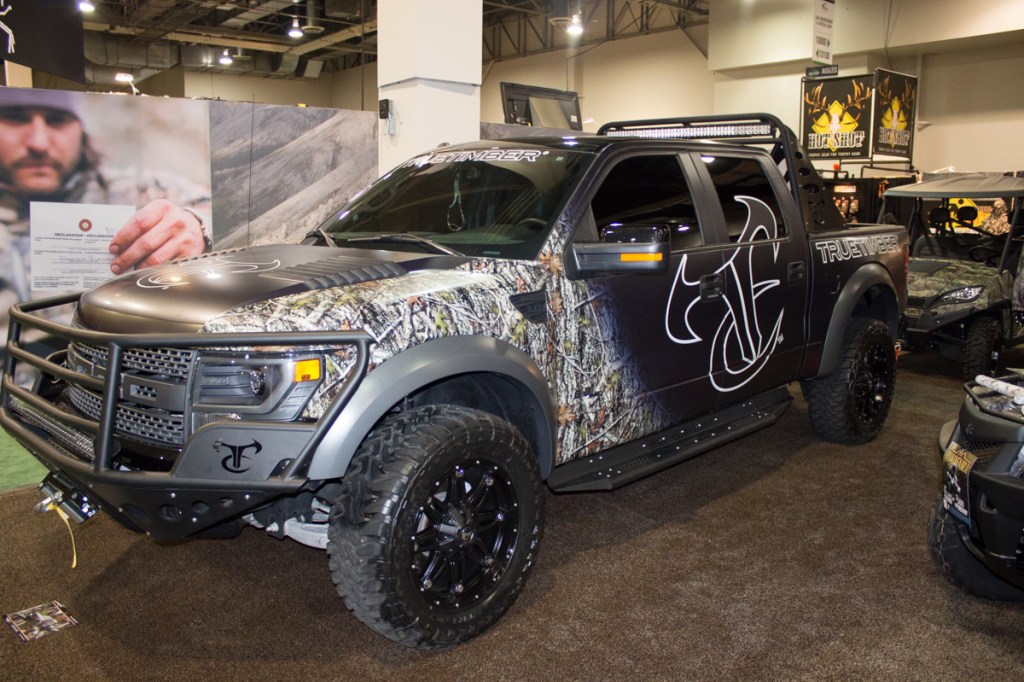 As soon as we began to use the pickup truck and see all the possibilities, we knew there was room for improvement. The good folks who built and marketed these immensely popular vehicles bent their ears and listened to us outdoorsmen when we longed for improvements. Then they delivered additions and enhancements such as automatic transmission, more interior space, rows of seats, roof racks, increased towing capacity, crawl control, and hill descent control.
Suddenly we had more choices than ever before. Do we need a regular cab, extended cab, or crew cab model? Will we use it just for travel, or does the truck need to double as a place to sleep? Do we want fuel efficiency and comfort, or is a rugged, off-road capability most important?
There's a lot to like about the pickup, mainly because you can make it into whatever you want.
However, if you were going to aim for a pickup that you could double as an everyday driver, something like the Ford Raptor above would be ideal. You could rely on a truck like this both on and off the road, while modern technology would manage to still offer you that plushy feel of a new car that society has grown so accustomed to.
Adding the Personal Touch to an Outdoorsman's Truck
If you're like me, then you just can't spend all of your hard-earned money on something without giving it a signature all your own. Once I got behind the wheel it wasn't long before I wanted to lift it further and further off the ground, add some camo accented floor mats, and get some aggressive treads on those tires.
Outdoorsmen aren't satisfied with just the function of their truck, they want to look tougher, last longer, and go farther than the other guy. My dad even added an additional gas tank on his 1978 Chevrolet so that we didn't have to stop for fuel on the way to our family cottage on the Thousand Islands! Personal upgrades and finishing touches have come a long way from there, and they're always worth it.
Additionally, if you're in the market for a truck you plan to use exclusively for your outdoors excursions, sometimes the best truck is one you don't mind beating up a little. Something like this older Toyota compact truck above is ideal for hunting, as you can fit through small roads and trails, and easy to lift with more-than-capable 4-wheel drive capabilities.
The Best Hunting and Fishing Vehicle
Since we can load the truck bed with 100 duck decoys, two dog crates, a pop-up blind, and a cooler, it makes for a good choice. An angler can even haul a trailer with a boat, stash all the rods, reels, and tackle in the bed, and still have room in the cab for four grown adults, along with food and drinks for the day, and be completely comfortable.
Almost all trucks come with an adequate tow package, safely carry a lot of gear, and are great for taking along the kids and dog with room to spare. And they do it all with some serious horsepower behind them. What more do you need?
Once we realized that we could load a canoe, kayak, or even an inflatable raft with ease, we knew that we had found outdoor bliss. Need to stash your skis? Have a lot of tools? Ready to haul some dirt for a major project? The fact is that the pickup truck seems to have endless possibilities.
If you do more with your pickup truck than simply taking it out to hunt deer on a local lease or loading up some fishing rods to fish a river bank, you're going to want something that's at least a mid-size offering such as a Ford Ranger, a Toyota Tacoma, a Nissan Frontier, or a Chevrolet Colorado. This way you can ensure you have enough bed space to haul gear as big as a canoe, and enough horsepower to pull a boat or a camper.
There's nothing wrong with going with something a little older, just make sure you don't have too many miles on the odometer if you're planning to make long trips.
However, it surely wouldn't hurt to go a little more heavy duty with something like a Dodge Ram 1500, a Chevrolet Silverado, or a Ford F-150 just to get that extra space and towing capacity.
The Best of the Rest
We'll admit, the off-road capabilities of other vehicles have begun to catch up with the pickup. SUVs like the Jeep Wrangler and new Jeep Gladiator, Toyota 4runner, and the inimitable Land Rover Land Cruiser all play a part in our favorite outdoor rides. Arguments can be made for an AWD crossover if you're using it for a car camping vehicle. Even the smaller truck versions such as the Chevy Colorado and the GMC Canyon can have off-road capability to get the job done, and get decent fuel economy when you have to set the cruise control and put in the highway miles.
Outdoor adventure vehicles come in many sizes and shapes, and a lot of it is based on what we as outdoorsmen and women have asked automakers to create for us. Whether you go full-size or midsize, have a turbo-diesel engine or a gas-efficient hybrid, your truck is what's getting you there and back.
Road trips have never quite been the same since the invention of these go-anywhere, off-road vehicles and as long as they keep improving them, we'll keep buying them.
Please check out my book "The Hunter's Way" from HarperCollins. Be sure to follow my webpage, or on Facebook and YouTube. Go to Rack Hub and use the coupon code Craiger for a new way to display those antler sheds!
NEXT: 5 HUNTING ACCESSORIES FOR YOUR TRUCK
Enjoy the outdoors?
Sign up for daily stories delivered straight to your inbox.