A few years ago, I noticed damage to trees deep in the back of our property. Some bark was stripped, branches were broken off, and smaller bushes and trees were trampled. I couldn't figure out what was causing it, so I went online and ordered the least expensive game camera I could find. I popped the batteries in, found a good spot near the damage, and switched on the camera.
A couple of days later, I went out and retrieved the memory card, inserted it into my computer, and was awestruck. Among the random images of me and the dogs, the cam captured blurry photos of rabbits running through, deer jumping the back fence into the forest behind us, the occasional coyote, and—the culprits—a small group of moose, who had taken up residence back there at night. It was a wildlife lover's paradise (and no doubt hunter's dream).
Since then, I've added another cheap cam, but this year, I'm ready to upgrade to a trail camera with better image and video quality and with WiFi capabilities. In my research, I realized the options are endless, which leaves consumers like me scratching their heads, wondering what features are a must-have, and which ones are nice to have.
The fact is, the best trail camera for you depends on several factors, including where, when, and why you use it, and how much you want to spend. To help you choose, we assembled our list based on photo and video quality, trigger speed, detection range, the type of flash, and budget. Whether you're a hunter monitoring game or a recreational wildlife watcher, there's an option for you.
Best Trail Cameras of 2023
Best Trail Camera Overall
Top Pick: Bushnell CORE DS-4K No-Glow Trail Camera ($200)
Photo Resolution: 33 megapixels | Video Resolution: 4K | Night Vision: Yes | Power: 6 AA batteries | Battery Life: 1 year
The Bushnell CORE DS-4K is the perfect middle-of-the-road trail camera, with all the must-have features but no bells and whistles to put the price over the top.
For starters, the fully waterproof Bushnell is easy to set up. The LCD display allows you to view content on the device—there's no need to remove the 512 GB SD card or pull this game camera down each time you want to review your footage.
With a 32-megapixel resolution and 4k video, this camera captures high-quality images and video in a variety of conditions. Many trail cams have a single, built-in sensor, but the CORE has dual sensors: one to prioritize sharpness and vivid color during the day and another to capture high-contrast clarity at night. It uses one of the most discreet flashes, too, for surveilling wildlife and game without spooking it.
At 0.15 seconds, the trigger speed is fast, and its 1-second recovery rate is among the quickest, giving you more full animal photos and fewer empty frames or photos of butts. The 75-foot detection range sits firmly in the middle of the pack, easily capturing motion at a distance, and the 120-foot flash range is incredibly wide, showing animals at farther distances at night, especially for this price.
This is not an inexpensive trail camera, but it offers the most value for the money.
Dual sensors for sharp images day or night
Quick trigger speed and recovery rate
Long detection range and flash
Bushnell Core DS-4K No Glow Trail Camera
---
Best Budget Trail Camera
Browning Strike Force HD Max with Card Reader ($100)
Photo resolution: 18 Megapixels | Video Resolution: 1600 x 900 HD | Night Vision: Yes | Power: 6 AA batteries | Battery Life: Not available
The Browning Strike Force HD Max cameral comes from a reliable brand name known for quality and great value. We like this trail camera because you get a lot of high-end features without the expected price tag.
Browning's Strike Force Series trail cam has an adjustable 0.3- to 0.7-second trigger speed and 0.6-second recovery time—brisk for a budget camera—which allows you to set the right speed for your location, saving battery life.
The 18-megapixel camera has an impressively long, 80-foot detection range with a 100-foot LED Illumination flash range. This camera also utilizes Browning's "Zero Blur" technology, which eliminates motion blur from moving targets. We found this model has exceptional video quality and even offers sound. It comes with a card reader and it supports up to 512 GB memory card.
A few reviewers commented that the image quality is a little grainy, and the batteries drain in a few short months. Although this is a budget option, we wish it had a small screen to view images instead of requiring you pull the card and insert it into the reader or a computer.
Long flash and detection ranges
Infrared flash
Quick trigger speed
This is at the upper end of the budget range
We wish the camera resolution was higher
Browning Strike Force HD Max with Card Reader
---
Best Entry-Level Trail Camera
Moultrie Micro-42i Trail Camera ($90)
Photo resolution: 42 megapixels | Video Resolution: 1280 x 720 | Night Vision: No | Power: 4 AA batteries | Battery Life: 13,000 images
Some trail cameras have so many added features that it's easy to get overwhelmed—not to mention that they drive up the price tag. The Moultrie Micro-42i Trail Camera is a simple, beginner-friendly cam that offers the essentials without too many frills.
Whether you're scouting wildlife or using this camera as a security tool, the Moultrie is a basic game camera that has a 42-megapixel sensor to capture clear daytime photos and HD video up to 70 feet away, storing it on a 32 GB SD card. Setup is simple, and the 0.4-second trigger is quick enough for most movements, while the invisible flash won't scare away game.
While daytime photos are vibrant and colorful, fair warning that the nighttime photography is grainy and the nighttime videos are basically unusable unless the animal is right in front of the camera, making that the biggest downside of this cam. Also, the cam doesn't record sound, so if you want to hear as well as see, you'll need to choose a different option.
Iff you register the camera within 60 days of purchase, Moultrie will cover the camera under a 2-year extended warranty.
Beginner-friendly
Small
Affordable
Nighttime videos and photography are dark and grainy
Limited detection range
Best Cellular Trail Camera
Top Pick: Reconyx HyperFire 2 Cellular Trail Camera ($600)
Photo resolution: 3.1 megapixels | Video Resolution: 720 pixels with audio | Night Vision: Yes | Power: 12 AA batteries | Battery Life: 40,000 images or 2 years
We love the convenience of cellular game cameras, which allow you to use a cell network to remotely view the images and manage the camera from a distance. That being said, they're more expensive than localized trail cams, and they require you to pay additional for a cellular plan.
While the $600 price tag for the Roconyx HyperFire 2 Cellular Trail Camera is steep, this is the game camera for you if you need to monitor wildlife in remote locations. Reviewers swear by its reliability and dependability. The camera shoots motion-triggered, time-lapsed still photos at up to two frames per second, and 720-pixel video with sound at an impressive range of up to 150 feet.
Daytime photos are consistent and clear, and night-time images are sharp with a no-glow, infrared flash that won't spook wildlife. The weatherproof case is nearly indestructible, reducing the need to check on it in person, and the CodeLoc password protection adds a level of security that prevents thieves from stealing the content. The 512 GB of memory storage is generous, and we appreciate the long battery life.
Some reviewers feel the daytime video quality is disappointing, commenting that the resolution is low and sometimes difficult to watch.
The ability to send content remotely
Plenty of memory storage
5-year warranty
Expensive
Daytime video quality is disappointing
Best Wireless Trail Camera
Cuddeback Cuddelink IR Camera-RF Transmission ($180)
Photo resolution: 20 megapixels | Video Resolution: 720 | Night Vision: Yes | Power: 4 D batteries | Battery Life: Not available
Cuddeback's Cuddelink is a private wireless network that allows you to join up to 24 cameras on a single cell connection for a nominal fee. Its camera-to-camera range is typically one-quarter of a mile in thick terrain, but that range extends in more open spaces, thanks to the high-gain cell antenna.
This reliable Cuddeback camera features a high-definition image sensor that produces excellent image quality. Its detection range extends up to 100 feet with a black flash that uses no-glow LEDs for invisible illumination. We like the 0.25-second trigger speed and fast recovery time, as well as the clear daylight and black-and-white night images. You can also select separate day and night modes, and the detector offers seven sensitivity options.
Even with multiple devices connected, you can collect images on a single SD card—it's compatible with cards up to 256 GB—or have them delivered to you via LTE. The Cuddelink is powered by 4 D batteries instead of the AA batteries many competitors use, offering longer battery life. External power jacks accommodate optional solar panels or other power sources.
The ability to link up to 24 cameras
Fast trigger speed
Plenty of storage
Compatible with other Cuddeback cameras
D batteries make the camera heavy
Best Solar-Powered Trail Camera
Spypoint Link-Micro-S LTE ($150)
Photo resolution: 10 megapixels | Video Resolution: Not applicable| Night Vision: Yes | Power: Rechargeable solar battery, 8 AA batteries | Battery Life: 10 months
All trail cameras require a battery supply to function, but if your camera is active, batteries quickly run down. Solar trail cameras like the Spypoint Link-Micro-S LTE solve that problem, in particular if you're placing one in an out-of-the-way location and are looking for remote viewing.
Featuring an integrated solar panel that delivers longer battery life, the Spypoint also offers a speedy 0.4-second trigger speed that snaps up to two photos per detection within a range of 80 feet. The built-in infrared flash is invisible to wildlife, and the night vision is excellent—this one is among the best game cameras for those reasons.
One key advantage this model has is it can send images to your phone via a cellular connection. Skypoint's free plan transmits up to 100 photos a month at no charge, but you can subscribe to full-service plans through Verizon. You can also record images to a 32 GB SD card. The downside of this camera is it lacks video and sound.
Longer battery life with solar panels
Images transmitted directly to your phone
Excellent night image quality
No video or sound
Requires full cell coverage to send photos to your phone
Spypoint Link Micro-S-LTE Solar Cellular Trail Camera
---
Best Night Performance
Top Pick: Stealth Cam Deceptor No-Glow Trail Camera ($130)
Photo resolution: 40 megapixels | Video Resolution: 1440 HD video | Night Vision: Yes | Power: 8 AA batteries | Battery Life: 6 months
Big game tends to move at night, but many of the game cameras on the market prioritize daytime photography overnight. That's not the case with the Stealth Cam Deceptor No-Glow trail camera. It produces sharp nighttime images at up to 80 feet and takes high-resolution videos with audio.
The 0.4-second trigger speed is ultra-fast and the Deceptor takes up to three photos per trigger with a 5-second recovery time. The blacked-out no-glow LED flash is truly invisible, and users say there's no detectable noise, making this an ideal camera for hunters. The camera is powered with 8 AA batteries but also comes with a 12-volt external battery jack.
The Deceptor is a cellular camera, and the Stealth Cam Command Pro app gives you the ability to control the camera in real time. Customer service for the app is the biggest downside for this device—reviewers report problems with cameras not connecting or the app crashing, and customer service for the issues was inconsistent.
Crisp nighttime photography and video
Invisible no-glow flash
Quick trigger speed
Inconsistent app performance
Needs better customer service
Stealth Cam Deceptor No-Glow Trail Camera
---
What to Look For When Buying a Game Camera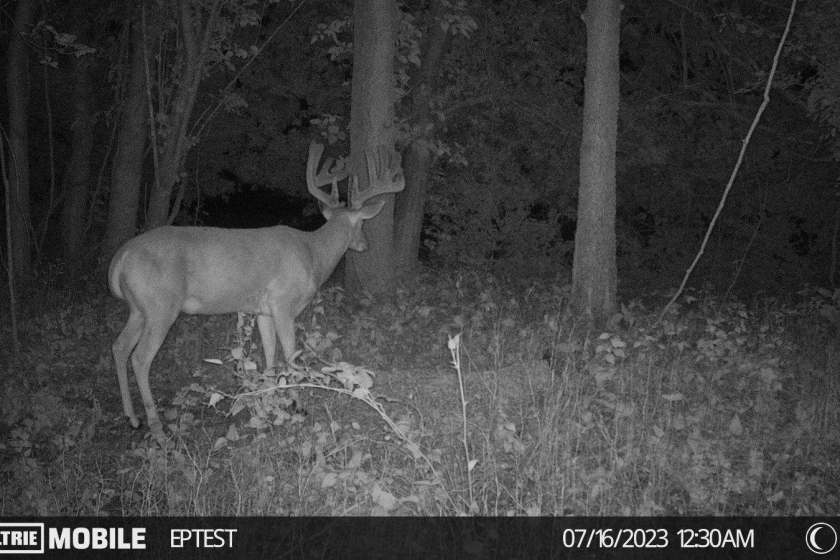 Image Quality
Since the purpose of a game camera is to take images of wildlife, image quality is of top importance. Generally, a higher megapixel resolution gives more detailed images, which is why manufacturers highlight the megapixels in each camera. Trail cameras have a range of 8 megapixels to 30 megapixels, but 12 megapixels is more than enough for most. Other factors like trigger speed and lens quality can also impact the image quality, so the best way to determine real-world results is to look at real images. Check out company websites, Amazon, and other forums to view user-posted photos to see what you'll get.
Detection Range
The detection range is the area in which a camera is able to sense motion to trigger a photo. It starts at the camera lens and spreads outwardly in a V shape, growing wider with distance. As a rule of thumb, the greater the distance, the better the camera will detect more game. However, this may fill your memory card more quickly.
Trigger Speed
This is essentially how long it takes a camera to take a picture once it detects game. Generally, the faster the speed, the better since animals move fast—the trigger speed could be the difference between capturing a buck on camera or missing it altogether. Most high-end game cams have a 0.5-second trigger speed or less, which is great. But slower trigger speeds, ranging from 0.13 seconds to over 1 second, may be fine if your camera is set up in areas where wildlife tends to linger.
Battery Life
Battery life can easily be one of the biggest drawbacks on trail cameras. Most game cameras have a battery life of several months to a year, but that can vary depending on the number of photos and videos taken, trigger delay, and even the type of batteries you're using. Most manufacturers recommend using lithium batteries over alkaline batteries because they are designed to last longer, they're rechargeable, and they can withstand low temperatures (including freezing climates) which makes them perfect for outdoor use.
Storage Capacity
A 32 GB SD card or 64 GB SD card should be adequate for most trail cameras. A 32 GB SD card will hold 8,000 to 10,000 photos, depending on the image quality and whether you're saving video. However, if your camera is active or you plan to leave it unattended for six months or more, you may want to look for a game cam that will take up to 512 GB.
Durability
Your camera will be out in the elements so the durability of the product is incredibly important. Look for cameras with weather-resistant cases that protect the camera from harsh weather conditions, including rain, snow, and extreme temperatures. Most cases will have strong clasps that keep the case closed, leaving fewer opportunities for water to leak in. And most cases will be rugged enough to resist damage from wildlife.
Cellular vs. WiFi
It used to be that you had to hike out to your camera to retrieve your memory card to view your images. Increasingly, technology has improved and trail cameras now offer plenty of connectivity options. These days you can choose between WiFi and cellular to monitor your hunting spot. While wireless cameras rely on a steady WiFi signal to transmit images to you, cellular cameras use 4G cellular networks and data plans. Cellular 4G trail cameras give you the ability to reach more remote locations where WiFi can't. So knowing where to plan to use your camera will help you decide if it's worth the upgrade.
Your Questions Answered
Game cameras and trail cameras are different names for the same thing. They're both used to capture images and videos of wildlife in their natural habitats. However, hunters usually use the name "game camera" and outdoor enthusiasts tend to use the term "trail camera."
Yes, game cameras can be used as security cameras to capture suspicious activity on your property. Because they aren't hard-wired like a lot of security cameras, you can easily move them anywhere—even to remote areas. However, security cameras are more likely able to relay 24-hour video feeds, while trail cameras typically take pictures and short videos when they detect a presence. Security cameras may also have the ability to zoom in and pan, which trail cams don't.
Trail cameras can cost anywhere from $70 up to $600 or more. The best trail cam for the money comes down to how you plan to use your camera, where you want to set it up, and which features are important to you.
If you're looking to view the wildlife in your backyard, it may not make sense for you to shell out hundreds of dollars for a camera with cellular connectivity. However, if high-quality video is what you're after, that's where you should focus your budget.
Cameras without WiFi or a cellular data connection capture images and store them on a memory card, which can be removed from the camera and viewed on a computer. These are often less expensive than WiFi-enabled cameras, and they're usually easier to use because you don't need a cellular connection or an app to control it.
The downsides are that you can't view images or video in real time, and you can't control the camera remotely. You have to go out to the cameras to collect their data cards and check battery levels.
In our expert opinion, the Bushnell CORE DS-4K No-Glow trail camera is the most reliable non-cellular camera you can buy.
With sharp images, high-quality video resolution, night vision, a long battery life, and a durable weatherproof camera housing, it's dependable and easy to use.
Game cameras typically range anywhere from 20 to 130 feet, depending on the brand. Currently, the Reconyx HyperFire 2 HFX Covert IR Camera is the longest-range option with a detection range of up to 150 feet and a flash range of up to 100 feet.
Who We Are
Wide Open Spaces has been providing honest and thorough advice on getting outdoors for nearly 15 years. Our team of writers and editors are out in the field (and streams, and mountains) putting the gear new and old to the test.
Editor's Note: Products featured on Wide Open Spaces are independently selected by our editors. However, when you buy something through our links, we may earn a commission.
Enjoy the outdoors?
Sign up for daily stories delivered straight to your inbox.