Are you searching for the best horse movies? Forget scrolling Netflix and use our list instead!
There's one thing horse lovers may like more than their horses- movies about horses! I know plenty of riders who love to curl up and watch their favorite four-legged companions on the big screen. The movies are especially endearing when they make you cry your eyes out, and they are plenty of flicks out there that fit the bill. Our top ten picks from Amazon will appeal to any horse racing fan, horse trainer, or anyone who enjoys real-life stories about the underdog, World War I, and the depression era.
The chances are good that you may have seen classic horse movies like National Velvet, The Man from Snowy River, Wild Hearts Can't Be Broken, Black Beauty, or even Dreamer. But have you seen these other amazing horse movies? Whether you're into true-story movies or just some wild west, wild mustang flicks, Hollywood has brought grace to great horses in the following list of movies perfect for horse lovers and horse trainers everywhere.
The Greatest Horse Movies of All Time

Based on a true story, Seabiscuit is just a small thoroughbred wild horse who became a racehorse during the Great Depression. His jockey, played by Tobey Maguire, is a dreamer who believes despite being an underdog, Seabiscuit can win.
Jeff Bridges also stars in the great horse movie that will leave you at the edge of your seat as you watch Seabiscuit gallop on the racetrack on a quest to earn his racing stripes.

A Steven Spielberg box-office favorite, War Horse, tells the story of Joey, a farm horse who was bought by the Army and thrown into the battlefield. His former owner is determined, despite the long shot, to find him and bring him back home. This movie is certainly a tear-jerker and has plenty of ups and downs as the search and rescue of Joey intensifies.
His owner, a dreamer set on finding him, never gives up.

The Horse Whisperer stars Robert Redford and Scarlett Johansson, acting as a young girl named Grace. Grace is seriously injured in a freak riding accident while atop her wild horse, Pilgrim. Both the horse and the rider are traumatized until a horse trainer shows up and heals them both.
This is one of the best horse movies that shares an inspiring message of hope and grace.

From there, the Arabian wild horse escapes in the middle of the night, and Alec finds him safe and secure at a former racehorse owner's home. Together, they decide to train Alec as a jockey and the Black Stallion as an underdog racehorse. But, never having been on a racetrack, the wild horse and Alex have to trust one another, yet again, to earn their racing stripes.
It's a long shot for sure, which makes this horse movie about a black beauty a must-see.

RELATED: 14 of the Best Pet Movies for Your Next Night In
Secretariat is a Disney horse movie about a housewife who becomes the manager of her family's Thoroughbred horse farm. With the help of a well-respected horse trainer, she becomes involved in the mostly male-dominated sport of horse racing along with her foal, Secretariat. Seen as the underdog, she moves on as the Triple Crown winner.
This derby stallion will capture your heart as he becomes a great racehorse in the end. Secretariat is a must-see racehorse movie for any jockey or lover of the thoroughbred breed. Disney always produces amazing movies. Add this horse racing favorite to your must-see list if you appreciate underdog stories.
6. Spirit: The Stallion of Cimarron

While Spirit may be an animated movie, it channels the essence of life on the frontier from the horse's perspective. Spirit learns his place in the herd and the amount of responsibility that comes with it. The wild mustang learns which humans to trust and which ones to stay away from and even finds love in the whimsical movie that both kids and adults will love.
7. Flicka

Starring Tim McGraw, Alison Lohman, and Maria Bello, Flicka follows the struggles of a 16-year-old girl, Katie McLaughlin, trying to find her place in the world. She finds a wild horse and names her Flicka, immediately bonding with her. McLaughlin is determined to ride the horse, despite her father ordering her not to. Of course, McLaughlin becomes more determined than ever to prove she can to her father and to herself.
8. All Roads Lead Home

All Roads Lead Home follows the journey of a 12-year-old girl, Belle, who just lost her mother and is sent to live with her maternal grandfather. The man is rather curmudgeonly and had no idea what to do for the pre-teen girl who reminds him so much of his late daughter. Based on a true story, the movie follows Belle as she learns the ropes on her grandfather's horse ranch, learning what's best for the animals there while healing herself.
9. Hildalgo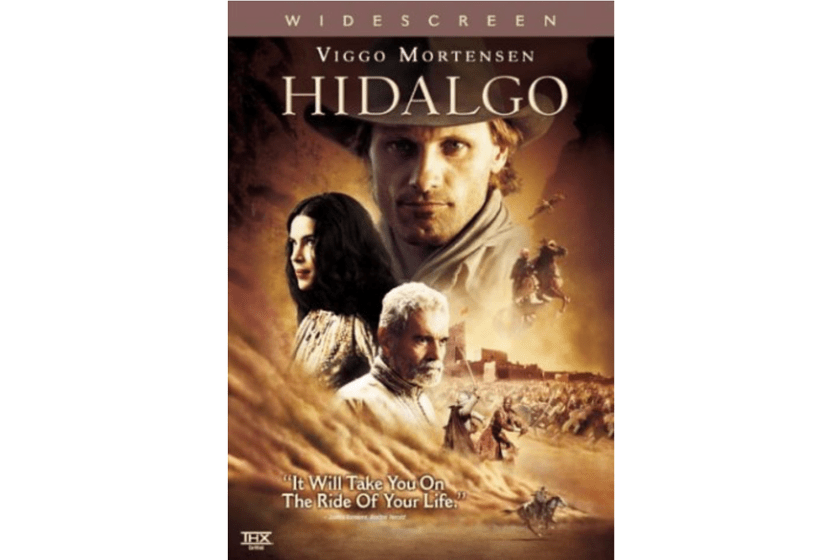 This action-packed movie is also based on a true story. It chronicles the journey of an 1890s era cowboy, played by Viggo Mortenson, who takes his horse to Arabia. Frank Hopkins was a performer in the Buffalo Bill's Wild West Show and is invited to ride in the Ocean of Fire race, a 3,000-mile trek across the desert. Hopkins and his horse, a mustang, fight to win a dangerous cross desert race.
10. The Derby Stallion

The Derby Stallion stars a young Zac Efron who plays a headstrong 15-year old who adores horses. Efron's character, Patrick McCardle, is being pushed to choose his career path, and he has no idea which direction to go. His father, an ex-baseball player, just adds to the pressure by wanting him to go down the same path. However, McCardle doesn't love baseball nearly as much as his father does. He meets a horse trainer and decides to give it a go and compete for the Derby Cup.
Editor's Note: Products featured on Wide Open Pets are independently selected by our editors. However, when you buy something through our links, we may earn a commission.
Which one of these horse movies is your favorite? Tell us on our Wide Open Pets Facebook Page.
Enjoy the outdoors?
Sign up for daily stories delivered straight to your inbox.