The best flies for steelhead come in many styles and colors, but they all have one thing in common: the fish will eat 'em.
We can all agree that there are a ton of fly patterns for trout, salmon, and other fish available to the discerning angler. If we focus on the best flies for steelhead fishing, there's still an abundance of good choices, but there are a few standouts that have stood the test of time.
Every steelhead fly fisher (in fact, every fly fisherman) understands that there are a great deal of differing imitations, so much so that the number increases by the year. But it's important not to try and reinvent the wheel; swinging flies that are meant to imitate eggs, worms, and other natural foods have worked on steelhead for generations.
We are always searching for great ways to fool wary steelhead, and seasoned anglers and fly tying experts are inventing new fly patterns in the process. But as long as you leave room in the fly box for the things that work the best, you'll catch them when the stars align.
What Makes a Good Steelhead Fly?
The obvious answer is one that consistently gets the attention of spring steelhead and produces the most strikes. When steelhead are in rivers and streams it usually means one of two things: they are in a pre-spawn pattern or they are actively trying to spawn. This is particularly true in the Great Lakes, where steelhead fishing is a popular activity.
These fish will almost always feed, even in the coldest water conditions, so it is necessary to find what the pattern is that will get their attention the most. Once things warm up a bit, the pattern will change and the angler must change along with it.
A good steelhead fly will trigger a strike in a fish, even when they are not in an active feeding pattern. Steelhead will often feed causally and opportunistically, meaning that if they come across free-drifting invertebrates and eggs, they can be enticed to take it.
That is where some of these tried and true imitations come in handy. Without further ado, here are the best steelhead fly patterns that will work time and time again.

Also called the Nuke Egg Fly, this pattern is as old as dirt and still does the job. It is easy to tie, even for beginners, and can be made in many colors. I've always found that the best way to fish an egg pattern is to dead drift it behind a strike indicator. If tied right, the only thing better for a steelhead is the real thing.

I can't tell you how many times, when nothing else seemed to be working, that a sucker spawn fly got me hooked in to a nice steelhead. In the Great Lakes region, steelhead run during and just after the sucker spawning runs, so it always made sense to use a sucker spawn fly.

This versatile and popular pattern is one that can be dead drifted or fished on the swing of the current. Some like to fish it in tandem with a nymph, and others simply let it drift and sort of hang there in the flow. A bright-colored head, in pink or chartreuse, is a nice addition.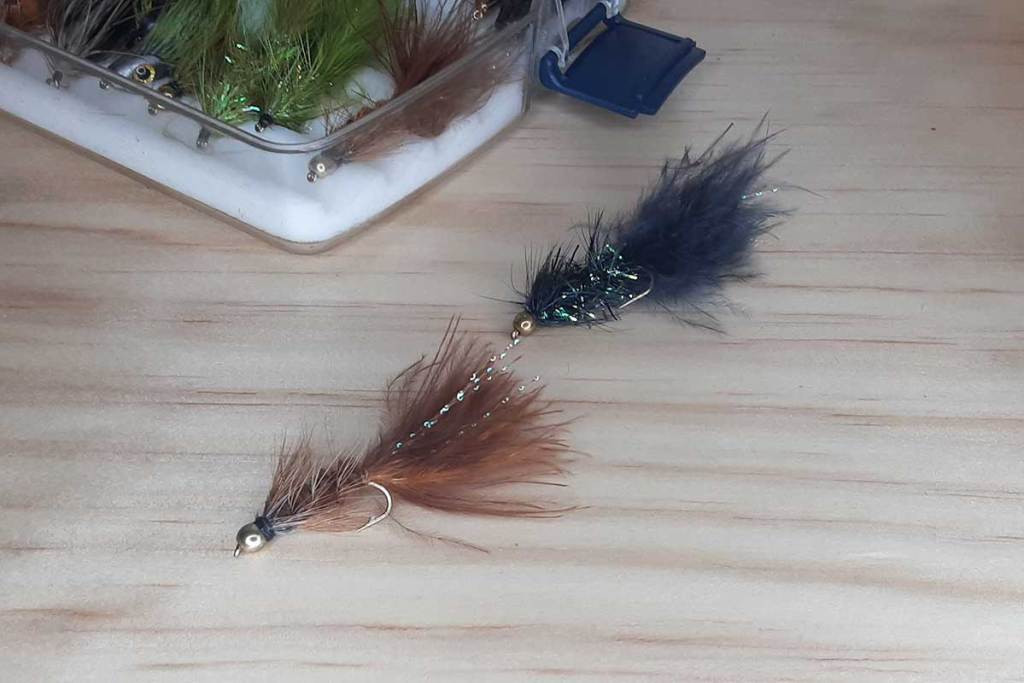 There are so many great variations of the Wooly Bugger, and steelhead love the classic fly that looks exactly like nothing, but a little like a lot of things. Many anglers carry them up to a three inch size when the bite is on, and in multiple colors. Olive, black, and white seem to be the most popular along with a tungsten bead head.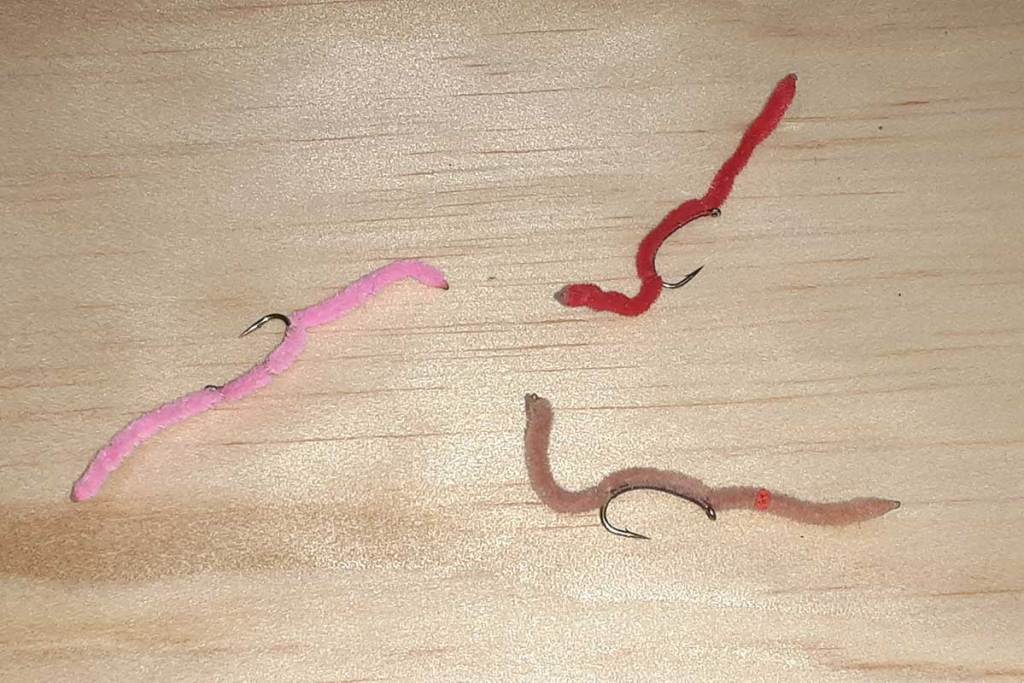 The worm fly, the "Squirmy Wormy," or the San Juan worm is one of the most effective fly patterns for winter steelhead that there is. That little wiggle it can provide works just like a soft plastic when bass fishing. A San Juan can be rigged with the hook in the center or custom rigged with the hook nearer to the head, depending on where the preferred hook up location may be.
Fly Fishing for Steelhead
Steelhead will test your patience, your will, and then humble you in an instant. There are few game fish that can take everything we've got when it comes to fly fishing gear and still beat us.
We always used to say that we put a lot of really big chromers in the net with our spinning gear, but it was the fly rod fishermen that had the best time with a tight line. Plenty of flies will work on steelhead, and we shouldn't rule out the stonefly nymph patterns, the flashy baitfish streamers, or the
Just make sure you consider the water levels, clarity, temperature, weather, and time of the year when you target steelhead. Know when the steelhead are running and be prepared to grab a few of these flies from the fly shop.
Please check out my book "The Hunter's Way" from HarperCollins. Be sure to follow my webpage, or on Facebook and YouTube. Go to Rack Hub and use the coupon code Craiger for a new way to display those antler sheds!