Hunting turkey with a bow is an accomplishment in its self and is very challenging.
Having the best equipment for the job can improve the odds when the time comes to release the arrow. In regard to archery equipment, knowing which bow fits your exact needs is crucial. Selecting a bow for hunting in the turkey woods can be a challenging process because there are so many different brands as well as styles on the market today.
If you're bowhunting turkeys, the first aspect to look at is fit. The fit of a bow means riser height, draw weight, and draw length, which plays a huge role in accuracy for turkey hunters. The question often comes up: "What's the best bow on the market for hunting turkeys?"
The answer is the bow that fits you the best, although there are many standouts that offer various adjustability features and differing ranges of fit. If you ask me, these would be my picks for quality, accuracy, and the ability to tune the bow to your specifications.
Bowtech Solution

The first turkey bow that comes to my mind is produced by Bowtech. Last year, the company released the Solution, which is among the fastest and most accurate you can find.
The Solution has a brace height of 6", axle to axle distance of 32", draw length range from 25" to 30", it weighs 4.3 pounds and has draw weight that goes from 50 to 70 pounds. The Solutions can be tuned with the turn of a wrench, which gives you the ability to make a quick adjustment if something goes wrong in the field. The feel of this bow in hand is comfortable and the let off is great. With a 400-grain hunting arrow it has a speed of 307 fps, ideal for big gobblers as well as big game.
Mathews V3X

Mathews has a new bow called the V3X, which is another bow with impressive specs. The V3X 33" has a brace height of 6.5", axle to axle distance of 33", a draw weight ranging from 60 to 75 pounds, and it weighs 4.67 pounds.
One thing about this bow that separates it from others is the new Crosscentric Cams with Switch Weight Technology, which enables users to change the draw weight with easy adjustments directly on the mods. It allows much more precision as opposed to the more traditional way of adjusting the limbs a quarter turn by hand on both sets.
Speed is something this bow has in the bag as well. Shooting a 400-grain hunting arrow over 280 fps makes for fast, efficient kills. If you see that gobbler strut within bow range, you can bet the V3X can get your arrow there in a hurry.
Hoyt Ventum Pro 30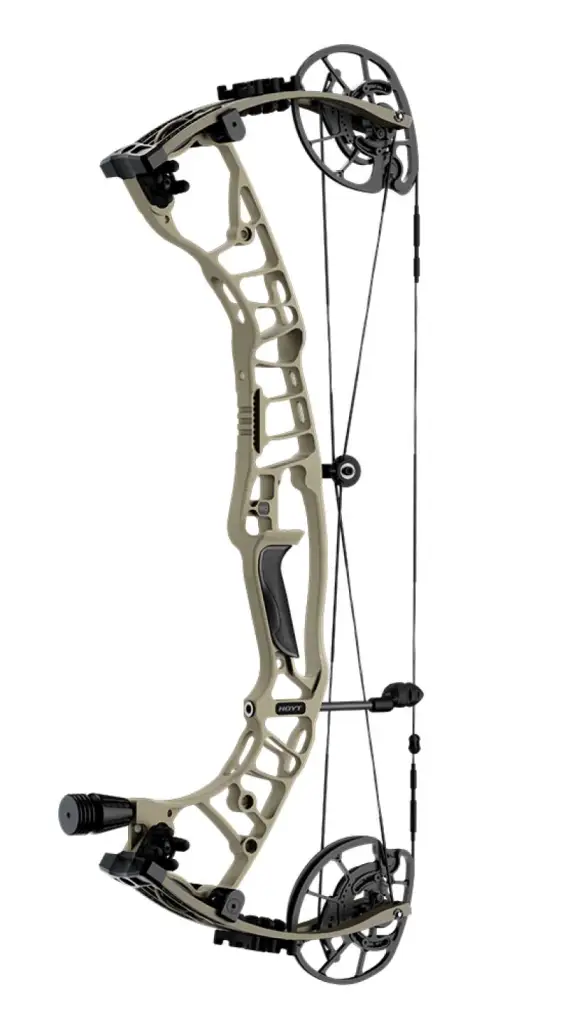 Hoyt has recently released the Ventum Pro 30, a bow that has a brace height of 6", axle to axle distance of 30", draw weight that ranges from 40 to 80 pounds, draw length that ranges from 25" to 30", and it weighs 4.45 pounds.
This is a very ergonomically designed bow for extra comfort. The In-Line System that Hoyt recently introduced gives the bow better balance, more of a streamlined setup, and a lightweight bow overall. It's perfect for those long days afield looking for longbeards.
This bow also has the ability to shoot a 400-grain arrow at speeds ranging from 260 to 270 depending on draw length and weight. This is a great one for turkey hunting from a ground blind, but there are a ton of camo patterns you can pick from for run and gun, too.
Xpedition Archery Smoke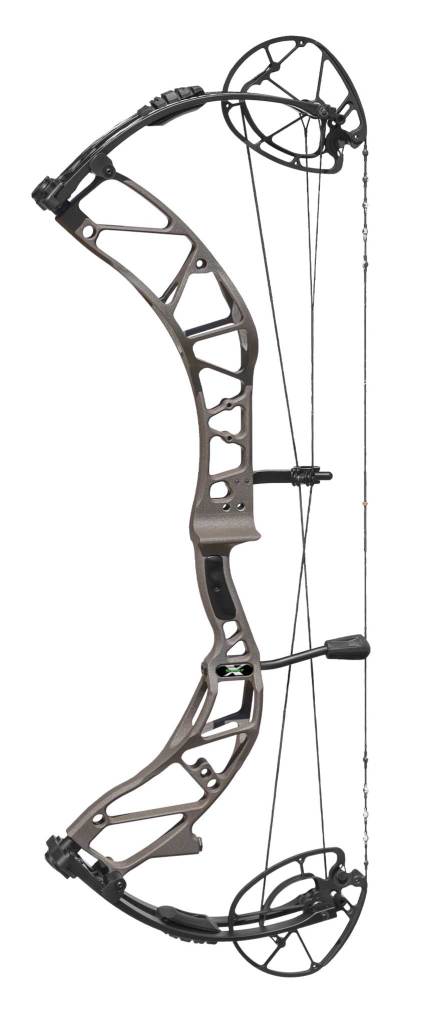 Xpedition Archery released the Smoke line of compound bows, which has a brace height of 5.37", axle to axle distance of 32", draw weight ranging from 60 to 70 pounds, draw length ranging from 28" to 30", and a weight of 4.4 pounds.
The Smoke has a hybrid cam system which delivers speeds around 217 fps when shooting a 400-grain hunting arrow. Its draw cycle is smooth from start to finish, giving hunters the ability to draw quietly while staying undetected.
Bear Archery Refine EKO

Bear Archery went big with the Refine EKO which has a brace height of 6.37", an axle to axle of 33", draw length that ranges from 26.5" to 30.5", weighs 4.4 pounds and has a let off that up to 90%. That amount of let off can be a game changer when having to hold the bow at full draw, waiting for that perfect shot.
This bow also has the new KillerWave limb dampening technology fitted in both the upper and lower limbs to remove any additional vibration felt while shooting the bow.
Bowhunting for Birds
The first time you hear that spring gobbler with a bow in your hands, you know you want to be confident in your ability to use that bow to the best of its abilities.
Having the chance to choose a bow that gives you the most comfort and speed, is quickly tunable, and can deliver highly accurate shot placement within the kill zones (which are always relatively small targets) is what it's all about for spring turkey season.
Just remember, all the turkey broadheads, face paint, turkey calls, and head-to-toe camo in the world won't help if you aren't proficient with your weapon. When it comes time to choose a bow, take the time to shoot several and compare them to ensure you're selecting one that provides you with the best fit to increase your odds against those ole wild turkeys.
Enjoy the outdoors?
Sign up for daily stories delivered straight to your inbox.