Unbeknownst to most, Beretta produces some really solid knives.
Beretta doesn't just make world class shotguns, but did you know the Italy-based gun company sells a complete line of Beretta knives and multitools on its website? That includes folding knives, fixed blade knives, everyday carry knives, hunting knives, and even sharpeners. And of course, their multitools are catered towards gun owners, and feature a multitude of implements that make firearm maintenance that much easier.
Here are some of the coolest offerings from Beretta that we could track down, all available on their website.
[sweeps_hunting}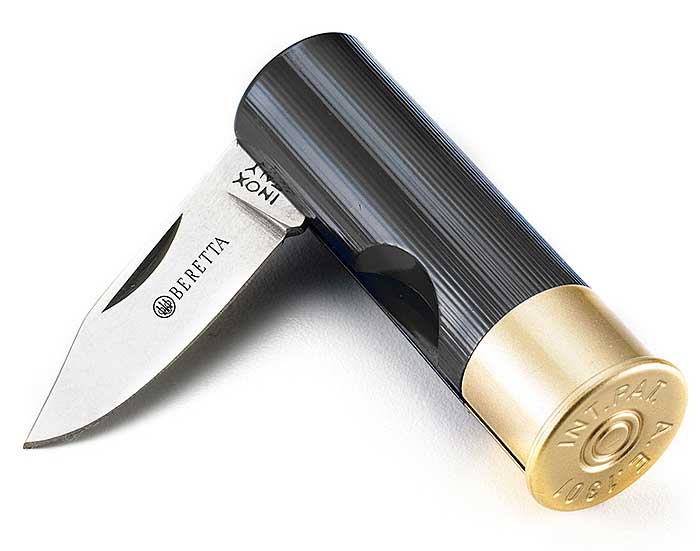 This is a simple, gimmicky, yet still incredibly awesome little folding knife. The handle looks like a 20-gauge shotgun shell and the little 1.97-inch stainless steel blade is handy for lots of tasks. The knife is available with a black, blue, green, or red hull—just don't try to fire it.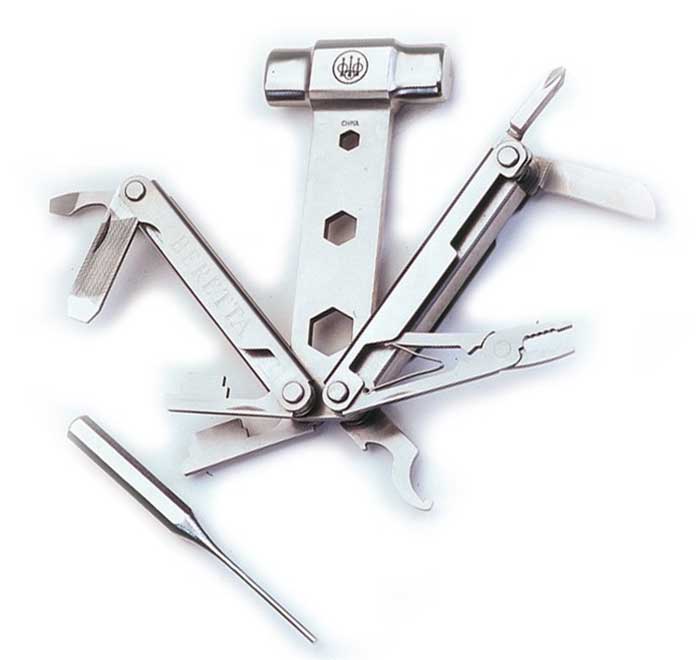 A bit more practical, this multi-tool is the pinnacle of shotgun implements. It includes 11 tools for the care and maintenance of Beretta shotguns. Designed by gunsmiths, the Beretta shotgun tool includes an optima, mobil, and victory enhanced choke tool, hammer head, sheep's foot blade, 2mm punch pin, 28-.410 choke wrench, 12-20 gauge choke wrench, #2 Phillips screwdriver, small pliers, screwdriver, fine file, and a nylon belt sheath to keep it in.


This handy classic lockback folding hunter knife features a stainless steel ALSi 440B blade of 2.95 inches with a checkered cocobolo wood handle. I'd say it would work great as an EDC knife, as it's pocket-sized and ergonomically superior to other knives of its stature and price.


Made in the tradition of the R.W. Loveless handmade knives, this drop point blade is a winner. When Loveless was still alive, he teamed up with Beretta to create the first line of series-manufactured Loveless-style knives. Designed as a rugged hunting knife, it features a Zytel handle and a hollow ground drop-point blade with a reinforced spine. Another model of the knife features a gut hook on the blade.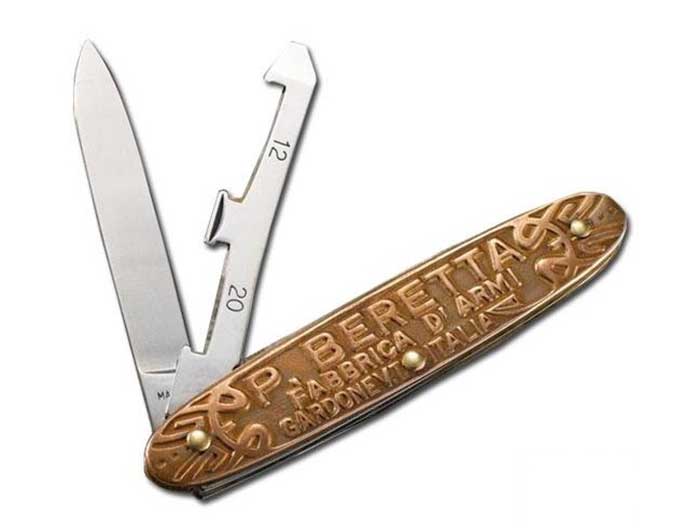 This is a throwback to a common pocket knife style found in 1940s Italy, especially in the possession of a shotgunner. This reproduction features a relief of a red stag on one copper-coated steel handle scale and the art nouveau design of the P. Beretta name on the other. Just like the original, it features a 6.5 cm blade and a 12- and 20-gauge cartridge extractor key.
Products featured on Wide Open Spaces are independently selected by our writers and editors. However, when you buy something through our links, we may earn a commission.
NEXT: SIMPLE BOLT GETS TRANSFORMED INTO A BEAUTIFUL, TINY HUNTING KNIFE
Enjoy the outdoors?
Sign up for daily stories delivered straight to your inbox.