These 10mm pistols are perfect for bear and self-defense purposes.
One of the more overlooked ammo choices on the market is the 10mm auto. Most shooters pass over this round in favor of .45 ACP or they choose a less powerful round like 9mm Luger. However, the 10mm cartridge is a solid choice as a bear gun and even as a self-defense round.
We're starting to see other firearms enthusiasts come around to Jeff Cooper's heavy and powerful round. Guns chambered in 10mm can pump out a whopping 650-800 pounds of muzzle energy. That is nothing to sneeze at for a variety of practical purposes!
With that in mind, we went ahead and did the research to find some of the best 10mm pistols on the market today. Whether you're looking for a concealed carry gun with above average firepower or something for the brush, you're sure to find something you like on this list.
Sig Sauer P220
The Sig P220 is one of the highest-rated 10mm handguns out there on sites like Cabela's. This semi-automatic gets high marks for its accuracy and reliability. This gun comes in two different models, the "Elite" and "Combat." The Elite has a stainless steel slide, a Truglo front site and a Kryptek camo finish. The Combat model has a flat earth cerakote finish. The sights are SIGLITE. This gun is double/single action, has a picatinny rail for accessories. The magazine capacity is 8+1, which isn't bad for a gun of this size. Sig Sauer also includes two magazines standard with this one.
Glock 20 Gen 4
When it comes to reliability and capacity, it's hard to beat out Glock. This striker-fired, polymer frame pistol has a 15+1 capacity. It is heavy at 39 ounces, but that's to be expected when you're carrying this much firepower around. Unlike a similar gun from the same company, the Glock 40, this one is not set up with optics mounts to install a red dot. You'd have to get that separately.
Glock includes three magazines standard with their Gen 4 models, which means you don't have to rush out and buy more right away. Three backstraps allow you to adjust the fit to your hand and the magazine release can be reversed to make the gun ambidextrous. The safe action of this gun means you simply draw, aim and squeeze when you need it. A hunting guide in New Mexico used a Glock 20 to kill an attacking bear just a few years ago, proving this can be an effective brush gun.
Glock 29 Gen 4
Maybe you like the idea of the Glock 20, but it's just too heavy and not concealable enough. Glock heard the calls for something smaller and that's why they developed the G29. It has all the same general features including the adjustable backstraps for ergonomics. However, it's also only 26 ounces and has a shorter overall length of 6.88 inches with a 3.77-inch barrel length. It's amazing they were able to reduce the size of the frame so much, but still manage to give this gun a magazine capacity of 10+1. You can rest easy carrying this knowing you have plenty of stopping power if the unfortunate time comes you must use it.
Remington 1911 R1 Hunter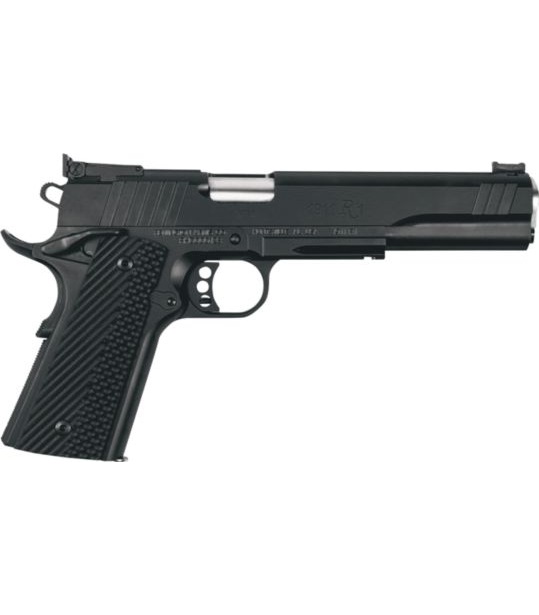 The classic 1911 pistol style has been adopted by many gun manufacturers over the years and the R1 Hunter is a solid option for a 10mm 1911. This gun has a black finish with Operator II grips. The front sight is fiber optic. The slides are serrated for an easy grip while operating. It has a 6-inch barrel and 9.5-inch overall length. The magazine capacity is 8+1 rounds. The beavertail grip safety adds a little more peace of mind while carrying and out at the range. The barrel and bushings are all match grade to add a little more quality to this firearm.
Ruger SR1911
Another 1911-style option, the Ruger offers a slightly more compact frame and a shorter, 5-inch barrel length with a 1:16 rate of twist. Everything on this gun is stainless steel, from the frame to the slide and barrel. The trigger is adjustable. For the safety-minded, this gun has an extended thumb safety, an inspection port and a beavertail grip safety. The grip panels are checkered are rubberized for superior handling. This gun is fitted with fixed three-dot sights from Novak. Ruger includes two magazines and the gun has an 8+1 capacity. This one starts around $860, which isn't bad for a 1911-style pistol of this caliber.
Kimber 10mm auto pistol
When only the best will do, Kimber is the brand to look at. Their 10mm model features a match-grade barrel, bushings and trigger. Serrations on the long slide make it easy to operate. These guns get high marks from users for their great, two-tone finish look and clean breaking trigger. They come equipped with Tru-Glo TFX day and night sights. This gun weighs in at about 36 ounces. It isn't the cheapest option on this list at $1,400, but you can rest assured you're getting a quality, tack-driving handgun that will be ultra-reliable when you need it to be.
Springfield Armory XDM
Like the Glock, this gun offers an awesome 15+1 magazine capacity. This fully ambidextrous semi-automatic pistol weighs in at just 31 ounces. It has a match grade five-inch barrel, a melonite-coated slide, a fiber optic front sight and a fully adjustable rear sight. An accessory rail allows you to attach things like a flashlight or sights. Springfield Armory is thoughtful enough to include three magazines right out of the box. There are also three interchangeable backstraps to adjust the fit to each individual shooter. At $699, you're getting a lot for your money with the XDM.
Colt Delta Elite
This gun is widely considered one of the best hammer fired 10mm auto handguns on the market right now. This 1911-style handgun has a great classic look thanks to the stainless steel finish and composite grips. It has a magazine capacity of 8+1. The users of this gun praise it for its exceptional trigger, reliability and accuracy. This gun features three safeties, a firing pin safety, a grip safety and a thumb safety. For sights, it is fitted with Novak white dots in the front and rear. This one can be harder to find in stock because it's such a popular model. Most of the time you'll find it selling in the $1,100 range.
For more outdoor content from Travis Smola, be sure to follow him on Twitter and Instagram For original videos, check out his Geocaching and Outdoors with Travis YouTube channels.
NEXT: THE 5 BEST PERFORMING PISTOLS
Enjoy the outdoors?
Sign up for daily stories delivered straight to your inbox.